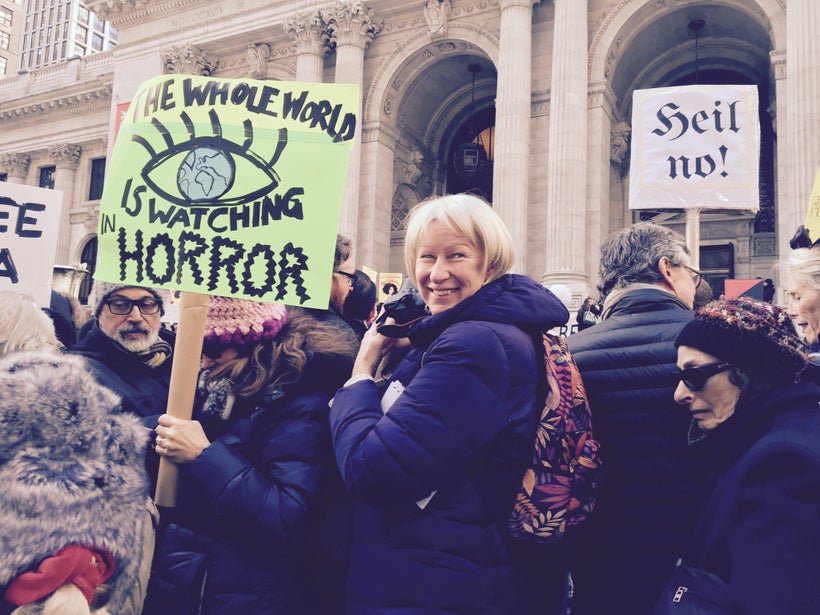 Authoritarian governments undermine education and medicine—those are the first expressions of the loss of social responsibility. Then freedom of speech disappears and is replaced with grandiose lies, double-speak, and threats.
We have seen this cycle enough times in history to recognize it.
President Trump was not even sworn into office yet when the Republican majority Senate got busy repealing the Affordable Care Act. Snatching a few moments before dashing off to the Inaugural Ball, Trump undermined the efficacy of ACA by executive order, leaving 20 million people who are insured by Obamacare vulnerable. Billionaire Betsy DeVos, a woman who has never spent a day in a classroom and yet was picked by Trump as new Education Secretary, has vowed to cut back public school funding and replace public schools with charter schools run like corporations.
Over the last few decades we've seen America's state and private universities erode as universities are run according to a corporate profit-oriented model. Hundreds of thousands of America's professors teach as part-time adjuncts while carrying a full-time teaching load. These academics earn less than minimum wage and have no health insurance or other benefits. It now looks like America's elementary and secondary school teachers will be working under similar conditions, in some states this already the grim reality.
For these reasons, and because I felt that America's First Amendment Rights have been threatened by Trump's attack on the press, on a Friday afternoon, after a full day of substitute teaching in an elementary school special education classroom in Portland, Maine, I got into my 2001 Honda and pulled out onto I-95 towards New York City. As a writer, and as an educator, I felt it was important to join the PEN America and Writers Resist Literary Protest to protect freedom of speech in America. I knew I had to make this literary journey, to be there.
According to its mission statement, "PEN America stands at the intersection of literature and human rights to protect open expression in the United States and worldwide. We champion the freedom to write, recognizing the power of the word to transform the world. Our mission is to united writers and their allies to celebrate creative expression and defend that liberties that make it possible."
I first joined PEN many years ago as a university student. When I joined PEN in the eighties the focus was on human rights abuses in the former Soviet Union. American rights felt secure in their own rights and freedom of expression. Today we must guard against losing our right to freedom of expression.
The Literary Protest took place on the steps of the New York Public Library on 5th Avenue on January 15, 2017. Seventy writers and poets read poems, manifestos, excerpts from George Orwell, and made statements.
The Sunday afternoon of the protest my friend Monika and I arrived at the New York Public Library about ten minutes before the readings were scheduled to begin. Already hundreds of supporters of free speech were assembling. According to PEN America's website, 1,500 people registered to attend the event.
As Monika and I took a spot near one of the lions, where we had agreed to meet my friend Penelope, a mother of three young children who would be joining us, a belligerent woman swung her fists in the faces of peaceful protestors, shouting, "Fucking liberals! Go get a job!" A few equally eloquent rangy men joined her rant. These were Trump supporters who'd come to disrupt the peaceful gathering. But no one engaged with them. People ignored them. A man with long gray hair and intelligent eyes endured the Trump supporter shouting in his face, "Get a job!" He shrugged and said to the woman standing beside him, "I have a job."
The crowd ignored the rabble rousers and soon their short attention spans got the better of them and they drifted away, down Fifth Avenue, probably off to ogle at their Supreme Leader's gold tower and dream about the day they would be billionaires too, now that he was going to "Make America Great Again."
Why were so many Trump supporters so vitriolic I wondered? Many of them talk as though they'd been brainwashed, spewing senseless and unsubstantiated accusations, quoting lengthy fake news verbiage from Breitbart and Fox News. The previous evening I'd gone to listen to a friend's son perform at a student festival at Julliard. After the concert, standing in the lobby, my friend asked me what I was doing the next day. I briefly told her about the PEN American literary protest. A woman wearing an enormous mink coat overheard us and began to shout, "And what about eight years of human rights abuses by Obama!" We were so surprised by her bizarre behavior that we were rendered speechless. She seemed oblivious that she was causing a scene and frightening the Julliard students, who'd just come down from the stage after their performance.
More and more, such public displays of illogical hate have become the new reality in America. People feel empowered to shout racist slurs and non-sequiturs in public or cut you off in traffic in their SUVs and pick-up trucks, pimped out with American flags and "America First" bumper stickers.
The crowd before the library swelled, spilling over into the adjacent park and down the street. Poets came to the microphone and began to read. As I listened to the poets and writers read for the first time in many months I began to feel hopeful. We are stronger together. We are not alone. We can get through this. We can uphold decency, freedom of speech, we can fight racism, intolerance. A calm settled over the crowd. It is hard to explain even. We all felt better. We felt as though we were doing something, could do something, will do something. We felt it: the power of the spoken word is vital. There is substance to language, still. There is truth in the spoken word. This was such a relief after so many months of slippery news and commentary.
The spirit of the literary protest transported me back to the late eighties, during my student days in Lithuania, during the years of the peaceful mass demonstrations for independence from the Soviet Union led by Lithuanian poets and writers who similarly inspired the people by reading poems and essays from the stage, by giving us hope and direction, by showing us how societal and political change can take place through peaceful resistance, through equanimity, through a firm belief in what is just and true. Those poets and writers, through the spoken word, were combatting the lies of Soviet propaganda.
I remembered how back in those days people consciously sought to break down the barriers that existed in society, created by the Soviet system of spying and informing on one's friends, colleagues, neighbors by simply turning and speaking and sharing with whoever was standing beside them in the crowd.
I asked a young couple standing beside me why they'd come.
"I'm from Ireland," the woman said, "I can't vote, so doing things like this makes me feel more politically engaged."
"I work in book publishing," her partner said, "and I feel as though Trump attacked first amendment rights at his first press conference by attacking the press."
"Do you worry about things getting heated today?" I asked.
"I attended a few protests immediately after the election and they were peaceful," the woman said.
I asked an older couple why they had come. Warren Kass of New York answered, "To make myself more conscious of the threat for freedom of expression that may be ahead of us." Jane Beard said, "To be part of this process to straighten out this mess with this man."
There were people in the crowd holding babies. On the steps to the library a little boy held a sign that read: Love. A little girl held a sign that said: Empathy. A grandmother held up a placard that read: "Grandmother's for reproductive rights." Other signs read: "Pens not Pence" and "Impeach Trump" and "Censorship Starts with Self-Censorship."
This was a theme that was repeated often by the poets: Censorship starts with self-censorship. Already Americans are becoming afraid of publicly expressing their views. Already we are afraid that our statements on social media will be monitored, that we will be targeted. Already we are creating for ourselves the paranoia of living in the Soviet Union or any other totalitarian regime. No, we had to speak out. Self-censorship is the biggest risk and the greatest loss we may suffer.
One after the other, poets read, writers read. Past inaugural poems were delivered. George Orwell was quoted often, excerpts of his work were read, essays dating back to 1945 or 1947, but sounding completely relevant today.
A writer from Columbia read a piece about how 50 years ago when he left Columbia there was an epidemic of corrupt political strongmen who promised to fix the country, but plundered it instead. They always promised to help the poor, but with the backing of Columbia's rich only enriched themselves. He said that he was shocked that such a political criminal had now seduced the American people into believing his empty promises. He could not believe that the likes of a corrupt Latin American strongman was now in America.
Andrew Soloman, the president of PEN America, spoke about how traditionally Pen worked to bring about awareness about human rights abuses against writers in other countries. Never had he imagined that the time would come when PEN America would need to defend the human rights of writers in America. But the time had come.
The time has come and it falls upon us to act. Through peaceful protest, through the spoken word, we can remain balanced, we can remember our rights, and we can insist on them. The lesson of the literary protest is one that I will need to constantly remind myself of in the years to come. When I feel powerless or angry, or frustrated, when I see human rights threatened, when I see lives marginalized, I will call upon that day spent on the steps of the New York Library, listening to writers and poets of many races, backgrounds, nationalities, experiences, and I will remember the simple truth that poetry is the root of revolution.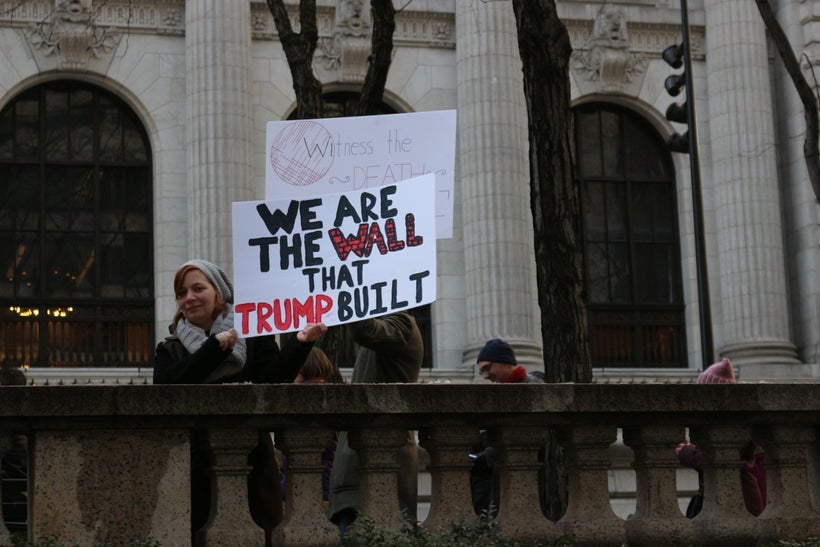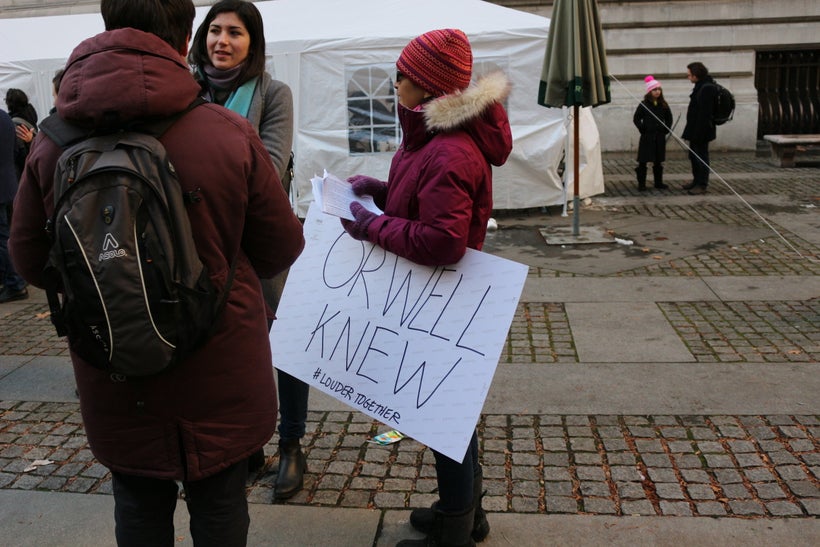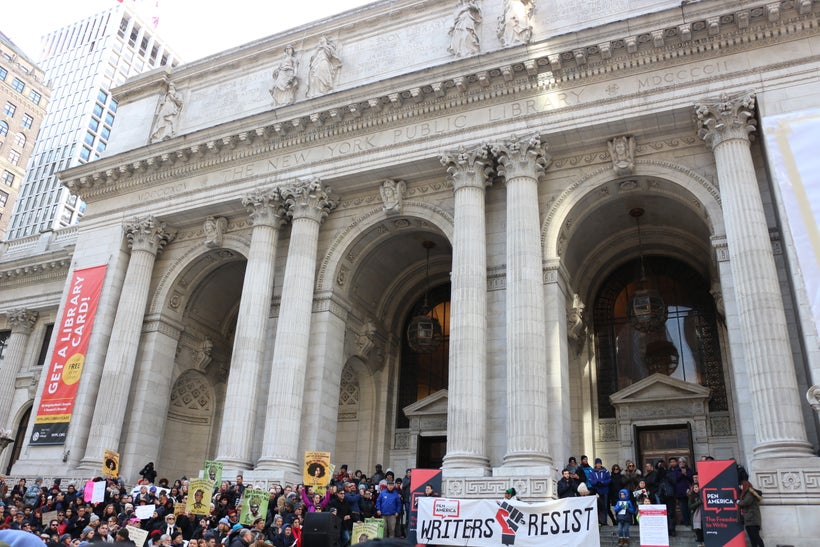 Laima Vince is the author of THE SNAKE IN THE VODKA BOTTLE
Calling all HuffPost superfans!
Sign up for membership to become a founding member and help shape HuffPost's next chapter
This post was published on the now-closed HuffPost Contributor platform. Contributors control their own work and posted freely to our site. If you need to flag this entry as abusive,
send us an email
.