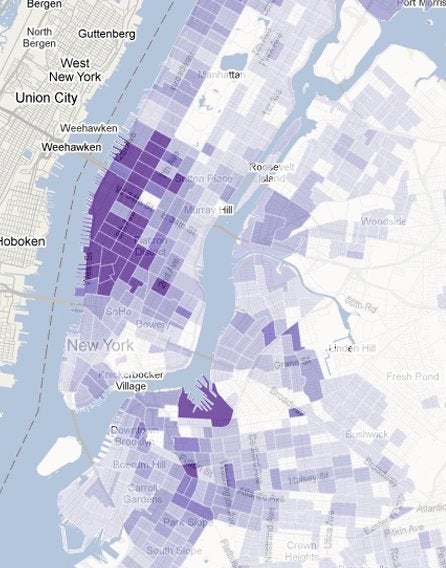 A total of 32,972 households in New York City included same-sex couples in the most recent US census, up from 25,906 in 2000. Wondering where they all live?!
According to Curbed, who's very excited over WNYC's choice to color the 'gayborhoods' purple, "the vast majority of same-sex couples counted by the census live on the west side of Manhattan, in a swath between Greenwich Village, Chelsea, and Hell's Kitchen-- not terribly surprising. One tract in Chelsea (between 6th and 8th Avenues, from West 18th to 22nd) wins the percentage game, with a 22% gay and lesbian contingency."
Brooklyn's Vinegar Hill and Park Slope are pretty purple as well, the latter of which is one of the few neighborhoods in the city where lesbian couples outnumber gay male couples.
Of course, Mayor Bloomberg and other city officials thought the 2010 census was pretty bogus, namely in Brooklyn and Queens and of course it doesn't take into account the thousands of couples who will probably come out of the woodwork when they can get married this July 24th.
For more detailed statistics go to WNYC.