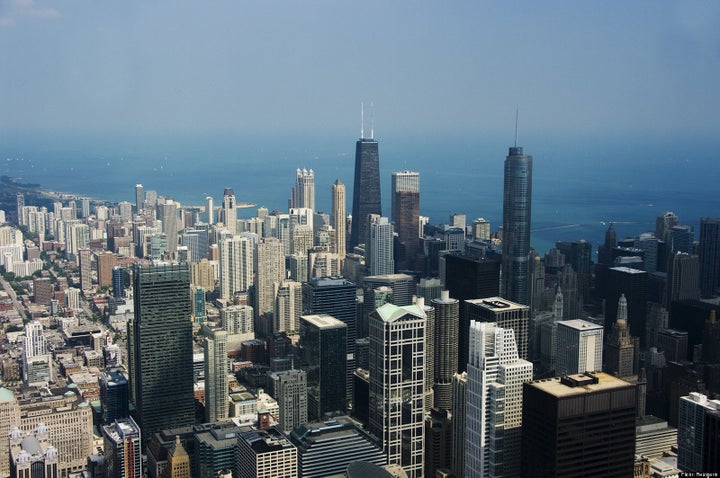 Census data show that the city of Chicago continued a trend it's followed steadily since 1950, losing nearly seven percent of its population in the last ten years.
The population according to the April 2010 census was 2,695,598, a decline of more than 200,000 people as compares to the year 2000 total of 2,896,016.
In general the suburban collar counties continued to grow, some spectacularly. The biggest gainers were Will County, growing by 34.9 percent in the last 10 years to 677,560 residents, Kane County, growing 27.5 percent to 515,269 and McHenry Country, growing 18.7 percent to 308,760.

...

Several suburban cities also experienced phenomenal growth, including Joliet, growing by 38.8 percent to 147,433 residents in 2010, Aurora by 38.4 percent to 197,899, Bolingbrook, by 30.3 percent to 73,366, Elgin, by 14.5 percent to 108,188, and Naperville by 10.5 percent to 141,853.

Cook County, where Chicago and its closest suburbs lie, saw a population decline roughly commensurate with that of the city, losing around 180,000 people.
In advance of the release of the figures, and with an eye toward the mayor's race, WBEZ's architecture columnist Lee Bey wrote an astute column about whether the city should concentrate on rebuilding its population, which reached 3.62 million sixty years ago and has -- like so many other Rust Belt cities -- been on the decline since.
"On the South and West Sides in particular, the shrinkage has left vast empty lots, miles of broad streets," Bey writes. "There is less of everything--and what there is can be expensive--when there aren't as many people around to support it."
As Bey mentions, no candidate for mayor has presented a compelling strategy to fight the exodus from the city. But with the tide continuing to draw city-dwellers out to the suburbs, it may prove too strong for anyone to fight.
Calling all HuffPost superfans!
Sign up for membership to become a founding member and help shape HuffPost's next chapter