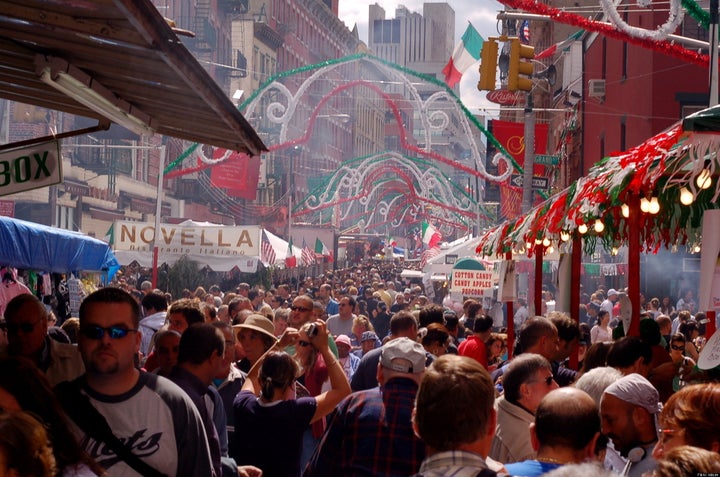 By 2000, the Census found those numbers had dropped to 6 percent Italian-American and only 44 residents who came from Italy.
In December, the Census released a survey showing that, of the 8,600 residents living in the same 12-block radius, just 5 percent identified as Italian-American--none of whom, according to the Census, were Italian-born.
Little Italy is becoming Littler Italy. The encroachment that began decades ago as Chinatown bulged north, SoHo expanded from the west, and other tracts were rebranded more fashionably as NoLIta (for north of Little Italy) and NoHo seems almost complete.

The Little Italy that was once the heart of Italian-American life in the city exists mostly as a nostalgic memory or in the minds of tourists who still make it a must-see on their New York itinerary.

Sambuca's Café on Mulberry Street is listed on Yelp, as being in Chinatown. That's especially noteworthy, the Times says, because its owner is the president of the Little Italy Merchants Association.
As Italian immigration decreased and Italian-Americans prospered, more and more of them moved away to other boroughs or to the suburbs.
Natalie Diaz is a fourth-generation Italian-American whose family came to Ellis Island from Naples in 1916.
"Little by little, everyone wants a little more, more space, and moves away," Diaz said. "There are some families, mostly from my mom's generation, who have held out. To be honest, though, I feel a really strong sense of tradition. I owe it to my ancestors. I feel that everything my family worked for from the time they got off the boat is here."
In March, the City Planning Commission is likely to vote for the creation of a Chinatown Business Improvement District, which would include all but two blocks of Little Italy, a neighborhood that once encompassed 50 square blocks.
John Zaccaro Sr. owns the Little Italy Real estate company, opened by his father in 1935.
"It's really all Chinatown now" he said.

Popular in the Community