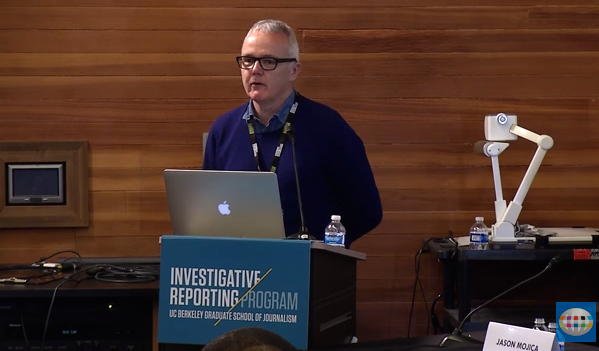 The Center for Public Integrity laid off two reporters Friday and will not immediately fill three budgeted positions in what the nonprofit investigative outlet's top executive described as a newsroom restructuring.
CEO Peter Bale said the staff reduction is the result of financial pressures and as part of an effort to increasingly focus on core operations like data journalism and visualization. Bale, who joined from CNN International in late 2014, said that the Center's budget for 2015 was $9.3 million. This year it is a little over $8 million.
"We expect to raise all the needed resources for the current fiscal year and have a strong pipeline with donors," he said.
The cutbacks come just a month after the International Consortium of Investigative Journalists, a project of the Center, helped reveal how some of the world's most powerful people conceal their wealth, in a massive leak of documents known as the Panama Papers. The ICIJ, with a global network of journalists, worked with German newspaper Süddeutsche Zeitung and over 100 news organizations on the scoop.
Bale said there aren't any cuts planned for ICIJ, though three proposed and budgeted positions will not be immediately filled. Bale said the Center is still recruiting for a senior-level data journalist to join its staff.
The Center now has 40 staff journalists, following Friday's two layoffs. The laid off journalists, senior reporter David Heath and data reporter Alexander Cohen, have had distinguished careers at the Center and other news outlets.
Heath, a three-time Pulitzer finalist, won five national journalism awards since joining the Center in 2010, according to his staff bio. He previously worked for The Huffington Post Investigative Fund, and The Seattle Times, where he co-authored a series on cancer research that won several awards, including Harvard University's Goldsmith Prize and the George Polk award.
Cohen was a member of the Center's investigative team that won an award from the Society of Professional Journalists for a 2004 series on the politics of oil. He worked as chief investigator for nonprofit Public Citizen during the 2008 election and Reuters' campaign data reporter during the 2012 election before rejoining the Center the following year. Though Cohen specializes in data, a continued area of focus for the Center, the position he held on the national security team was cut as part of the restructuring.
Heath confirmed he was laid off, but declined to comment further. Cohen didn't respond to a request for comment.
Disclosure: The Huffington Post has partnered with The Center for Public Integrity in the past. The Huffington Post Media Group president and editor-in-chief Arianna Huffington is a member of the Center's board of directors.
Popular in the Community