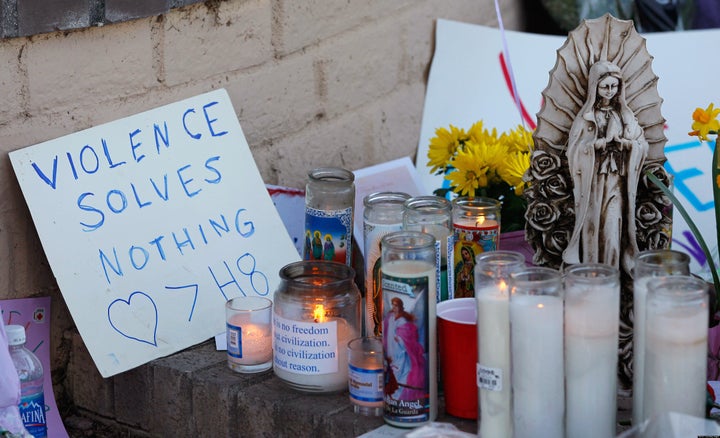 Month one of the year 2011 could be the perfect time to embrace oneness, but recent events might hope to thwart that and create even greater division and heartache.
This first week of 2011 witnessed two horrific tragedies set thousands of miles apart, but with chilling similarities. In Pakistan on January 4, Punjab's governor, Salman Taseer, was gunned down in broad daylight at an Islamabad shopping district. And in Arizona, on January 8, at a shopping center in Tucson, U.S. Representative Gabrielle Giffords was the target, with six people immediately killed, many more injured, and a bullet shot into her head at close range.
As Al Jazeera English service reported, in Pakistan the leader of a religious group of Muslim scholars advised: "There should be no expression of grief or sympathy on the death of the governor [Taseer], as those who support blasphemy of the Prophet are themselves indulging in blasphemy." Taseer had been a vocal critic of Pakistan's blasphemy law, which recently came under scrutiny after a Christian woman was sentenced to death for allegedly insulting the Prophet Muhammad. Taseer's alleged assassin reportedly carried out the violence because of pressures from his religious leaders, to commit severe punishment against those who refused to support draconian blasphemy laws. The gunman thought he was doing God's work.
On the Tucson shootings, politicians who used rhetoric including "lock and load," "the firing line," and other violent images can't be blamed for a mentally ill young man's violent actions, but at a time when we blame TV for childhood obesity, attention deficit, violent behavior and other social ills, taking greater responsibility for the repercussions of our language and actions isn't a political move, it's just acting responsibly.
Both politicians were outspoken as voices of reason and moderation, in Pakistan and the U.S., and admired for their conciliatory, can-do, passion for service. How many wake-up calls do we need before we rethink our commitment to bringing opposing viewpoints together for the common good, so that differences don't spur violence? Is this even possible? As we start 2011, how can we do better?
With too many examples of escalating conflict, coming together calls for nothing short of a transformation of society and attitudes. A gift as precious as unity -- in diversity, not uniformity -- will be hard won. I believe that "The well-being of mankind, its peace and security are unattainable unless and until its unity is firmly established." Our security is dependent on our unity. This quotation comes from Baha'u'llah, the 19th century Founder of the Baha'i Faith, who spent most of His life in prison for advocating justice, equality, education for all, and urging humanity on the path toward peace. He asserted that human beings were each "created Noble" despite our too-often turning our backs on this nobility; that the fundamental need of this age in human history is for the coming together of the whole human race. He taught that if religion causes tyranny, injustice or hostility, "the absence of religion would be preferable."
To guide my personal actions, these words of Baha'u'llah offer some concrete steps: "Be generous in prosperity, and thankful in adversity. Be worthy of the trust of thy neighbor, and look upon him with a bright and friendly face. Be a treasure to the poor, an admonisher to the rich, an answerer of the cry of the needy, a preserver of the sanctity of thy pledge. Be fair in thy judgment, and guarded in thy speech. Be unjust to no man, and show all meekness to all men. Be as a lamp unto them that walk in darkness, a joy to the sorrowful, a sea for the thirsty, a haven for the distressed, an upholder and defender of the victim of oppression."
I've been deeply distressed by so many acts of hatred, even as we start this New Year. Rather than respond with more vitriol, those of us who wish for peace can do so much -- to love more deeply, seek to learn more openly, serve more generously, and be more mindful of the individuals around us, with the precepts above as a guide. We must begin somewhere.
REAL LIFE. REAL NEWS. REAL VOICES.
Help us tell more of the stories that matter from voices that too often remain unheard.