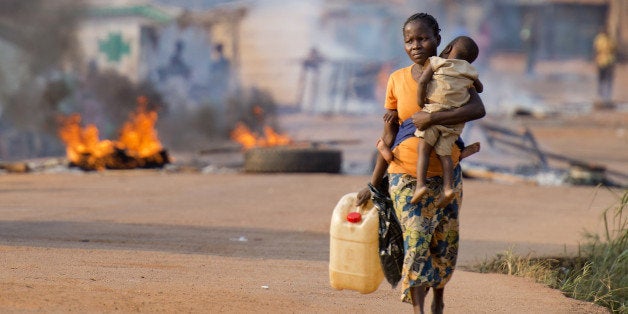 BANGUI, Jan 3 (Reuters) - Violence in Central African Republic has uprooted nearly a million people, a fifth of the population, and is hampering aid efforts, particularly in the capital Bangui, the U.N. refugee agency (UNHCR) said on Friday.
A flare-up in violence between Muslim fighters and Christian militias has displaced more than 200,000 people in the past few weeks alone, leaving a total of 935,000 homeless.
A Muslim rebel group, the Seleka, unleashed a wave of killing and looting after seizing power in March, and the deployment of 1,600 French and nearly 4,000 African Union peacekeepers has done little to contain the tit-for-tat violence between religious communities.
In the riverside capital alone, more than 510,000 people are displaced - equivalent to more than half the city's population, UNHCR said. Just over half of them are children.
The number of people sheltering at a makeshift camp at the international airport has doubled in the past week to 100,000. The site lacks proper access to food or water but access for humanitarian groups has been restricted by fierce fighting in nearby neighbourhoods.
"Insecurity and chaos around the site...prevents us from doing any distribution," UNHCR spokesman Babar Baloch told a news conference in Geneva. "It's a horrible situation. We have heard a lot about revenge attacks happening inside health centres, where armed elements have gone and attacked patients."
Medical charity Medecins Sans Frontieres said it was cutting services to a minimum at its airport clinic after stray bullets killed three children and injured 40 people this week.
"We are not going to continue to put the lives of our personnel at risk," Lindis Hurum, its coordinator at the site, told Reuters. "A team composed of five of our 16 doctors will be left in place for cases of extreme emergency."
Many of the displaced and injured inside the airport camp voiced fear that they were being abandoned.
"I owe my life today - like hundreds of others here - to MSF. But with this suspension of their activities, it will be a massacre," said Saint Cyr Lamaka, one of the wounded receiving treatment.

The United Nations is seeking $152 million for a 100-day emergency plan to tackle humanitarian needs inside Central African Republic. Some 240,000 refugees have fled to neighbouring countries.
Chad, to the north, has stepped up evacuation of its citizens, many of whom are being targeted by Christian militia who accuse them of links to the Seleka.
Some 12,000 Chadians have been repatriated in recent days on emergency flights and using land convoys, the International Organisation for Migration said. Qasim Sufi, head of its mission in Chad, said transit centres were struggling to cope, and the number of returnees was expected to rise very quickly.
Peacekeepers in Central African Republic are struggling to impose calm in a country the size of France. In Bossangoa, some 300 km (190 miles) north of Bangui, a Reuters photographer accompanying French troops on patrol saw the body of a Muslim, killed by Christian youths, lying beside a dirt path.
The abandoned homes of local Christians burned unattended after Muslims threw grenades at them. Most of the town's Christian population have long since left their homes to move into a camp by the town church, housing some 40,000 people.
In neighbouring Cameroon, meanwhile, two soldiers were killed on Thursday at a border village when unidentified gunmen from Central African Republic attacked a military outpost, state radio said. Five of the gunmen were also killed. (Additional reporting by Tom Miles in Geneva and Andreea Campeanu in Bossangoa; Editing by Mark Trevelyan)

Related
Before You Go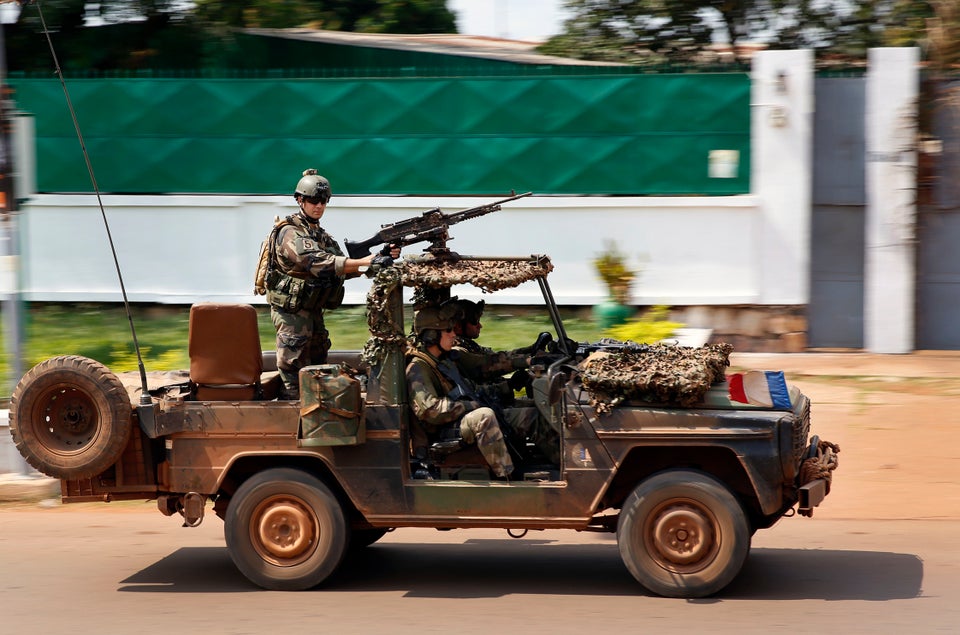 Fighting Rocks Central African Republic
Popular in the Community