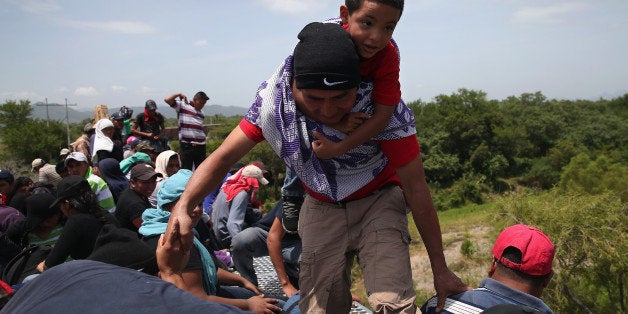 A new conservative talking point holds that Central American newspapers are inaccurately reporting on U.S. immigration policy, thereby creating a stampede of undocumented minors over the U.S.-Mexico border. But an examination of those newspapers shows the picture is more complicated than that.
The number of unaccompanied minors apprehended while crossing illegally into the country has shot up from less than 7,000 in 2011 to an estimated 70,000 for the current year, according to the Department of Health and Human Services -- with most of them coming from Central America.
Prominent conservatives, including Sen. Ted Cruz (R-Texas) and Rep. Bob Goodlatte (R-Va.), are blaming that surge on President Barack Obama's Deferred Action for Childhood Arrivals program, or DACA, which allows many undocumented immigrants who arrived here as children to avoid deportation for a renewable two-year period.
Critics say that DACA created the mistaken impression -- then repeated by Central American news media -- that minors who arrived in the U.S. illegally would be allowed to stay. In fact, only undocumented minors who arrived prior to June 2012, when the White House first announced DACA, are eligible for the program.
The White House rejects the idea that rumors of lenient treatment for minors have spurred the wave of migration, saying the uptick in unaccompanied minors crossing the border illegally is instead a result of rampant violence and poverty in Central America. Nevertheless, the Obama administration is now urging Spanish-language media to make it clear that minors who illegally immigrate to the U.S. today won't be able to benefit.
"We have public messaging campaigns designed to educate and inform individuals about the dangers of crossing without the proper documents," a White House official told The Huffington Post in an email. "We are also underscoring with Hispanic media both in the U.S. and in sending countries that recent migrants are not eligible for DACA or pending immigration legislation."
A Huffington Post review of Spanish-language and Latin American news reports found that while the region's newspapers often failed to emphasize the June 2012 cutoff date, they otherwise covered DACA accurately and included enough detail about the program to raise serious doubts that newly arrived migrants would be eligible.
Moreover, HuffPost found, Central American news media routinely portray Obama as tough on immigration, instead of creating the sense that the administration welcomes the undocumented.
Newspaper reporting from the region on DACA at the time the policy went into effect did not generally emphasize that those who entered after June of 2012 wouldn't benefit, though the reports often noted that applicants had to have lived continuously in the United States for five years.
More recent reporting about DACA in the leading papers for the region do not, by and large, contain factual inaccuracies, but they also rarely mention that the program excludes those who arrived after the cutoff date.
That omission is not unique to Latin American journalism. Associated Press reports translated into Spanish also routinely fail to mention the DACA cutoff date, as does more recent news writing on the subject in English. Much of the news in Central American papers about DACA wasn't even written by Central Americans reporters. Because the region has relatively few foreign correspondents in the United States, Central American papers often cover changes in immigration policy by filing the Associated Press's Spanish-language reports, along with other foreign wires, like Spain's EFE.
Carlos Arrazola, an editor at the Guatemalan digital news site Plaza Pública, cautioned against the idea that the spread of misinformation was prompting the mass migration of undocumented minors.
"I don't discard it entirely," Arrazola said of the theory, "but I find it very difficult to believe."
"Fundamentally, what's motivating the children to leave is to reunite with their parents," Arrazola added. "They don't necessarily leave thinking that they'll be able to benefit from some law over there."
Some U.S. conservatives have criticized Central American papers for simply reporting the news about DACA.
A recent article on the conservative website Newsmax, titled "Central American Newspapers Tout Open U.S. Door For Illegal Minors," cited two articles appearing in the region's papers. The first article, which appeared in a Salvadoran newspaper last week but was actually written by the Spanish newswire EFE, reported on the two-year extension of DACA. The other article, attributed the staff of La Prensa, a Honduran daily, reported that the U.S. government would shelter some 500 undocumented minors from Central America at a military base north of Los Angeles. Both articles were factually accurate versions of news reports that had also appeared in the U.S. media.
U.S. Sen. Jeff Sessions (R-Ala.) referred to the two articles during a Senate Judiciary Committee hearing Wednesday, citing them as evidence for his assertion that DACA has spurred the latest wave of illegal crossings by undocumented minors.
Public officials in Guatemala are less convinced of Sessions' theory.
Rafael Amado, the communications director for Guatemala's Ministry of Foreign Relations, dismissed the notion that minors were fleeing to the United States because of rumors that they would be allowed to stay there after crossing the border illegally.
"I don't think that perception exists," Amado told The Huffington Post. "At least here in Guatemala, people don't know much about DACA. The kids that people are sending don't know about it."
Instead, Amado said, the common trait among most of the unaccompanied minors crossing illegally into the United States from his country is that they have a family member here. If the kids arrive thinking that by crossing into the United States they'll be allowed to stay, it's most likely because that's what their families have told them, Amado said.
Human smugglers, known in Spanish as "coyotes," have exploited that misconception, telling families that it will be easy for children and teenagers to simply cross the border and turn themselves in immediately to U.S. border authorities, according to Amado.
U.S. policy requires border authorities to hand Central American minors over to the Office of Refugee Resettlement within 72 hours, rather than repatriating them immediately, as is the case for Mexican minors.
Amado said the Guatemalan government will launch a campaign this week to urge adults not to send their children across.
"Here we've tried to clarify that you have to go through a process and it's not certain that you'll be able to stay [after crossing illegally]," Amado said. "And we're launching the campaign to let people know the risks and say, 'Look, don't go -- it's not so easy.'"
Elise Foley contributed reporting.
Before You Go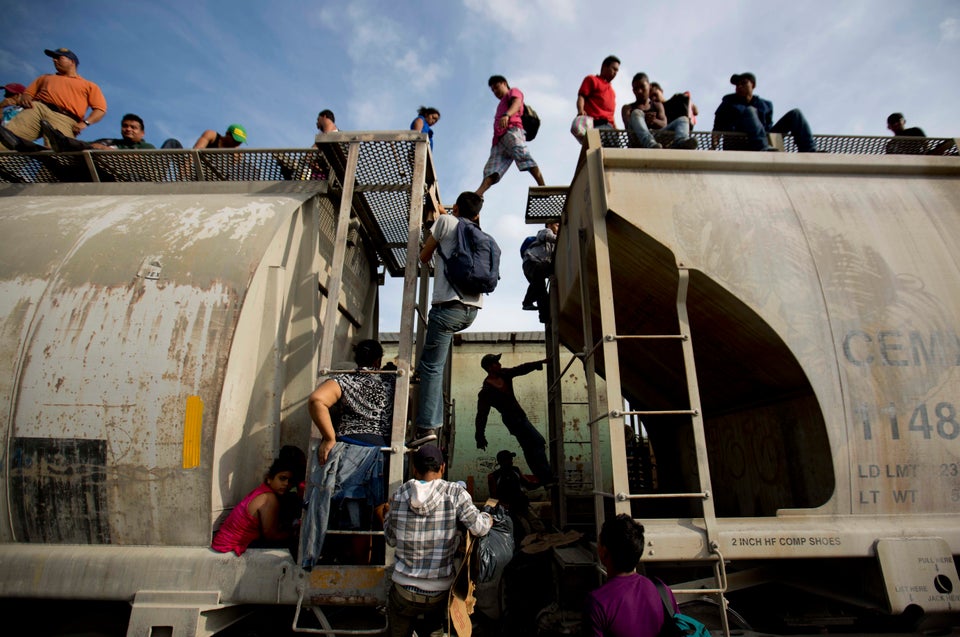 Why Latin Americans Really Come To The U.S.
Popular in the Community