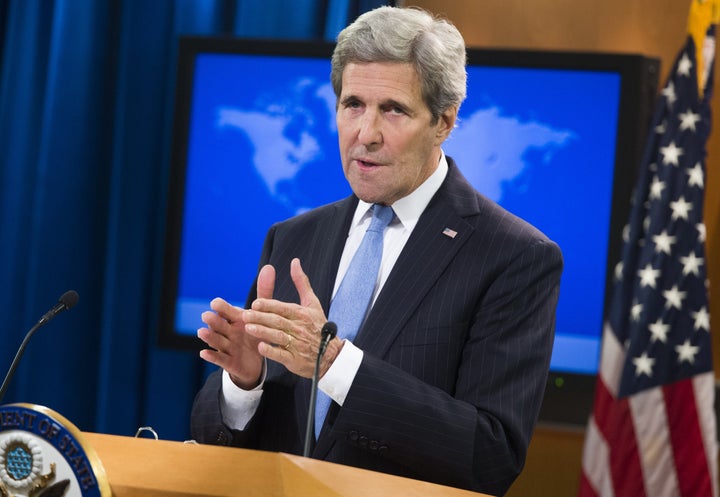 WASHINGTON -- The U.S. will expand refugee screening in El Salvador, Honduras and Guatemala, in an attempt to stem the growing tide of families and unaccompanied children fleeing the countries, Secretary of State John Kerry announced on Wednesday.
The U.S. will "expand" the refugee admissions program in the three countries to "offer [families and individuals] a safe and legal alternative to the dangerous journey that many are tempted to begin, making them at that instant easy prey for human smugglers who have no interest but their own profits," he said during a speech at National Defense University, in Washington.
The plans to work with the United Nations High Commissioner for Refugees to screen refugees in Central America were first reported by the New York Times on Tuesday evening. Administration officials told the Times that as many as 9,000 people from El Salvador, Guatemala and Honduras might be able to come to the U.S. under the program, while some would go to other countries in the region.
The U.S. will also work with UNHCR to create processing centers in neighboring countries, according to the New York Times report. UNHCR screens people around the world for eligibility for refugee resettlement, but those referred to the United States are also vetted by the U.S. government.
The U.S. already planned to admit 85,000 refugees from around the world this fiscal year, up from 70,000 last year. Only 3,000 spots were allocated for Latin America and the Caribbean, though the figures also factor in 6,000 unallocated openings for refugees. Kerry did not specify how the new plan would affect that figure.
A Department of State spokesman said it is not raising the overall number of admissions for the fiscal year.
The news comes after more than three-quarters of the House Democratic caucus signed onto a letter asking the president to suspend recent deportation raids on families ordered for removal, and do more to help vulnerable Central Americans. Many critics have accused the administration of a hemispheric bias in refugee response -- willing to fight for bringing in more Syrians and others from the Middle East, but focusing more on keeping Central Americans from coming to the U.S.
"However, these same fundamental American values have not been applied in your administration's policies towards Central American refugee mothers and children. ... Rather than preserving our commitment to refugee protection, your administration continues to pursue policies that treat Central American refugees as an immigration enforcement matter," they wrote.
The Democrats also called in their letter for the administration to work with the United Nations to screen refugees for resettlement in the U.S. and other countries, and for people already here to be eligible for temporary protected status that would allow them to stay.
The efforts at deterrence, at least so far, do not seem to be working. Although the number of Central American families and unaccompanied minors seeking refuge in the U.S went down following a spike in 2014, they're rising again, which many experts attribute to the ongoing instability in El Salvador, Honduras and Guatemala. The homicide rate in El Salvador spiked last year, putting the country on track to pass Honduras, which has been coined the homicide capital of the world.
Customs and Border Protection agents apprehended about 21,500 family units over the past three months, compared to about 7,500 in the same period the year before. Agents also picked up about 17,400 unaccompanied minors in October, November and December of last year. They apprehended about 8,000 children traveling without their parents, during the same months the year before.
The State Department and U.S. Citizenship and Immigration Services announced plans in November 2014 for an in-country processing system in Central America for parents lawfully present in the U.S. to apply for their children to join them here, meant to discourage minors from arriving without authorization.
Processing, however, has moved slowly. Critics have slammed a policy that requires minors to remain in dangerous Central American countries for long periods before approvals. Nearly a year after the program was announced, not a single person had used it to come to the U.S., and only 90 of nearly 4,000 applicants had been interviewed.
The State Department did not respond to a request for comment on current figures detailing how many Central American minors have been approved for the program. According to the non-governmental organization U.S. Committee for Refugees and Immigrants, only five children arrived in the program's first year.
Stacie Blake, who leads the group's government relations efforts, said they are concerned about the processing speeds of the newly-announced refugee screening efforts.
"A sense of urgency is needed," she said in an email. "Women and children are running for their lives. A policy or plan with no urgency will not protect vulnerable people running for their lives."
Kerry's announcement on Wednesday didn't end criticism of the administration's deportation raids. Sen. Bob Menendez (D-N.J.) said in a statement to HuffPost that a refugee processing center in Central America "is an important step in recognizing that this hemispheric humanitarian crisis merits a comprehensive approach" and that he looked forward to seeing more details.
"At the same time, we must immediately halt domestic immigration raids that fast-track the deportations of the very same families we are hoping to aid with today's announcement, especially if they have not been granted access to legal counsel or meaningful due process," Menendez added. "As a nation which prides itself in treating refugees appropriately and according to international standards, we must lead all efforts that create security, peace and safety for these children and families."
Later in the day, President Barack Obama approved up to $70 million in additional funding for the refugee admissions program worldwide -- not exclusively for Central America -- "for the purpose of meeting unexpected urgent refugee and migration needs ... in light of the unprecedented number of refugees in need of resettlement," according to a memo he sent to Kerry.
This story has been updated with a comment from Sen. Bob Menendez (D-N.J.) and with information about funding approved by the president for refugee resettlement efforts.
The Obama Administration's Controversial Use Of Family Immigrant Detention
Popular in the Community