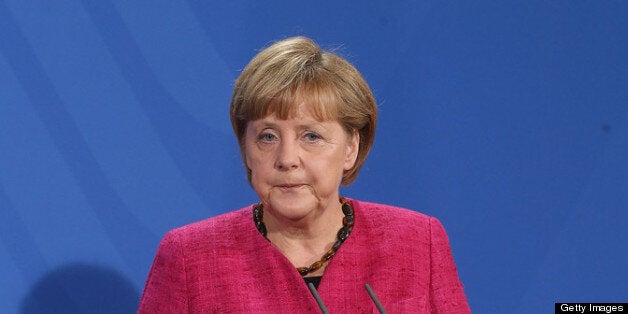 Dim memories of wartime protectorates have faded in Central Europe. Some states, like tiny but perky Slovakia, would now gladly nominate Germany, the EU's guardian of austerity and paymaster-of-the-last-resort, as their "protector."
Speaking at one of Europe's leading strategic forums, GLOBSEC in Bratislava, Slovakia's foreign minister Miroslav Lajcak sparked controversy last week when he said that Slovakia would not have a problem with becoming a part of a "greater Germany."
Pundits on both sides of the Atlantic should take due note. But rather than evoking sinister historical parallels, they should draw more attention to round two of a broader strategic realignment that is underway inside the European Union, its implications for the transatlantic relationship and opportunities for U.S. foreign policy.
Spanning the Baltics, the Nordics and the European core (for instance, the Netherlands), it now appears that the Germany-led bloc, which preaches smart defense and good economics, can also count on the so-called Visegrad Group, where core members are one-time leading European Americanophiles: the Czech Republic, Hungary, Poland and Slovakia.
Poland deserves much of the credit for this repositioning. The regional power was the first one to jump on the German bandwagon. The Economist wrote three years ago as it was courting Germany and France through the Weimar Triangle, a previously dormant regional club, that it was trying to transition to the premier league of European politics -- and "dance with the big boys". Poland is likely the only Central European state for which closer cooperation with Germany was a premeditated strategy from the start.
Slovakia hitched a ride next. When it rejected the first Greek bailout on the eve of the full-on euro-crisis, observers speculated that then-Prime Minister Iveta Radicova was not only speaking her mind, but Chancellor Angela Merkel's, too. What may have been a canard at first became reality when the rhetoric of frugality and solidarity by successive Slovak governments continued to strike a chord in crisis-managing Berlin.
It was less clear where the introspective -- and, in parts, Euro-skeptic -- Czech Republic and Central Europe's "black sheep du jour" Hungary (Poland and Slovakia also experienced populist and nationalist straying, if not outright democratic backsliding, in mid-2000s), stood, until the Weimar plus Visegrad meeting that Poland organized in Warsaw in March.
Another triumph of Poland's foreign policy enterprise, it marked a valuable attempt by Warsaw diplomats to push for greater coordination between Central Europe and Germany and France in discussions and votes on the future architecture of the Economic and Monetary Union and the strengthening of the EU's Common Security and Defense Policy (CSDP).
The Central European embrace of Germany is not yet tight. A German-Polish-Slovak axis is in place, largely thanks to the bonding of the three over their shared pro-European sentiments, but the fickleness of the Czechs and the distractedness of the Hungarians renders a "Visegrad approach" difficult, if not impossible. Of course, Central Europe whole is much more valuable for Germany than Central Europe shredded, considering European Council politics. Recent pledges to reinvigorate cooperation in sectors such as defense and energy, resonating in the Visegrad Foreign Ministers' Declaration that emerged from GLOBSEC, may be a political signal that the region has learned its lesson.
What does this mean for the U.S.? For some seasoned Washingtonian Cold Warriors, the fact that Germany, and not America, now seems to be playing the role of benign superpower in Central Europe, may be a somewhat bitter pill to swallow. It was not so long ago that Atlanticism was these states' way of hedging against German influence -- and German-Russian energy cooperation -- in the region. But the days of denouncing the Nord Stream pipeline deal as a "Molotov-Ribbentrop Pact" in reference to the 1939 non-aggression agreement between Russia and Germany are over.
The current U.S. administration has fewer reasons to fret about Central Europe's pivot to Germany, and maybe even a couple to celebrate. Architects of the reset policy with Russia might be particularly glad to hear that their Central European counterparts are keen -- and some of them have been for some time - on mending relations with the former imperial overlord. This is a timely development given the changing rules of the energy game, which may eventually encourage a weakened Russia to reinvent the notion of institutionalized collaboration with the EU and NATO -- and show less hutzpah vis-a-vis civil society at home, should the institutions shrewdly link Moscow's upgrades to political conditionality.
With German backing, Central Europe could eventually be interested in becoming the transatlantic community's proxy for Russia. Given some recent setbacks of U.S.-Russia policy -- especially when it comes to democracy assistance -- and Washington's busyness with its own pivot, lessons from Central Europe's established projection of soft power to the Western Balkans and Eastern Europe, as well as further creative input, could be invaluable.
Pivoting to Germany does not mean pivoting away from the U.S. American policy-makers and opinion-makers should make it their business to seriously consider the opportunities that it creates for deeper strategic collaboration with Central European allies.
Calling all HuffPost superfans!
Sign up for membership to become a founding member and help shape HuffPost's next chapter