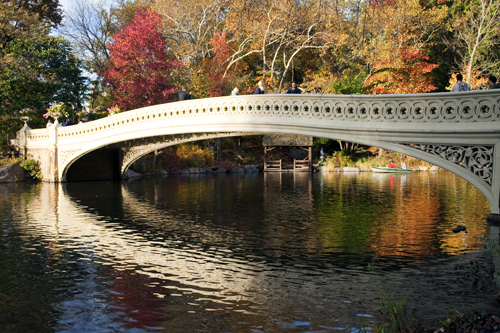 Bow Bridge by Arienne Davey
In a moment of time in a moment of space, the park is greeted fully by Diana, her silver orb shrouded in mystery. The curtain reveals thunder, lightning, pouring down upon New York City, alleviating summer's last gasp. It is September. It is the equinox and the Park is Central.
Some might consider Fall's sister, Spring, to be the beginning of the seasonal journey. In New York it is Autumn. Autumn is Central Park. Artists, performers, business people, children, dogs, anonymous creatures reappear breathing joy that is offered by shifting poetry embodied by more than 25,000 trees, flowers, hills, water, sounds.
Maestro readies the Met. Dance captains steady their companies. Painters point their brush. Hawks inform Belvedere Castle of their destination north. Birds no less in stature, pay their respects on their way to our northern friends. New York awakens. It is a grand opening.
The Sherry Netherland bows to the Plaza, which returns the gesture on the southern park border. The Dakota on the West Side looks on with its imperial gaze as stately mansions on avenue 5 pay homage from the east. Towards Polaris, the North Star, majestic swans glide on the northern Harlem meer.
Rain becomes fog. Diana once again is visible, waving to her park devotees as she turns to invite the day to paint its unique form and color. It is neither day or night. It is our imagination that flies into Central Park's long shadows emanating from its royal denizens. And so the scene is set. Another season endows its subjects with glory.
As the Eastern lights paint its pale pink sky, Jack, a 17-year-old boy is emerging from ancient mountains gently residing in the middle of New York State. Catskill mountains. He is driving as fast as he can, for he is to meet his first love on exposed rock in the park of his dreams - Umpire Rock. It is 5:00 a.m. Jill, also 17, risks the subway. She is yearning to once again meet her love as she slips from her parents' home racing towards his pulse. They met the previous heated solstice backstage at an old hotel barely able to stand. It was love at first. Lust second. They said they would meet at the only rock Jack knew in Central Park.
Lisa walks into an Ancient Playground. She is 28. She is considering how she can stay with a man who so thoroughly misunderstands her. Children's giggles remain in her future and presently are warming the sandbox beset by an obelisk. The day will arrive. Though she is sad, she cannot help but notice the light of Autumn that has tiptoed into her eyes. She smiles and goes to the swings, remembering her trapeze dreams. Alice, famous in Wonderland is gracious as she receives Lisa's fantasy and gently wraps it into a bow to give to the Mad Hatter sitting beside her. The White Rabbit must go, but he cannot. He is bronze.
Trains rumble, a car scurries across the George Washington Bridge. Two lovers open to possibilities. Across from the Plaza Hotel a friend of Herman Hesse stops Jack who is running towards his rock and asks for a light. He notices papers in Jack's back pocket. They are love poems created for the occasion. Hesse's buddy asks to read them. Jack, not being rude, hands them over and almost bolts for the gate.
"You write just like my friend, Hermann Hesse," says the stranger. Jack doesn't mind. He is besotted with lust. He quickly snatches the papers to continue his journey. He zooms through Grand Army Plaza. Umpire Rock is near. Jack approaches, Jill climbs from the other side. Along the borders, the light unveils monuments opening their eyes to the magnificence known as Central Park. Jack and Jill go up the rock and do not descend for quite some time. They kiss. As their souls entwine, summer's heat ascends through their hearts into the sky, leaving behind cool tones. Pomona bestows her charms upon all visitors to Autumn in New York's Park, central to dreams, desires, tragedies and love. Bethesda's Angel opens her wings wide to Pomona.
The new season has begun. The Zoo comes alive. Bears revolve, music plays. Carousel spins, lovely pictures emit tunes. Roller blades dance on Literary Walk.
Arising from the mist of a lake's memory, a glorious, colorful canopy of magnificence is being readied for its introduction. Oak, magnolia, elm, linden, cherry, to name but a few, smile as the show begins. First they will blush, then they will yawn loosening their adornments onto the ground, revealing their true iconic forms. It is beginning, from 59th street undulating to 110th. It is an eternal performance. It begins with a kiss.
Calling all HuffPost superfans!
Sign up for membership to become a founding member and help shape HuffPost's next chapter