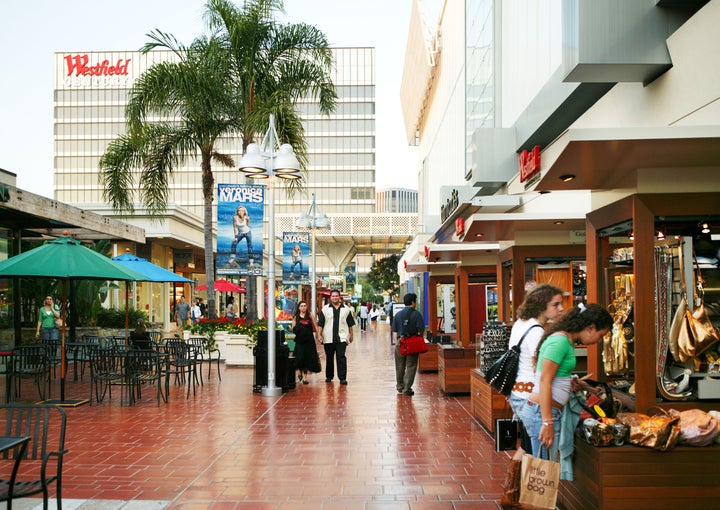 A more than 20-year-old tradition is coming to an end at Century City, but residents don't want to see it go away.
The Century City Westfield mall got approval from the LA Planning Commission back in August to get rid of its three-hour free parking policy, and it could be gone by as soon as fall of 2013, reports Westwood-Century City Patch.
But some Westsiders are complaining that they did not get enough notice about the decision, despite the fact that Westfield met with two different homeowners associations before the parking plan was approved.
"I only heard about it yesterday, and I think customers are going to be very unhappy when they find out about it," said Terry Tegnazian, president of the Westwood Hills Property Owners Association, to The Huffington Post.
In an email circulated amongst the POA, Tegnazian urged members to contact both Westfield headquarters and LA City Councilman Paul Koretz to ask them to compromise by providing two hours of free parking.
Her email also noted that three hours of free parking was a condition of the mall's original permits, which date back to 1988.
But the conditional use approval requiring three hours of free parking was waived the same day the planning commission approved the mall's new parking fee structure [PDF]. Short of filing a legal action over the issue, homeowners are out of luck.
Westfield spokesperson Katy Dickey responded to Tegnazian's proposed comment with this statement: "Although the rate structure has not been finalized, it'll be reasonable, consistent and competitive with city parking rates, as well as those found in other retail centers located in similarly dense urban environments."
Century City mall shoppers also weighed in on Twitter to complain about the new parking rates.
Westfield is making changes in response to a report that revealed nearby office workers were abusing the free parking policy, entering and exiting the garage multiple times a day to avoid paying fees. The street parking surrounding Century City mall is protected by permit parking and metered street parking.
While Westfield's decision may just seem like one big downer to sneaky office workers or mall patrons used to a free ride, urban planning professor Donald Shoup has written extensively about the hidden costs of free parking; namely that it subsidizes sprawl and car culture instead of pushing developers to come up with a more economical and environmentally-friendly way to plan cities.
In a New York Times review of Shoup's book The High Cost of Free Parking, Tyler Cowen writes, "Car owners may not want to hear this," continued Cowen, "but we have way too much free parking." If parking spaces were priced according to supply and demand, explained Cowen, more people would consider taking mass transit or other forms of transport to get to their destination -- encouraging a denser city planning and freeing up parking spaces for drivers who will pay a premium for the spot.
CORRECTION: A previous version of this article incorrectly named Terry Tegnazian's organization. We apologize for the error.
Calling all HuffPost superfans!
Sign up for membership to become a founding member and help shape HuffPost's next chapter
BEFORE YOU GO