Despite our best efforts to meet in Barcelona, at the GSM World Congress, with 49,000 participants spread between 1,300 vendors, C.E.O. Brooke Partridge and I missed each other.
We succeeded in connecting between New York and Palo Alto by phone a week later. It had been my impression that she was someone I had to interview, but I did not realize how integral she was to thought leadership on technology in the developing world until we spoke.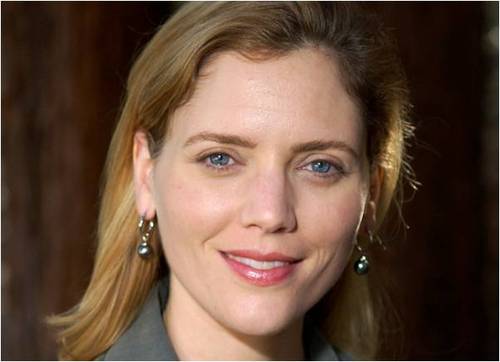 Brooke Partridge of Vital Wave Consulting helps steer the direction of technology in emerging markets.
She's been moving in this space for a long time. Brooke started Vital Wave Consulting nearly five years ago after a decade at HP as a leader in emerging technologies and emerging markets.
She was key in dragging the emerging-market focus from the realm of corporate social responsibility (CSR) into the business units.
During that period, HP had a head start on emerging markets, and Brooke saw that other companies getting into the space were looking for strategic support and guidance.
She started Vital Wave Consulting to serve a wider base of companies, and Brooke and the rest of her firm became advisors for some of the biggest tech companies in the world.
This "wag the dog" approach had a strong impact on several multinational organizations that were able to maximize their impact on global business and the developing world with her firm's advice.
Brooke has been quietly moving behind the scenes for many years now helping technology companies strategize and tool up for successful revenue growth in emerging markets. Indeed, she counts Intel, Microsoft, and other Fortune 500 firms among Vital Wave's customers.
"One of the reasons our company has survived in this economy is because of this role. We go beyond talking about the size and importance of these markets. We really quantify and characterize the opportunity, creating specific plans to help companies capture it."
Initially, Brooke saw the need for a firm that would specialize in helping companies grow profitably in these countries. Up until then, technology corporations either ignored emerging markets or dealt with them in their philanthropic or CSR areas. Not always, anymore.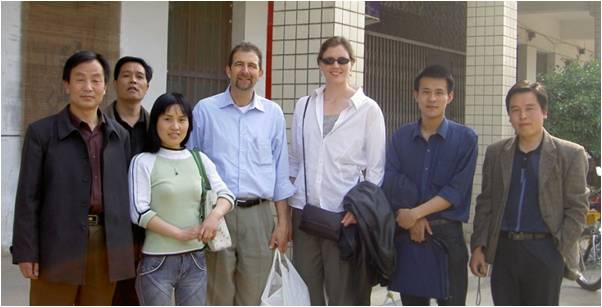 Brooke Partridge and David Lehr with the Xian Province Ministry of Commerce in China.
"But if you want financially sustainable investments in poor countries," she says, "you have to talk about the P word." Profitability, that is.
Among many who work in the NGO and development communities, the idea of making money from people in poor countries remains taboo, but Brooke sees it as vital.
"If you want companies to invest in these markets for the long term, you have to demonstrate that they can make money in them. And that's what we help to do," she says. Yet a funny thing happened along the way.
"A few years ago, the development community came to us," says Brooke.
What Vital Wave Consulting does for the private sector has proved valuable for NGOs, and they reached out to Vital Wave Consulting themselves.
The reports stress multi-sector collaboration and highlight the need for the private sector to be involved in these solutions.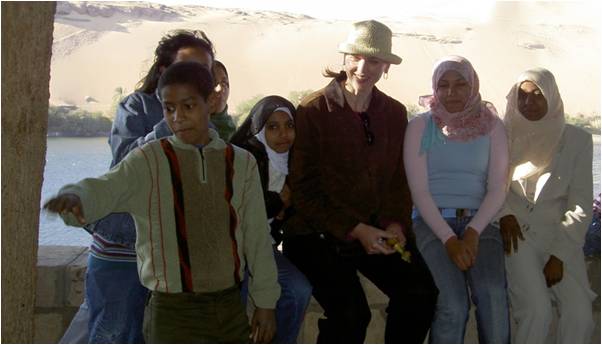 A seasoned globe-trotter, Brooke enjoys a moment to relax with kids in Egypt.
Brooke's personal background, how she got here, is an integral piece of the picture. Brooke grew up in Silicon Valley as it grew up - when San Jose and Santa Clara were known for agriculture not computer chips.
She was in one of the first middle schools to have an Apple Macintosh and a computer programming class (two computers shared among 30 programming students!). She grew up a few miles from Apple and HP offices in Cupertino.
There were entrepreneurs all around. What Brooke calls "A heritage of entrepreneurship." Then, when she was 15, she went to Peru for a summer - her first exposure to both poverty in the developing world and the innovative ways that poor people earn money.
She watched what people do every day in low-income areas to creatively increase their income, utilize what assets they have to make extra revenue. People maximize and monetize whatever assets they have available. Own a wheelbarrow? Use it!
Move things for people and charge money for it. Eventually, one has to ask, "How could someone make more money with a computer, a cell phone, a server?" Not long after, she found herself living in Mexico, and Chile, plus a year living in Madrid.
Eventually, she was focused heavily on markets like South Africa, China, and India. With her unusual background, no wonder Brooke landed at the intersection of technology, entrepreneurship, business growth, and emerging markets.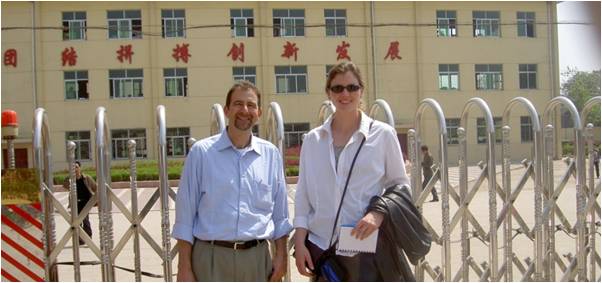 Brooke Partridge and China Specialist, David Lehr, visit the Rural China Rain Gold Junior Middle School.
When Brooke Partridge was in high school, her guidance counselor asked her what she wanted to do as a career.
When Partridge replied that she wanted to work internationally, the guidance counselor said "Oh, that just means you want to travel. But what do you want to do for work?" Little did he know just how serious Brooke was.
Partridge's early experiences led her to study international affairs and economics in her undergraduate and graduate studies, but her early corporate experiences left her wanting more.
Brooke was nearly always working on new, "disruptive" technology solutions - for both developed and developing-country markets. Disruptive means that the new technological solution would disrupt existing but weaker solutions.
Ultimately, she became the business director of HP's Emerging Market Solutions organization where her passion for and experience in disruptive technology, international business and development came together.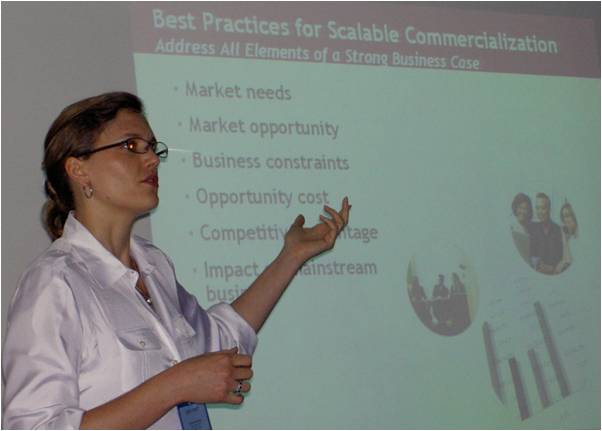 Brooke presents "Best Practices" at HOIT 2007, IIT in Madras, India.
From her early days in developing countries, she had always been convinced of the connection between profitable business and economic development. This was her first opportunity to demonstrate it. And through Vital Wave Consulting, those opportunities keep coming.
"That is really my guiding philosophy, and that of Vital Wave Consulting. I don't apologize appealing to corporations' profit motive. I think that even the development community is seeing that profit - i.e., sustainable business models - is essential for scaling their programs.
"There is big money in making products for emerging markets, and it results in good development. People in emerging markets want choices, they spend their money wisely, and the market economy can work for them."
Paul Stevers, founder of CharityHelp International (CHI), agrees with the view that profitability is good for development.
Paul told me, "Thought leaders like Brooke Partridge and Muhammad Yunus (Grameen Bank) are leading the way on how to develop sustainable business models that can be scaled up significantly and benefit millions of people in developing countries."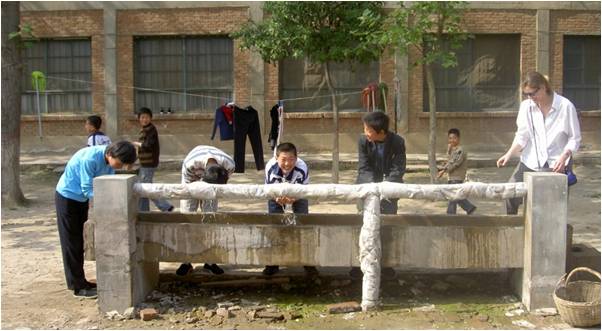 Brooke's vision stems from her total immersion in local cultures - here, in China.
C.E.O. Brooke Partridge of Vital Wave Consulting does not believe in hand-outs. She is involved in developing the world hands-on.
Through her global vision, multi-national corporations and international philanthropic organizations will be able to assist the developing world develop itself. That, my friends, is true leadership.
Calling all HuffPost superfans!
Sign up for membership to become a founding member and help shape HuffPost's next chapter