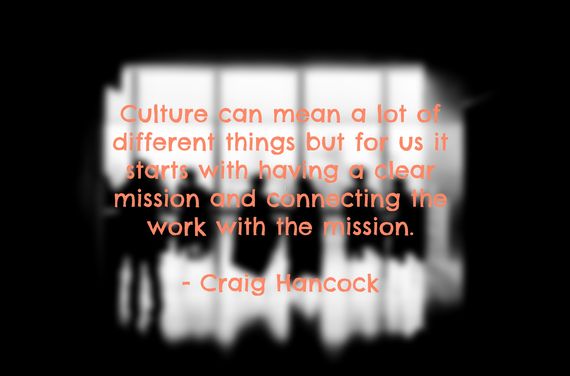 Craig Hancock is the CEO at RealMassive. The company operates in the commercial real estate space and is a source of commercial real estate information.
During our interview, I picked up on something that Hancock mentioned – relationships.
I have found that companies who focus on product, only, are destined to fail. Why, because the market will shift, customers are fickle, and sometimes the product is ready before there is a need.
This is not to say that the product should not be a core piece of the company's culture. But it must be tempered, even crafted, by deep relationships which adds transformational value to any company.
"At Zappos, we really view culture as our No. 1 priority. We decided that if we get the culture right, most of the stuff, like building a brand around delivering the very best customer service, will just take care of itself." – Tony Hsieh, CEO Zappos
Hancock explains that culture is one of the things he is most proud of at RealMassive. Craig continues to explain that by coupling culture and the company's mission, teams build a deep sense of ownership and accountability.
These are two important values that a company must foster. Why, because those values help build a foundation of trust and reliance.
Teams that can pull this off are massively invested in getting the job done.
So Craig what is your story?
My path to becoming an entrepreneur has been atypical. I've always been entrepreneurial minded in how I approach the jobs I've held but technically this is my first company. After graduating from the Air Force Academy I served on active duty for 5 years, first as a grad assistant/football coach at the Academy and then as a program manager for the Global Positioning System (GPS).
Serving my country was a great honor and provided incredible leadership opportunities. I took that foundation and moved on to pursue a career in business in late August 2001. My plan was to either find a job in Silicon Valley or attend business school and get onto Wall Street. Two weeks later 9–11 happened.
Silicon Valley was still reeling from the dotcom bubble and all of the business schools I wanted to attend said no. Jobs were scarce so I consulted for the defense industry for about a year to make ends meet before finding an entry-level job on Wall Street. This taught me an important lesson... the common/popular path (in this case the idea that I needed an MBA to work on Wall Street) to an outcome isn't the only path.
In my 11 years on the Street I studied the business models and management teams of public companies across a myriad of industries, saw companies experience wild success and rapid failure and helped my investors profit along the way.
In 2013 I had the opportunity to help my friend and Academy classmate Josh McClure start RealMassive. He had a big idea and I saw clearly where I could help him turn it into a reality. As co-founders we balance each other out amazingly well.
Early on I knew this company would be a success. It's not very often you get a chance to help transform a $15 trillion industry.
How can entrepreneurs find success in a marketplace that always seems to change?
Entrepreneurs must find ways to adapt to the market they serve while staying true to their vision.
Most marketplaces are constantly evolving and I often see companies pivot too much and/or too quickly in response. Understanding the difference between your ever changing marketplace and a strategic inflection point is critical.
It's what Andy Grove referred to as recognizing the difference between the "signal" and the "noise" in Only The Paranoid Survive.
If a dynamic marketplace causes you to constantly change your priorities then your vision is either too narrow or unclear. At RealMassive we use a customer-driven, data-informed process to stay on top of the commercial real estate market. That means we listen to customers but we also pay close attention to data.
If the signals point to a strategic inflection point, we must act boldly.
Describe a time when you missed a deadline/revenues/failed to meet expectations and why? How did you feel? What lesson did you learn from it?
During my time on Wall Street the market for sell-side research and trading changed dramatically. Decimalization was already starting to compress commissions when I entered the business in 2002.
High Frequency Trading (HFT) took hold of the equity markets shortly thereafter and ultimately produced the flash crash of 2010. Throw in the housing/banking crisis of 2008–2009 and the bursting of multiple insider-trading rings in 2009–2011 and it was a rough backdrop for research sales and trading.
The scrutiny on research budgets and execution costs was intense and much of the industry, myself included, failed to recognize and adapt to these strategic inflection points. I started missing sales targets in 2009 and continued to miss them for 3 more years.
I built a solid reputation in my first 6 years on the Street, never seeing less than 30% y/y growth. Now my business was dropping every year and there was no end in sight. It was incredibly painful. I was somewhat fortunate in that most of my competitors were dropping 30–40% each year and I was able to keep my declines at 10–20% because of the strength of my customer relationships.
That was a huge lesson... strong customer relationships are critical to success. Only through those relationships was I able to outpace the industry, often besting much larger and better-resourced competitors.
What is your 5 year goal for the business?
To become the leading commercial real estate marketplace.
What is your company's mission statement and how is it used to keep your company focused on long-term thinking and not short-term goals?
RealMassive connects commercial real estate decision makers to the data, people, and insight necessary to make data-driven decisions. The essence of our mission puts us in a position to serve commercial real estate professionals with the best technology and data available.
This servant-leadership position we have with the industry informs our product process and guides our sales and customer experience teams. It has become part of our culture to operate with this mentality, which helps ensure our short-term goals are always consistent with our longer-term mission.
How do you choose your team?
We hire for cultural fit first and foremost.
The culture our team has fostered is one of the things I'm most proud of. We lead with culture in our recruiting efforts, and it ends up being the most common reason someone joins our team and why they stay motivated, more so than compensation or functional role.
Culture can mean a lot of different things but for us it starts with having a clear mission and connecting the work with the mission. Everyone on the team knows how the work they perform supports the overall mission.
Another key component is empowerment. Everyone on the team has the authority and resources to get the job done as best they see fit, including plenty of freedom to fail. In downhill skiing if you never wipe out you're not skiing hard enough. That means you're not getting better. The same goes true in business, and we want our employees pushing the limits on what's possible or accepted so they and the team as a whole succeeds.
After the culture check we spend time getting to know the person to make sure there's a fit between the employee's skill set and the role(s) we need them to fill. If there's a mismatch between skills and role both culture and job satisfaction can degrade quickly.
Lastly we ensure compensation and benefits are at least inline with industry norms. Most of our team came through referrals from people who know us well, such as existing employees, investors, partners, and contractors.
We also have a vibrant internship program that has produced 7 of our 28 full-time employees who now fill roles in sales, marketing, support, and product. I love the foundation we've built and see it serving us well as we approach the next stage of growth.
Reader Question: Building your team around a cultural model is a critical building block of any successful company. How do you hire for your company?
Popular in the Community