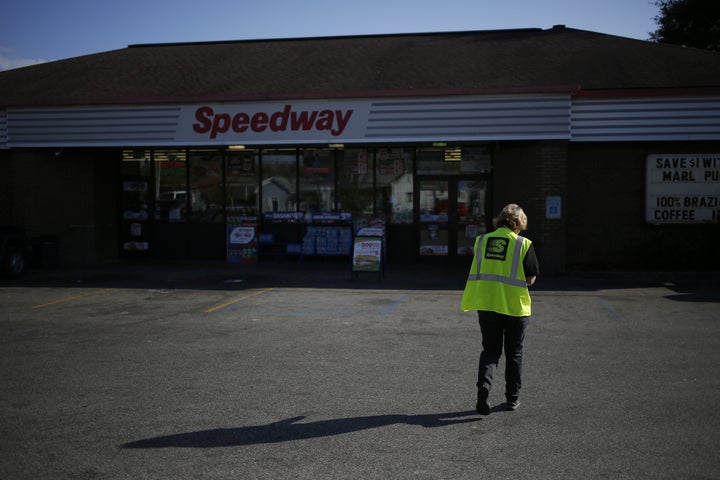 WASHINGTON ― A moment that corporate executives may have dreaded for years has finally arrived.
As Congress chips away at bank regulations established by the 2010 Dodd-Frank law, another part of the measure is exposing the extreme income inequality between bosses and their workers.
The law requires publicly traded companies to calculate the ratio of their chief executive officer's compensation to the median pay of the companies' employees. After a series of delays, firms are finally disclosing their pay ratios in filings with the Securities and Exchange Commission.
Some of the numbers are shocking. The staffing firm ManpowerGroup paid its chief executive $11.9 million last year ― 2,483 times the average employee's earnings. The firm noted in its disclosure that most of its employees are temps who work only part of the year, making just $4,828 on average.
ManpowerGroup's ratio is the most lopsided of any disclosed as of Tuesday morning, according to Proxy Insight, a company that tracks SEC disclosures for investors. Excluding firms with no employees, the average ratio among the more than 263 disclosures to date is 77 to 1, with CEO pay averaging $7.2 million compared to $93,000 for the typical worker.
Other notable ratios for big firms include the appliance maker Whirlpool Corporation, which paid its CEO 356 times what it paid its average worker, and the health insurance company Humana, whose top executive earned 344 times more than the median salary for employees.
The disclosures come as Democrats and Republicans wage a rhetorical battle over who benefits most from the massive corporate tax cut President Donald Trump signed into law late last year. While Republicans have touted modest bonuses several million workers have received from various companies, Democrats have kept a running tally of share buybacks, which inflate the value of a company's stock and enrich executives. Stock awards represent a substantial portion of executive compensation.
Companies have long disclosed executive pay as part of their SEC filings, but what's new is the requirement that they also own up to what they pay their rank and file. Paired together, the numbers can serve as a barometer for economic inequality within particular firms.
Lisa Gilbert, a lobbyist and expert on executive pay with the consumer advocacy group Public Citizen, said that if company leaders dreaded this day, they were right to do so.
"It's embarrassing," Gilbert said. "We're learning how little they pay their workers. We're learning how much they pay their CEOs, and the ratios are stark."
Although it has little regulatory impact, the CEO-to-worker pay ratio was one of the most contentious pieces of the Dodd-Frank legislation. It took the SEC three years to issue a proposal for firms to disclose the ratio, over the fierce objection of corporate lobbyists. The business community argued it would be too difficult and costly to calculate the ratios.
Some regulators sympathized. Two Republican members of the SEC voted against the rule, and one of them, Michael Piwowar, said its real intent was to "shame" executives.
The rule's backers argued that both investors and employees have a right to know when executive pay is grossly out of step with typical workers' salaries, saying it sheds light on a company and its priorities.
Labor groups have used industry-level wage data to calculate worker-to-CEO pay ratio estimates to spotlight pay inequity. The AFL-CIO reported last year that among more than 400 companies traded on the S&P 500, the average CEO made 347 times more than his or her average worker.
For some firms, the ratio alone can obscure important details about employee compensation, such as whether workers reside in areas with a low cost of living and what their hours are, said Tim Bartl, CEO of the Center on Executive Compensation, a group that opposed the pay rule.
"Unless you get into the details, it doesn't tell you a whole lot," Bartl said.
Still, some companies in their disclosures appear eager to erase their lowest-paid employees from existence to make the pay ratios less conspicuous. ManpowerGroup, the temporary staffing firm, offered an alternative ratio that excluded the temp workers who are at the heart of its business model.
The company noted in its SEC filing that its CEO earned only 276 times as much as the firm's permanent employees.
Marathon Petroleum Corporation is another firm with an eye-popping ratio. CEO Gary Heminger earned nearly $20 million last year ― 935 times more than the median Marathon employee.
The company blamed the disparity on the thousands of workers at its Speedway gas station subsidiary. Gas station cashiers earned an average of just $9.83 per hour last year, according to the Bureau of Labor Statistics.
If the company could wave a wand and make those low-wage workers disappear, then its CEO-to-worker pay ratio would be a much more reasonable 156-1, the company said.
Popular in the Community