WASHINGTON -- Fifteen Senate Democrats including Elizabeth Warren (D-Mass.) called Tuesday for the Securities and Exchange Commission to implement a rule on CEO pay that the agency has suppressed for more than a year.
Sen. Robert Menendez (D-N.J.) organized a letter to SEC Chair Mary Jo White demanding action on the rule, which requires companies to disclose the ratio of CEO compensation to the pay of its median worker.
"While CEOs can create value for companies, so can ordinary workers," the letter reads. "Pay ratio disclosure helps investors evaluate the relative value a CEO creates, which facilitates better checks and balances against insiders paying themselves runaway compensation."
The SEC proposed the rule in September 2013. The standard 60-day period for public comments expired in December of last year, but the agency has yet to implement the proposal. The 2010 Dodd-Frank financial reform law required the SEC to craft a CEO pay ratio rule. Companies have furiously lobbied the agency to delay or water down the proposal to allow calculation methods that would result in a lower ratio between CEOs and typical workers.
White, who took the helm of the SEC in April 2013, has been widely criticized for being soft on corporate managers and failing to regulate dark money in the campaign finance system.
Sens. Jack Reed (D-R.I.), Jeff Merkley (D-Ore.), Dick Durbin (D-Ill.), Tom Harkin (D-Iowa), Bernie Sanders (I-Vt.), Sheldon Whitehouse (D-R.I.), Richard Blumenthal (D-Conn.), Barbara Boxer (D-Calif.), Carl Levin (D-Mich.), Tammy Baldwin (D-Wis.), Ed Markey (D-Mass.), Mazie Hirono (D-Hawaii) and Al Franken (D-Minn.) also signed the letter.
Before You Go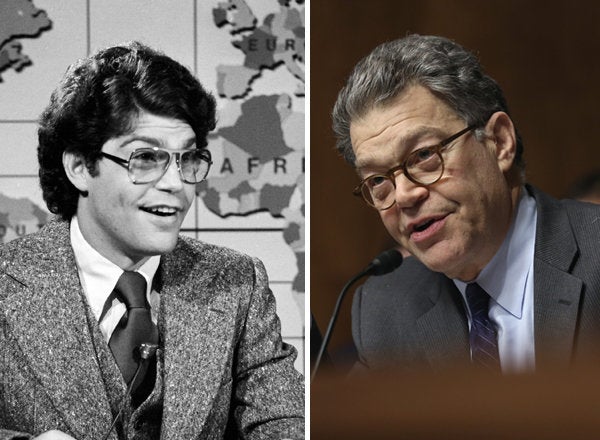 Politicians Then And Now
Popular in the Community