A 7-year-old with big dreams in England wrote a letter to Google about working for the company one day ― and she received an encouraging response.
On Monday, Andy Bridgewater posted a photo on Twitter of a letter his 7-year-old daughter Chloe received from Sundar Pichai, the CEO of Google. Chloe previously sent the company a letter addressed to "Google Boss" to let its employees know to keep an eye out for her application in the future.
"My name is Chloe and when I am bigger I would like a job with Google," she wrote. "I also want to work in a chocolate factory and do swimming in the Olympics." (Same here, Chloe.)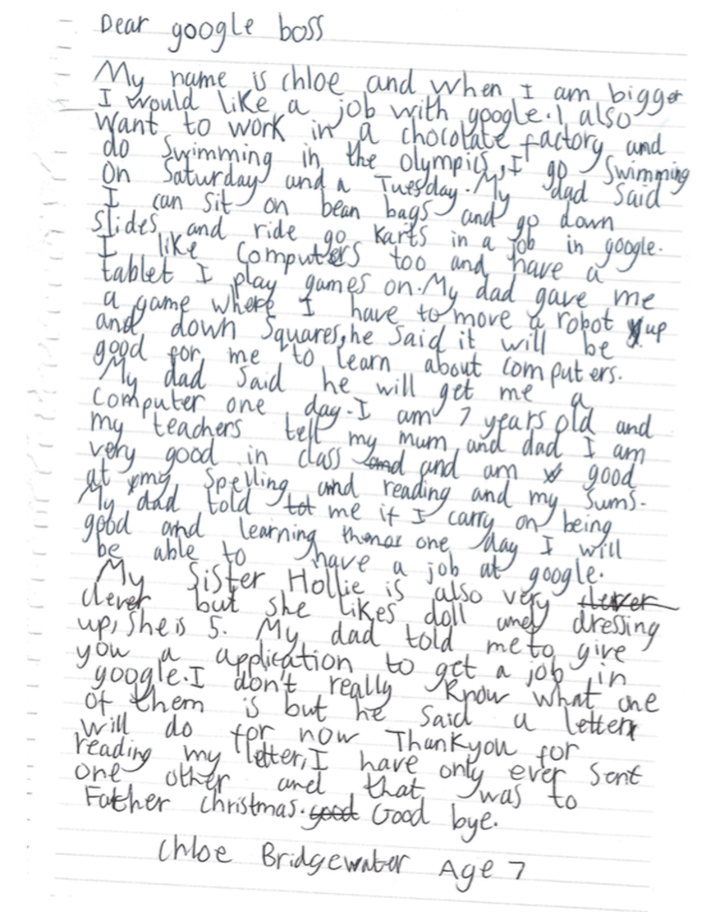 Chloe wrote that she loves computers and robots and that her teachers told her parents that she is "very good in class and good at [her] spelling." She also thanked the "Google Boss" for reading her letter since the only other letter she ever sent was addressed to Father Christmas.
Chloe's skills seemed enough for Pichai, who wrote a response. In his letter, the CEO applauded Chloe's interests in technology and offered some encouraging advice.
"I think if you keep working hard and following your dreams, you can accomplish everything you set your mind to ― from working at Google to swimming in the Olympics," he wrote.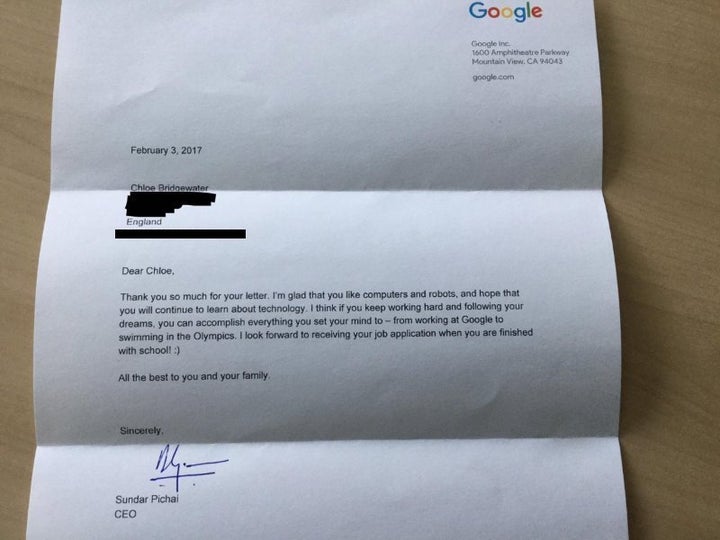 He added that he looked forward to getting her job application, after she finishes school, of course.
Bridgewater wrote on Twitter that his daughter was thrilled to receive a letter from Pichai. He also celebrated his daughter's impressive ambition.
"Well done, my angel!" he wrote in a tweet. "Mum and I are so proud."
The HuffPost Parents newsletter offers a daily dose of personal stories, helpful advice and comedic takes on what it's like to raise kids today. Sign up here.