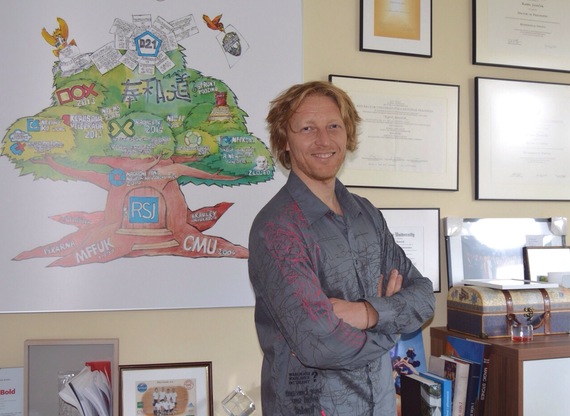 Karel Janecek is the founder, majority shareholder, and former chairman of the board of RSJ, one of the most successful and largest algorithmic trading companies in the world. Janecek is also anti-corruption activist, mathematician, and social reformer.
Janecek currently spends his time promoting accountable government through citizen action and electoral reform--namely, Democracy 2.1 (D21)--as well as by intensely supporting scientific research and anti-corruption. He recently launched GISTin Up to support and develop startups in middle and eastern Europe to boost their economic acceleration.
Janecek graduated from the Faculty of Mathematics and Physics of Charles University in Prague, majoring in theory of probability and mathematical statistics. He earned his Ph.D. in Mathematical Finance at the prestigious Carnegie Mellon University in Pittsburgh, and his degree of MBA in Finance he received at Bradley University, Peoria, USA.
Tell me about your early years.
Since I was 5 years old, I always knew that I would be a mathematician. My parents put me at an elementary school with extended language teaching, but I didn't like it that much. In second grade, I had a math teacher who strongly shaped and influenced my interest in mathematics.
My father didn't want me to be a mathematician; he wanted me to be an economist. So, after high school, I went to study economics and mathematics at Charles University. During my third year there, I managed to get a scholarship to study in the United States, where I later earned an MBA in finance. Then I worked for a hedge fund firm, where I learned about the financial market.
What has been your biggest challenge in your career?
That was RSJ, the algorithmic trading firm. I built it from scratch--from nothing--to become the successful trading company that it is today. We had an initial capital of about €300,000, though nowadays you would need ten times that amount to start a trading company. In the 1990s, electronic trading was relatively new on the financial market and enjoyed less competition. It was a great opportunity for us.
In 2004, because of one error in the mathematical model for the software, we lost everything in only a few hours. Fortunately, a partner and colleague of RSJ who trusted me and the model, invested more money into the company so that we could survive after losing everything. We learned from that failure, overcame the obstacle, and won out despite setbacks. There are challenges every day, but when I take a moment to look back and see what we have built together due to great team effort--that we built a great place to work from nothing--it makes me very proud.
What are some leadership lessons you've learned over the years?
I've learned to have a clear, explicit vision of what I want to do and what I want to achieve. To not let anybody discourage them, even despite obstacles, leaders must be able to overcome hardships. And, of course, it is very important to listen. I listen to people's advice and take it into consideration before making whichever decision I think is best for the business.
It's also important to have intuition--what a person feels is good--on one side and, on the other, to connect with intuition in order to think rationally. Anything that a person does should be logically justifiable and, at the same time, respond to feeling or emotion--that is, his or her intuition.
I've also learned that it's important to overcome fears and to not be afraid. If you want to achieve something, then you'll probably have to take a risk. You must be mentally prepared for losses and ready for the worst-case scenario. Imagine failure and learn how to live with it in the case that it really happens.
In the beginning, our trading business had little capital. It was risky, and I knew that we could easily go out of business. So, I had to be psychological prepared for that. I told myself, "In the worst-case scenario, if I lose all of the money that I've made, life will still go on. I have a PhD degree. I could go into teaching at an institution as a professor or researcher." In life, you always need to have a Plan B and to not fear what scares you. You need to get out of your comfort zone, and you've got to be willing to push your boundaries.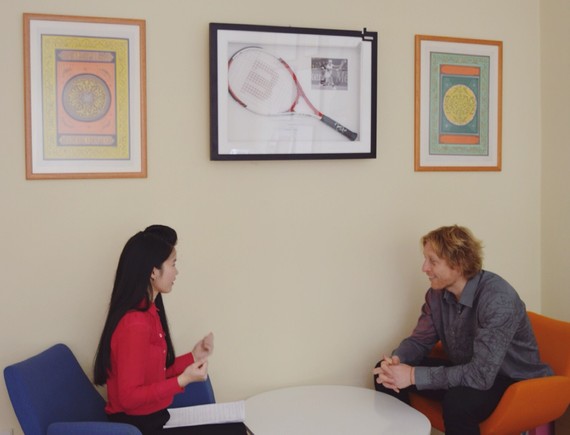 How would you describe your leadership style?
It is crucial that people share the group's vision and understand what the group is doing. In every situation, I always look at the other person and try to understand what their needs are and how I can address them. I try to understand what success means to each person and encourage them to meet milestones. Giving people the space to grow and conceiving leadership as service can create environments in which people feel empowered to take responsibility.
How do you hire?
First impressions are important for fitting in on a team. On my team, I want to know other people's values and how they formulate their values. Are they team players? Are they willing to learn and grow? We need people who are willing to learn and grow and adapt. I also look at people's technical capabilities.
What advice do you give to college graduates?
For each of us, the possibility of failure can't be the most important factor when we make decisions. We always have to do the best that we can to succeed, and if we fail, then it's not the end of the world. You can move on and live somewhere else, and that's the best attitude.
Accept that you're going to have failures. You learn from your failure, move on, and look back at it objectively to see what you could have done better. You also have to recognize that there might be external, objective reasons for why things didn't go so well. It's not so much the outcome, but what you do with that outcome that matters.
This interview has been condensed and edited for clarity.
This post is part of "CEO Talk" series, which features leaders around the world speaking about their journeys. What does it take to become a successful entrepreneur or CEO? What is the path to success? What challenges did people face and how did they overcome them? Lan Anh and her guests answer all these questions and much more. To view the entire series, visit here.
Calling all HuffPost superfans!
Sign up for membership to become a founding member and help shape HuffPost's next chapter