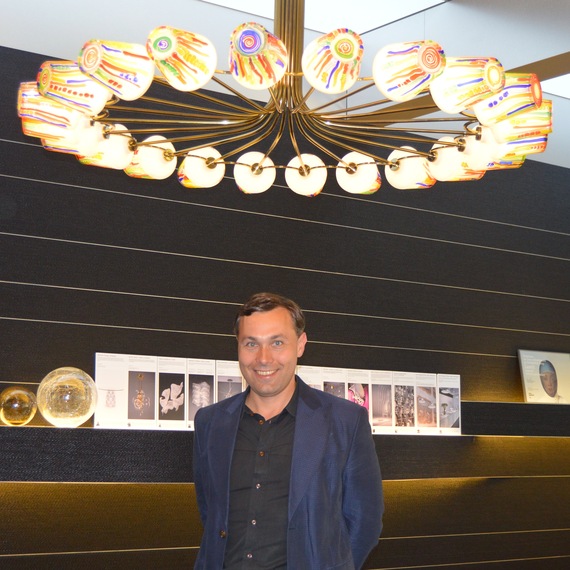 Leon Jakimic is the founder, owner and president of Lasvit, a leading designer and manufacturer of bespoke light fittings, feature glass installations, and award-winning collections. Lasvit's projects vary from glass sculptures for private residences to large-scale installations for luxurious hotels and high-end boutiques, and they include, for example, Etihad Towers in Abu Dhabi, the Peninsula Paris Hotel, the New York Palace Hotel, and the Dubai Metro. Jakimic was awarded a tennis scholarship by Loyola Marymount University, where he studied economics. He graduated from the Kellogg-HKUST Executive MBA Program.
Tell me about your early years.
Until I was 16, my goal was to be the top-ranked tennis player in the world. When I reached 17, I realized that my earlier dream was not attainable, so I put all my effort into focusing on my academic career, my second priority after tennis. I received a tennis scholarship from Loyola Marymount University and played tennis for the school while taking business classes. My first full-time job was with the Czech crystal company, which sent me to Hong Kong when I was 24, where I still live today.
What has been your biggest challenge as an entrepreneur?
To start a company, you need to have courage. As an entrepreneur, my key challenges are where do I get the funding I need, how do I find employees with top talent and retain them, and how do I attract customers. Since I wasn't trained as a designer, I had a lack of industry expertise. But I knew enough to reach out and find mentors who could guide me. I am grateful to have a strong team that helped grow Lasvit into the successful business it is today. It's about believing in your goals and what you are passionate about, and from that, others will become passionate about it too.
What are some key leadership lessons you've learned over the years?
I learned early on to be transparent, to value clear communication, and to share my thoughts so that others could follow them. I believe in sharing information that every employee deserves to know, including what the company does, its results, and its goals for the future.
Accountability is critical, especially when your business culture empowers people. If we're pushing responsibility down into the organization and enabling employees to make decisions, then accountability is key. Without it, you're just delivering empowerment to a black hole.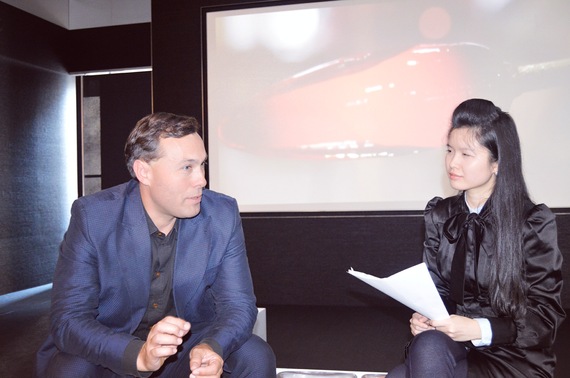 How would you describe your leadership style?
I think my team would describe me as a collaborative leader, one that's there to support them every step of the way. For me, it's important that people have a firm belief in a project. If they're fully dedicated and their hearts are in it, it will succeed. But it's work to find the right people, and when you do, you need to trust them. I strongly believe in my employees. I want the team to be truly engaged and involved in a project, to sincerely believe in the business, and to share the same vision. When everyone has that shared vision and is working toward the same goals, loyalty and a strong work ethic will follow. People who are on board because they truly care about what we're striving to accomplish make all the difference. I appreciate and reward proactive employees who step up and take ownership.
What is the key to your company's success?
It's all about the team. Without a strong team, a business can't succeed. To get a business off the ground requires a great amount of energy and keeping the pursuit of the greater goal foremost in your mind. On our team, I am fortunate to work with smart, creative, driven people who link their personal stories to the team vision. We inspire, challenge, and learn from each other every day, which has been the mission for Lasvit since its inception.
Once a year we organize what we call a "Lasvit Summer Summit." The event lasts for three days. Everyone from the company gathers for this event, except for a few who are working on current projects and are unable to attend. We have production managers, designers, people from HR, and from sales and marketing from worldwide offices. They all meet and switch roles for a day; for example, a production manager might take on a sales role. In this way, we all learn more than we knew before, and each of us better understands the role of another person in the company, and how what we do affects what they do, and ultimately, our combined success.
How do you hire?
When I'm considering a new hire, I want to know what kind of person he or she is, so I ask lots of open questions. I ask why the person wants to work for us; I want to understand why he or she wants to work here. What is it that a potential employee thinks we can do for him or her, and what can this person do for us? I also want to understand his or her long-term aspirations. I don't hire to provide someone with experience; I hire people to solve problems and can get things done.
What would you say to others to encourage them to become entrepreneurs?
I would tell anyone who has a passion to create something to just do it--but be prepared. Don't enter a business that has a low barrier entry. Your business goal is, ultimately, to be different. Do the necessary research and learn about your market and the numbers. Back yourself, believe in yourself, and believe in your idea. Don't be afraid to take risks or make mistakes. And when you do make mistakes, learn from them and move on.
This interview has been condensed and edited for clarity.
This post is part of "CEO Talk" series, which features leaders around the world speaking about their journeys. What does it take to become a successful entrepreneur or CEO? What is the path to success? What challenges did people face and how did they overcome them? Lan Anh and her guests answer all these questions and much more. To view the entire series, visit here.
REAL LIFE. REAL NEWS. REAL VOICES.
Help us tell more of the stories that matter from voices that too often remain unheard.