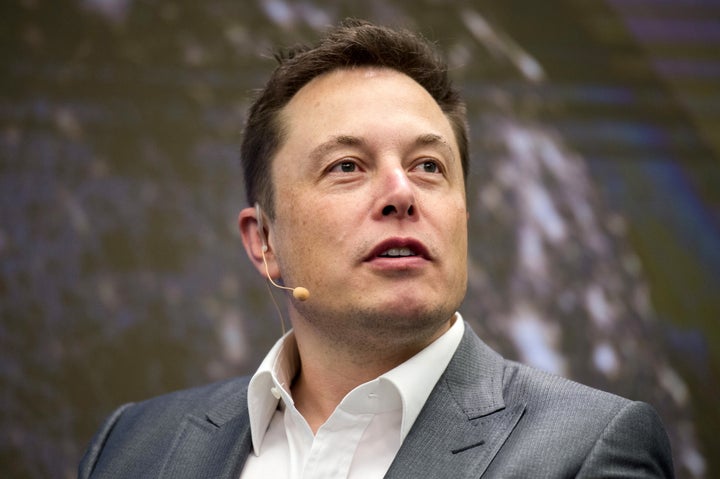 There are nearly 20 chief executives and prominent business leaders signed up to advise President Donald Trump. But only Tesla CEO Elon Musk and Uber CEO Travis Kalanick have so far had the gumption to speak out against the president's executive order blocking refugees and citizens of seven Muslim-majority countries from entering the U.S.
Chief executives of large corporations are nearly universal in their support for increased immigration. It's hard to imagine that any CEO on Trump's advisory panel supports a ban on travelers from Muslim-majority countries in principle.
But Trump's power and the allure of the presidency are apparently enough to cow the corporate chiefs into staying silent on matters of law and fundamental American values.
Musk and Kalanick may have been emboldened by fellow Silicon Valley CEOs, including Facebook's Mark Zuckerberg, who were blasting Trump's ban. Immigration is particularly important in the tech sector, which often looks outside the country to hire talent.
"The blanket entry ban on citizens from certain primarily Muslim countries is not the best way to address the country's challenges," Musk tweeted Saturday night, using the sort of mild language that counts for aggressive in the corporate world. Just days earlier, The New York Times reported that Musk and Trump having a "budding bromance."
Tesla employs a small number of people potentially affected by the ban. But the company does not believe any employees are being detained, a source familiar with the company told HuffPost. Tesla's HR and legal teams are working with the employees who may be affected, the source said.
Kalanick, who's faced criticism for his role advising Trump, offered a more detailed response. In an email to Uber employees with the subject line "Standing up for what's right," the chief executive said he plans to raise the issue with Trump at the advisory board's first meeting on Friday.
"While every government has their own immigration controls," Kalanick wrote in the note, which he also posted to Facebook, "allowing people from all around the world to come here and make America their home has largely been the U.S.'s policy since its founding."
Kalanick said the order would have far-reaching effects at his ride-sharing company. A dozen or so Uber employees are legal residents but not naturalized citizens, and they may not be able to get back to the U.S. if they travel abroad. And thousands of drivers, who are not technically employed by Uber, may not be able to get back in the country for 90 days.
"That means they will not be able to earn a living and support their families—and of course they will be separated from their loved ones during that time," he wrote.
The CEO said Uber would compensate these drivers "pro bono" over the next three months to help them, with more details to come.
A doctor at Cleveland Clinic, whose CEO is also on Trump's board, said she was forced to leave the country hours after landing in New York on Saturday because she holds a passport from Sudan.
In an email to employees, JPMorgan's operating committee ― which includes Chairman and CEO Jamie Dimon, who sits on Trump's CEO advisory panel ― said it was committed to the company's employees and lauded the strength of diversity, but did not criticize the ban in any way.
In another internal message provided to The Huffington Post, the human resources leader at IBM said the company's "first priority" was to identify and communicate with employees who were directly affected by the executive order. The memo also said the company would ensure that employees with "affected families" received the help they needed.
General Motors said Sunday it is still assessing the impact of the order. A spokesperson from Boston Consulting Group, whose CEO Rich Lesser is on the council, told HuffPost that he is serving in that role as an individual, not as a representative of the consulting firm.
Other companies whose CEOs are serving on Trump's advisory council, including Disney, Walmart, General Electric and Blackstone, did not immediately respond to requests for comment. Consulting firm Ernst & Young declined to comment on Trump's policies when asked earlier this week.
Meanwhile, a virtual who's who of tech CEOs ― those not on Trump's advisory board ― came out swinging on Saturday against the ban.
Apple CEO Tim Cook told his employees that the company had already reached out to the White House to explain how bad this order is for employees, according to an internal email obtained by HuffPost.
"There are employees at Apple who are directly affected by yesterday's immigration order. Our HR, Legal and Security teams are in contact with them, and Apple will do everything we can to support them," Cook wrote.
Earlier this week, Cook reportedly had dinner with Trump adviser (and son-in-law) Jared Kushner and his wife, Ivanka Trump.
"Apple would not exist without immigration, let alone thrive and innovate the way we do," Cook wrote in his note.
Steve Jobs, the founder of Apple, was the son of a Syrian immigrant. Syria is one of the countries targeted by Trump's travel ban.
Other tech CEOs spoke out against the order on various social media platforms.
Netflix CEO Reed Hastings posted a Facebook message that said, "Trump's actions are hurting Netflix employees around the world, and are so un-American it pains us all."
"Worse," he added, "these actions will make America less safe (through hatred and loss of allies) rather than more safe."
Twitter CEO Jack Dorsey, who was snubbed from a recent meeting between Trump and other tech bigwigs, tweeted his disapproval Saturday night.
Microsoft CEO Satya Nadella, who was born in India, offered up a more personal criticism in a post on LinkedIn. "As an immigrant and as a CEO, I've both experienced and seen the positive impact that immigration has on our company, for the country, and for the world," he wrote.
At least 76 Microsoft employees have visas from the six countries listed in the ban, Microsoft President and Chief Legal Officer Brad Smith wrote in an email to employees. The company is advocating against the policy.
Amazon CEO Jeff Bezos hasn't commented, but in an email sent to employees on Saturday, the company's head of human resources offered workers information on how to handle the new immigration policies, while also affirming its commitment to diversity.
"From the very beginning, Amazon has been committed to equal rights, tolerance and diversity—and we always will be," HR Vice President Beth Galetti wrote. "We've worked hard to attract talented people from all over the world, and we believe this is one of the things that makes Amazon great—a diverse workforce helps us build better products for customers."
Also on Saturday, Google recalled staff to the U.S. because of the Trump order. CEO Sundar Pichai, also born in India, slammed the administration's move in an email obtained by Bloomberg.
This article has been updated with a comment from General Motors, information on a Cleveland Clinic doctor, and internal messages from IBM and JPMorgan.
Sign up for the HuffPost Must Reads newsletter. Each Sunday, we will bring you the best original reporting, long form writing and breaking news from The Huffington Post and around the web, plus behind-the-scenes looks at how it's all made. Click here to sign up!
Popular in the Community