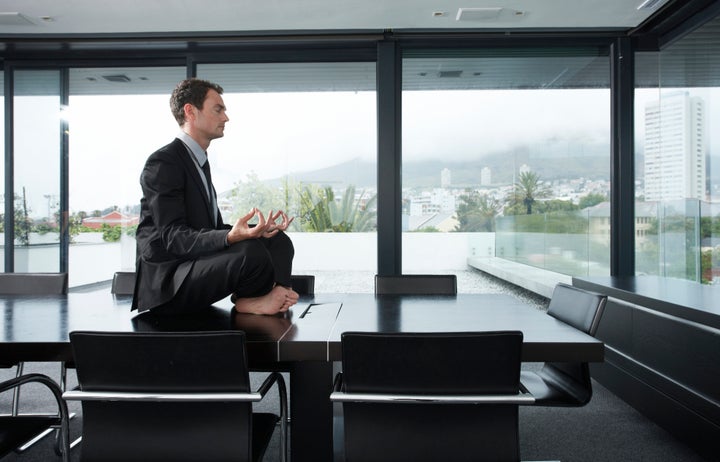 This story is part of our month-long "Work Well" initiative, which focuses on thriving in the workplace. You can find more stories from this project here.
It's difficult at first to appreciate the importance of a chief executive's personal wellness.
Why should you care about how good the person at the top is feeling? They earn the most money, and rich people live longer as it is. They seemingly have the most power to affect their own well-being -- it's not like you'd see middle managers interrupting C-suite executives mid-meeting for a meditation break. They are pressured, at most companies, to return value to shareholders, which often comes at the expense of overworked employees' health and time for family and leisure. It's all easy to roll your eyes at.
But as employee wellness increasingly becomes a key focus of modern workplace management, chief executives at the pulpit have to practice what they preach. Generous paid parental leave, financial training and in-office gyms and meditation sessions are a good start for any modern, well-funded company. But -- as with optional vacation time -- workers won't know how to pencil wellness into their schedules if the big boss is a hard-charging, sleepless workaholic.
"Implementing programs for employee wellness is only a half measure," Janice Marturano, executive director of the nonprofit Institute for Mindful Leadership, told The Huffington Post by email. "The other half is for leaders at the officer level to show by example the need to care for yourself."
One thing is certain -- the status quo isn't working. Eight in 10 Americans feel stressed about their jobs, mostly because of poor compensation and unreasonable workloads. That's verging on epidemic levels. And the stress contagion goes all the way to the top. In 2010, CNN declared that the job title of CEO "should come with a health warning."
This year alone, there were at least two high-profile displays of CEOs losing control. In September, BMW CEO Harald Kreuger collapsed onstage while giving a presentation. Some have speculated that Kreuger, who was not feeling well beforehand, may have wanted to stave off the gossip or bad PR that would have come of canceling his appearance. A month later, newly named United CEO Oscar Munoz suffered a heart attack while exercising amid an extremely stressful first few weeks.
"Most of what a CEO does at a company has a sort of trickle-down effect, for better or worse, on the rest of the organization," Sydney Finkelstein, a management professor at Dartmouth College's Tuck Center for Leadership, told HuffPost by phone.
Even as wellness becomes a zeitgeist concern in the white-collar workforce, many low-wage jobs have a long way to go.
The New Jersey woman who died last year from car fumes as she napped amid shifts at her three retail jobs exemplified the extreme physical stress which many low-wage workers must face to make ends meet. The health woes of truck drivers -- some of the nation's least healthy workers -- aren't easily addressed with the same behavioral changes that would help the desk-strapped chiefs of their companies.
Still, prioritizing health can set the tone for the entire workforce.
"Encouraging healthy or healthier lifestyles for your employees no matter what it is they do is a good thing and the benefits apply no matter what your job is, whether you're a senior vice president or a foreman in the factory," Finkelstein said.
The Huffington Post's "Work Well" series is also part of our "What's Working" solutions-oriented journalism initiative.
Calling all HuffPost superfans!
Sign up for membership to become a founding member and help shape HuffPost's next chapter