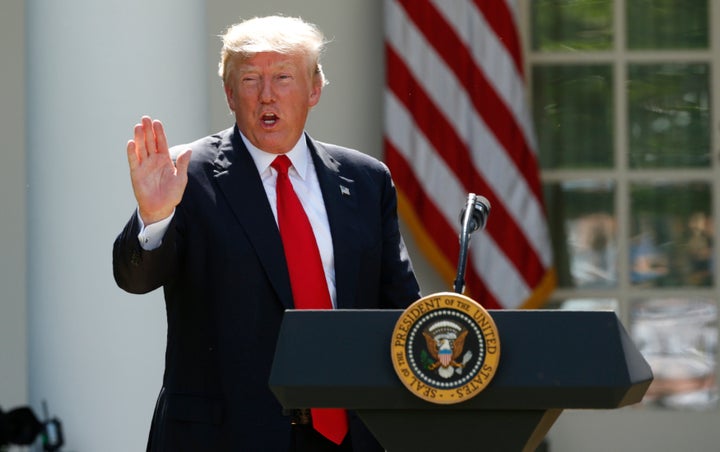 As soon as President Donald Trump announced last week that he would pull the U.S. out of the Paris Agreement on climate change, a flurry of top executives issued statements criticizing the decision as bad for the planet, business and America's international standing.
But many of those same CEOs have supported ― through either corporate or personal giving ― Republican candidates who espouse climate-change denial. HuffPost asked 15 high-profile executives who publicly denounced the president's decision if they would stop funding such Republicans deniers. All 15 either declined to commit, or did not respond to the question.
HuffPost asked Tim Cook of Apple, Bob Iger of Disney, Darren Woods of Exxon Mobil, Mark Zuckerberg of Facebook, Art Peck of Gap, Jeff Immelt of GE, Lloyd Blankfein of Goldman Sachs, Meg Whitman of Hewlett Packard, Jamie Dimon of JPMorgan Chase, Sundar Pichai of Google, Mark Parker of Nike, Brad Smith of Microsoft, Indra Nooyi of Pepsi, Marc Benioff of Salesforce and Elon Musk of Tesla about the fundamental conflict between their statements and political giving.
These executives and their companies have collectively given millions of dollars to support members of the only major political party in world that makes denying the scientific consensus on manmade global warming a platform issue.
For some of the companies, the disparity between public stances on climate and political donations is particularly glaring.
In March, Exxon Mobil urged the White House to stay in the Paris Agreement, two months after adding a climate scientist to its board of directors. But the oil giant for years has been the fourth-biggest corporate donor to Sen. James Inhofe (R-Okla.), who so vehemently rejects the science behind global warming that he once brought a snowball to the Senate floor to prove a point. The firm ― which for decades funded a Big Tobacco-style disinformation campaign to undermine evidence that burning fossil fuels caused climate change ― continued to pay millions to groups that deny global warming as recently as last year.
Facebook's political giving tells a different story than its founder and CEO's denunciation of Trump's decision. In the 2016 election cycle, Facebook's political action committee contributed $146,500 to Republican U.S. House members, compared with $139,500 to Democratic members. In the Senate, where Democrats had a credible shot at retaking the chamber, the PAC gave $140,500 to Republican senators, compared with $90,500 for Democrats.
A spokesman for Facebook referred HuffPost to a section of the company's code of conduct stating that "Facebook PAC considers whether an individual candidate's policy stances are consistent with Facebook's public policy agenda and business interests, particularly the individual's commitment to fostering innovation and an open Internet," as well as the politician's rank in his or her party or committee.
Facebook gave to 37 Republican senators. Regardless of the views of these individual senators, Republican control of the Senate enables Trump to confirm climate change-skeptical appointees to key cabinet positions and block any major climate change policy action.
Of JPMorgan Chase's $1,337,951 in campaign contributions last year, $441,333 went to Republican candidates ― but the bank channeled over 67 percent of its donations to political action committees to right-leaning groups. The company cut off direct financing to new coal mines last year, but so far has not adopted new rules to curtail funding to coal-fired power plants and existing mines.
PepsiCo has been inching away from climate science deniers since 2012, when the food and beverage behemoth cut off funding to groups such as the American Legislative Exchange Council and the right-wing Heartland Institute. Yet nearly half of Pepsi's political giving from its corporate PAC in 2016 went to foes of former President Barack Obama's climate agenda, a Reuters analysis found last September.
In some cases, the companies that have donated heavily to Democrats have gone out of their way to signal from the top that they support Republicans. For example, Apple employees donated just $181,369 of their total $1,265,383 in campaign contributions last year to Republicans, according to public data collated by the nonpartisan Center for Responsive Politics. Apple's CEO Tim Cook, meanwhile, personally hosted a fundraiser for Republican House Speaker Paul Ryan.
Disney CEO Bog Iger and Tesla CEO Elon Musk both withdrew from Trump's business advisory council over their disagreement with the president's decision on the Paris Agreement.
JP Morgan's Jamie Dimon took a different tack and said he would continue to serve on the president's advisory group. "I absolutely disagree with the Administration on this issue," Dimon told CNBC last week. "But we have a responsibility to engage our elected officials to work constructively and advocate for policies that improve people's lives and protect our environment."
Support HuffPost
The Stakes Have Never Been Higher
Popular in the Community