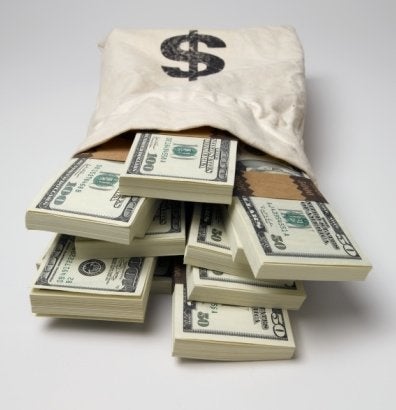 I suppose nothing should surprise us about the behavior of greedy CEOs. But, here's another one in a list of "let them eat cake" moments: CEOs are getting major boosts in their pensions, while the pensions of most Americans have either disappeared or take a major hit.
Some major companies are boosting the value of retirement plans for top executives by using a generous formula when converting a pension into a single lump-sum payment.

The practice, which remained largely unknown until a recent change in federal disclosure requirements, can increase the value of a CEO's pension by 10% to 40%, sometimes amounting to millions of extra dollars. The additional sums aren't always fully reflected in annual pension-benefit tables included in proxy statements, or in company financial statements, due to the complexities of accounting and disclosure rules. [emphasis added]
The way this works is pretty simple: CEOs try to walk away with a lump sum payout of their gargantuan pension benefits at a very favorable interest rate -- something most workers can't do. It's a nice scam:
One potential beneficiary is Ramani Ayer, the 61-year-old chairman and CEO of insurance giant Hartford Financial Services Group Inc. He hasn't yet retired, and company filings show his accumulated pension was valued at about $27 million as of the end of 2007, if paid out on an annual basis after he leaves.

However, according to Hartford's regulatory filings, Mr. Ayer plans to take the bulk of his pension in a lump sum when he eventually retires. Because of the way Hartford calculates lump sums, that boosted the value of his pension by more than a third, to $37 million, according to the filings.

John Hammergren, chief executive of drug wholesaler McKesson Corp., is another potential beneficiary. McKesson's formula increased the value of his lump-sum pension as of last March by at least $11 million, to almost $85 million, compared with a more conservative calculation, company filings show.
Of course, the rest of us don't have that comfort:
While some executives' benefits are being enhanced, millions of Americans are worried about the security of their own retirement funds. The stock-market plunge has caused a decline in the value of many 401(k)-style accounts, which are primary savings vehicles for about 50 million U.S. workers. Benefit levels in many regular pension plans have been frozen.
It's even worse than that: Since 1978, the number of defined-benefit plans (meaning, real pensions where you can count on a set amount of money no matter what greedy Wall Street traders do) plummeted from 128,041 plans covering some 41 percent of private-sector workers to only 26,000 today (source: Employee Benefit Research Institute). Only 21 percent of workers in the private sector have defined-benefit pensions. And almost have of the people with pensions today don't have them through the companies they work for--basically, because the CEOs are taking whatever cash is left on the table.
Calling all HuffPost superfans!
Sign up for membership to become a founding member and help shape HuffPost's next chapter