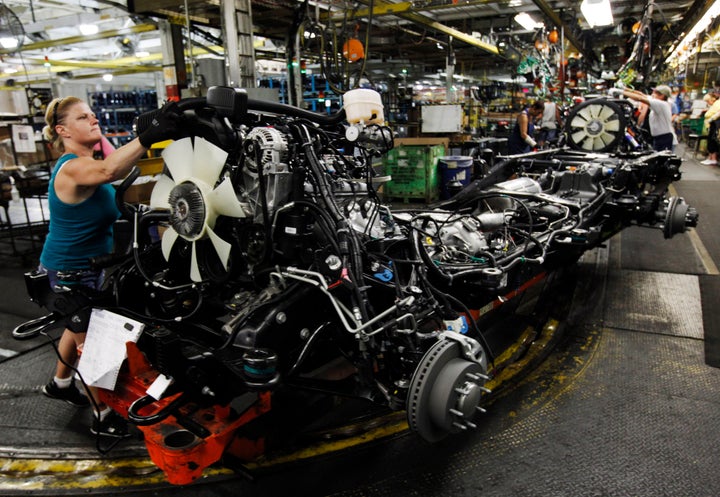 WASHINGTON -- A group of top CEOs celebrated Friday as a group of 12 Republican senators sent a letter to President Barack Obama announcing support for a key Democratic demand holding up three trade agreements with South Korea, Colombia and Panama.
Although the trade deals -- which appear likely to send jobs abroad, reinforce corporate tax havens in Panama and threaten the safety of workers in Colombia -- are unpopular with the public, they enjoy far more support in Congress, where the chief obstacle to passage has not been the terms of the deals, but the treatment of American workers who would be laid off from the resulting offshoring.
The 12 Republican senators agreed to let a vote proceed on Trade Adjustment Assistance, which provides training programs and other benefits to workers whose jobs are sent overseas under so-called free trade deals, increasing the chances that the trade deals will pass the Senate. But the group stopped short of saying they would actually vote in favor of the aid to laid-off workers, instead promising only that they would not filibuster the plan.
In a press release accompanying the letter, Sen. Roy Blunt (R-Mo.) said the opposition to the filibuster would provide "more than enough votes" to ensure that TAA would pass the Senate.
The Business Roundtable, which represents the top executives from the nation's largest corporations, applauded the move. The leaders of multinational corporations view the trade deals as extremely profitable, and they had been concerned that the refusal to support laid off workers with tax dollars would block the potentially lucrative deals.
"Our foreign competitors are gaining access to these important markets before us, and every day of delay puts American companies and their goods and services at a greater disadvantage," Roundtable President John Engler said in a written statement. "Exports drive job creation and economic growth, both critically needed to strengthen the recovery."
Several Republicans, particularly in the House, have sought to eliminate TAA from the three pending agreements. The TAA program has long enjoyed bipartisan support and is viewed by unions as grossly inadequate to make up for other terms of the trade agreements strongly opposed by organized labor. Democrats have balked at approving the deals without at least providing some measure of assistance for affected workers.
Blunt and his Republican colleagues are supporting TAA under a complex voting process that divorces the TAA vote from three other separate votes on each individual trade deal. House Speaker John Boehner (R-Ohio) has urged a similar four-vote strategy in the lower chamber, where many Tea Party members oppose providing TAA benefits.
The Business Roundtable said the Obama administration should now send the pacts to Congress for a vote.
"After years of delay, it's time to stop talking and start voting," Roundtable President John Engler said in his statement.
Calling all HuffPost superfans!
Sign up for membership to become a founding member and help shape HuffPost's next chapter