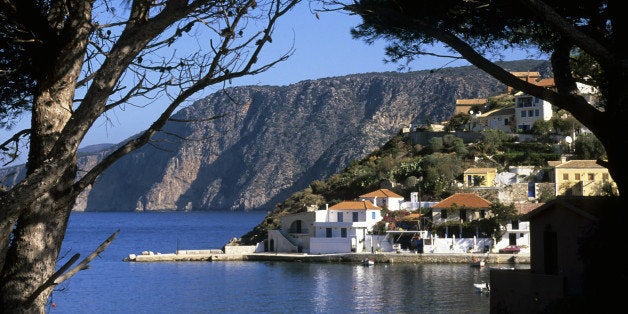 Cephalonia or Kefalonia, as is known to Greeks, is one of seven islands in the Ionian Sea, lying between Italy and Greece, which, thanks to its history and nature of scenic landscapes with plenty of contrasts, offers its travelers the opportunity to be immersed in a different way of life, getting away from it all with a liberating notion of escape.
Although one of the largest islands in the Mediterranean, at a short distance and connected by air to quite a few European cities, offering numerous secluded beaches with deep blue green water and fine golden sand superb for swimming and barefoot walking, impressive mountain slopes and valleys covered in lush vegetation ideal for trekking or hiking, worth exploring Venetian castles, old churches and revered monasteries as well as exceptional natural phenomena such as "Katavothres", where the sea disappears into swallow holes (grottos) and then travels in subterranean canals from the west of the island to the spectacular underground lake of Melissani in the east, Cephalonia nonetheless remains unknown and pretty undiscovered.
Along with nearby Ithaca, homeland of Ulysses, whose journey narrated by Homer marks the daring outset of western civilization, both retained the traces of the successive protagonists in the history of the Mediterranean, creating a mosaic of cultures; from Mycenean royal tombs to Hellinistic acropolis, Roman villas, Byzantine, Frankish and Venetian castles, Orthodox churches and monasteries, British roads and bridges.
During the Middle Ages, the island first belonged to the Norman kings. Then, for three hundred years, was ruled by overlords from the Italian peninsula: the Orsini from 1155 to 1356 and then the Tocchi family until 1478.
It was the Venetians though, having recaptured the island from the Turks in 1500 and held it until 1797, which left their imprint and turned Cephalonia into a major way station for their ships, shaping it culturally and socially.
During the Venetian rule a local nobility was created with its "Libro d' Oro" (Golden Book) which owned most of the farmland in the form of large estates and was deeply involved in the administration and the running of the island. During that period, the Cephalonians incorporated Italian elements in their everyday speech, songs and forms of entertainment, of which few relics survived. On the other hand the island's nobility, mostly educated in Italy, spoke Italian at home and dressed in European clothes.

During the brief French rule (1797-98) which followed, the "Libro d' Oro" was publicly burnt amid general rejoicing at the historic 'Kambana' square of the island's capital, Argostoli.
The late 19th century saw a strong flow of emigration coupled with the development and expansion of shipping. Not long afterwards, towards the late 20th century, tourism was developed, creating an important new area of activity and source of wealth.
The succession of different rules in Cephalonia since the Middle Ages and especially the presence of Italy and Venice connected the island to Renaissance. Painting, and more specifically icon painting, influenced by many Cretan painters of the Byzantine School, using also Italian elements, found space and blossomed in the Ionian Islands. Sculpture and wood-carving used in the decoration of churches and mansions, folk architecture, literature and music, influenced mainly by Italian music (although folk music had a style entirely of its own), indicate that almost all arts have been sufficiently developed in Cephalonia, some of them to a high degree.
A traveler to the island today can find all the above and many more, while the islanders, generally courteous and pleasant, are eager to provide hospitality and whatever they can afford, since Cephalonians have remained warmhearted and cheerful, but also quick-witted, with a vivid spirit, ready for a joke or self satire and happy to invite you to the non-stop circle dances at one of their outdoors festivals.
Cephalonia is generally considered an island beyond the common and an inspiring destination if you are prepared to exploit it and get to know it. It has a splendid mountain, Ainos, proudly emerging from the infinite blue Ionian Sea, standing tall, solid and covered in the lush vegetation of its deep green, Black Fir forest and rare flora species, countless beaches, many of them secluded, mouthwatering cuisine, the best example of which can be found at the Migliaressis Estate and a long diversified history as mentioned above.
A visit to the world renowned Myrtos beach, lying between the feet of two mountains, with its awesome landscape, in particular during sunset, when the red sky merges with the absolute blue of the sea and then further ahead, a stop at the nearby Assos village, with remnants of its overhanging Venetian castle, giving the impression of being 'lost in time', mystical and romantic, are not to be missed.
An equal must is the old fishing port of Fiskardo, virtually unscathed by the 1953 earthquake, of unique picturesque charm along with its surrounding pine and cypress covered countryside.
To make the most of Cephalonia one should try and sail around the island, for a real sense of immersion and escape. This will permit you discover a secluded world of untouched landscapes, small bays and exquisitely beautiful coves in lush vegetation and azure coloured crystal clear waters. Small harbours, close to each other, offer safe sailing conditions and unforgettable memories.
Taking everything into account, this is an island worth visiting and exploring, a land with many diversities and natural attractions. Besides sailing, travelers are also given the opportunity to go hiking, biking, riding, sea skiing and fishing or snorkeling. Finally, a sun-kissed destination, where nature and bird lovers, visitors eager for cultural experiences, honeymooners or third age people seeking privacy at a tranquil beach to cherish the sun, can spend a relaxed, carefree holiday with lots of interesting experiences.