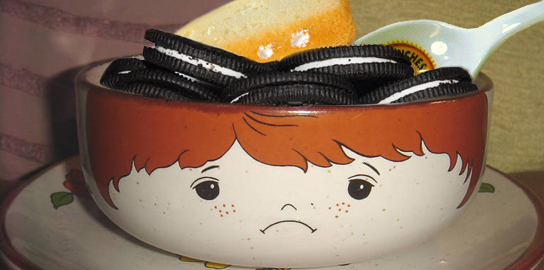 The updated report is based on EWG's analysis of 1,556 cereals, of which 181 were classified as children's cereals (defined as those with box fronts boasting an animated character or a promotion for one). The sugar content data were obtained using EWG's Food Database (slated for public release later this year), which provides information about 80,000 foods found in U.S. supermarkets, along with an overall rating for each product based on nutritional quality, degree of processing and potential health hazards. (Full disclosure: My organization, GRACE Communications Foundation, partnered with EWG to develop this tool. Unsolicited personal opinion: It's very impressive.)
As anyone familiar with such culinary phenomena as Froot Loops and Cap'n Crunch might imagine, EWG's new cereal report is a bummer, replete with a wide range of depressing/infuriating stats (e.g., on average, 34 percent of the calories in children's cereal are from sugar; an average serving of kids' cereal has as much sugar as three Chips Ahoy! cookies; exactly zero of the assessed children's cereals were produced without added sugar, etc.). And though I would've been surprised if, in the two-and-a-half years since EWG's first report, cereal manufacturers had chosen to eliminate superfluous sweeteners entirely, given the rising interest in child nutrition and the alarming incidence of childhood obesity, the lack of progress on the sugar front is discouraging. After reexamining the 84 children's cereals assessed in 2011, EWG found that while the sugar content of 11 cereals decreased slightly (in 10 cases, by just one gram; in one case by an underwhelming two grams), all other cereals remained unchanged (except Frosted Mini-Wheats Big Bite, which actually upped its sugar content by 20 percent).
The report also highlights some particularly terrible cereals in its "Hall of Shame," which includes 12 cereals that contain more than 50 percent sugar by weight. (Lieber's Cocoa Frosted Flakes took home the insanity prize, packing 50g of sugar per serving; the cereal is 88 percent sugar by weight, delivering a whopping 167 percent of the recommended daily sugar intake for children in a single serving).
Kellogg's Honey Smacks
Malt-O-Meal Golden Puffs
Mom's Best Cereals Honey-Ful Wheat
Malt-O-Meal Berry Colossal Crunch with Marshmallows
Post Golden Crisp
Grace Instant Green Banana Porridge
Blanchard & Blanchard Granola
Lieber's Cocoa Frosted Flakes
Lieber's Honey Ringee Os
Food Lion Sugar Frosted Wheat Puffs
Krasdale Fruity Circles
Safeway Kitchens Silly Circles
Is 50g of sugar per serving too much?
I'm not a nutritionist, but I'm gonna go out on a limb and say yes. While the scientific community may debate the optimal recommended limit for daily sugar consumption, there's consensus that Americans would be better off eating significantly less of it. The World Health Organization and the Food and Agriculture Organization suggest that sugars be limited to 10 percent of total caloric intake, or about 12 teaspoons per day for an adult and seven teaspoons for an 8-year-old child. But in the U.S., the average adult consumes 22 teaspoons per day, which, lamentably, is the same amount as the average 6-to-11-year-old boy, and just slightly more than the 18 teaspoons consumed daily by the average girl of the same age range.
It's worth noting that the average children's cereal contains 40 percent more sugar than adult cereals. Indeed, breakfast cereals are among the most significant sources of added sugar for kids, ranking fifth behind sugary drinks, cookies, candy and ice cream for children under eight. According to EWG's analysis, if you were to eat an average serving of a typical kids' cereal every day, you'd end up ingesting more than 10 pounds of sugar annually. Which is pretty gross if you happen to be an adult, and can set you up for lifelong health problems if you're one of the children to whom these foods are marketed.
Nutrition claims, labeling and the FDA
Among the more infuriating issues described in the report is manufacturers' rampant use of nutritional marketing claims (e.g., "good source of fiber," "excellent source of vitamins and minerals," etc.) to present their sugar-laden cereals as healthful breakfast options. In fact, EWG found that 11 of the 13 most sugared-up children's cereals were labeled with such marketing claims. And though somewhat deceptive and irresponsible, this practice is perfectly acceptable from a regulatory standpoint, since -- despite the recommendations of the public health community -- the Food and Drug Administration has yet to impose a limit on the amount of sugar manufacturers can add to cereals marketed with nutritional claims. Nor has FDA set a "percent Daily Value" for sugar to be included on nutrition labels, or adjusted cereal serving sizes listed on labels to reflect the quantities that consumers actually eat (current serving sizes are significantly underestimated, which means that sugar content of an actual serving is even higher than indicated on most labels).
The deplorable state of the children's cereal landscape ultimately reflects many of the fundamental flaws of our industrial food system: unhealthful foods are made artificially cheap by misguided agricultural policy and skewed crop subsidies; regulators err on the side of protecting business interests rather than safeguarding public health; food labels are confusing and enable bad actors to mislead consumers. It also underscores the importance of protecting kids from junk food marketing, and of pushing manufacturers toward responsibility when it comes to producing food for our children. As EWG Research Director, Renee Sharp, said of her team's effort: "We hope the report will empower Americans to use their voices and buying dollars to demand better choices and a limit on how much sugar is added to food products that are marketed as 'healthy.'"
I certainly hope the report helps effect this critical change. In the meantime though, I'd stick with oatmeal.
Calling all HuffPost superfans!
Sign up for membership to become a founding member and help shape HuffPost's next chapter