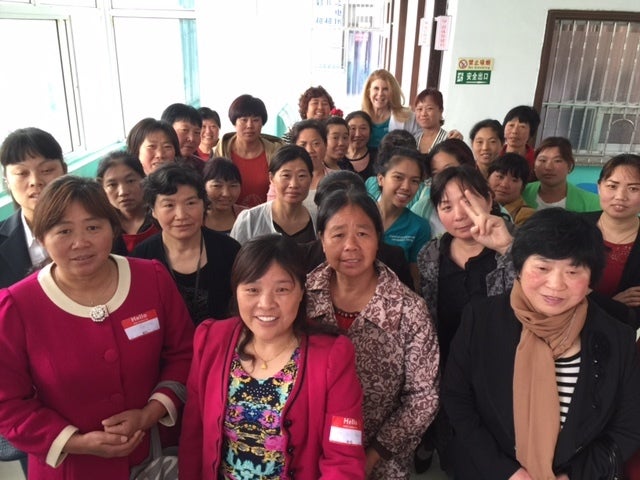 On a global scale, over half a million women acquire cervical cancer annually. Every year there are more than 300,000 cervical cancer deaths, 85 percent of which occur in developing countries. Unlike the United States where the implementation of Pap tests has successfully reduced the rate of cervical cancer by over 80 percent, the situation for women around the world is not yet as fortunate. Developing countries lack proper screening and treatment tools to identify precancerous lesions before they become invasive. The continued prevalence of cervical cancer around the world is something that needs to be addressed and minimized through readily available and simple procedures.
In China cervical cancer is the second most common cancer in women aged 14 to 44. There are an estimated 130,000 new cases each year and the country accounts for nearly 28 percent of all cervical cancer cases worldwide. The CureCervicalCancer (CCC) team will be in China this November to participate in a women's health conference. Our focus is on the prevention of cervical cancer using the VIA method (visual inspection with acetic acid) and treatment of precancerous cells with cryotherapy (a low-tech freezing solution). This will be our second trip there since 2014 when we initiated a program in Lianyungang. We will also be certifying health practitioners working in the Yunnan Province in the southwest of the country.
We are optimistic about recent strides that the country has made to address its cervical cancer epidemic. This month, GlaxoSmithKlein announced that the China Food and Drug Administration (CFDA) has approved its human papillomavirus (HPV) vaccine, Cervarix, which is expected to launch in early 2017. Making the HPV vaccine accessible for teenagers and young women in China is an important component in the medical fight against cervical cancer. It will greatly reduce the number of women who become infected with HPV, which accounts for virtually all cervical cancer cases. However, we must continue to strengthen our efforts to screen and treat women who may already have acquired HPV.
CureCervicalCancer is a leader in the early detection and treatment of pre-invasive cancer cells using the "See and Treat" method. According to The World Health Organization, this simple, inexpensive and extremely effective method is the gold standard of care for resource-poor areas, particularly in situations where multiple visits are not feasible. Upwards of 90% of cases can be prevented with regular screenings and early treatment by cryotherapy for precancerous lesions.
With a network of 67 clinics in Africa, Southeast Asia, Haiti and Latin America, CCC establishes and sustains "See and Treat" programs that have screened over 55,000 women to date, resulting in thousands of lives saved. Through our "Clinic in a Suitcase" model, the necessary medical devices and materials required to set up a functional "See and Treat" clinic are packed into one suitcase. Clinics are equipped with resources that allow our local medical facility partners to offer ongoing preventive care.
Women are needlessly facing agonizing deaths from cervical cancer. To learn more about the disease and the work of CureCervicalCancer, please visit our website. We have developed a strong community of supporters, partners and volunteer medical professionals since 2013. However, there still remains much to do. There are many ways in which individuals and companies can engage with us. Follow us on social media, volunteer, sponsor a clinic or make a donation today.
Ferlay, Jacques, et al. "Cancer incidence and mortality worldwide: Sources, methods and major patterns in GLOBOCAN 2012."International Journal of Cancer, vol. 136, no. 5, 2015., pp. E359-E386.
Ade, Anju. "Cervical cancer screening." International Journal of Reproduction, vol. 3, no. 3, 2014., pp. 868-869.
Chasan, Rebecca. "NIH Fact Sheets - Cervical Cancer." Research Portfolio Online Reporting Tools. National Institute of Health, 29 Mar. 2013. Web.
Related
Popular in the Community