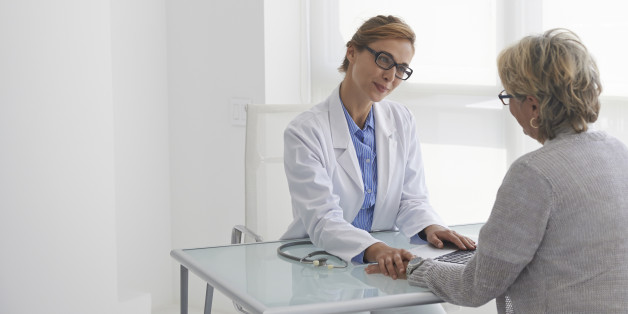 A new study finds that the rate of cervical cancer in American women may actually be higher than previously thought, especially among older women and black women. Indeed the study, published in Cancer -- the peer-reviewed journal of the American Cancer Society -- found that cervical cancer may occur most often after age 65, the time when women are typically advised to stop getting screened.
For years, women over 65 have been told they can stop getting Pap screening tests if they've had regular testing for 10 years, with no serious pre-cancers. Cervical cancer may be extremely deadly -- but it is also rare; it is diagnosed in 12,000 U.S. women every year and kills 4,000, according to the Centers for Disease Control.
The study's senior author Dr. Patti Gravitt, of the Johns Hopkins Bloomberg School of Public Health, said in a written release that women are told they can stop getting routine screenings after age 65 and "yet our corrected calculations show that women just past this age have the highest rate of cervical cancer."
Dr. Anne Rositch, of the University of Maryland School of Medicine in Baltimore, added, "It will be important to clarify in future studies whether the continued increase in cancer rates with age and the higher rates in black women represent a failure in our screening programs or a failure of the women to be screened, so that appropriate interventions can be developed to reduce the burden of cancer in these women."
Researchers say previous estimates of cervical cancer rates included women who had hysterectomies, in which the cervix was removed. (One in three women have had a hysterectomy by age 60.) For the new study, researchers left out this segment of women -- as they were no longer at risk -- and then determined that the overall rate of cervical cancer was 18.6 cases per 100,000 women. The number of cases climbed with age, peaking at ages 65 to 69.
Indeed the incidence of cervical cancer among women between 65 and 89 was 83 percent greater than perviously calculated, translating to nearly 25 women per 100,000 women this age. For black women, the rate was even higher, rising to 53 cases per 100,000 black women aged 65 to 69. Researchers say the effect was greater among black women because of their higher prevalence of hysterectomy than white women.
National guidelines issued in 2012 said that most women can wait three to five years between checks for cervical cancer, depending on their age and test choice.
Many medical groups have long recommended a Pap test every three years for most women. They've said that screenings shouldn't begin before age 21 and that women over 65 can end screenings if prior testing hasn't discovered problems.
Now Rositch and Gravitt are hoping that their new findings will be considered when setting national guidelines for the appropriate age to stop screenings.
According to the Centers for Disease Control, cervical cancer used to be one of the leading causes of cancer death for women in the United States, but the number of deaths has declined thanks in large part to regular screenings.
Calling all HuffPost superfans!
Sign up for membership to become a founding member and help shape HuffPost's next chapter
BEFORE YOU GO
PHOTO GALLERY
What Have You Stopped Stressing About?