THE SHOE SALESMAN
There was a successful company that manufactured and sold shoes. One day the management sent one of their top salesman to a distant land to study the market potential there. Upon arriving, he noticed that most of the natives were bare-footed. He faxed home the message, "Bad news, nobody wears shoes here! There is no market for shoes." The management considered it wise to have a second opinion, and sent another salesman to assess the market as well. Upon arriving, the second salesman quickly faxed a message back, "Good news, nobody wears shoes here! There is a big market and what we need to do is to educate them on the benefits and importance of wearing shoes."
I spent this past weekend at the Consumer Electronics Show in Las Vegas as a guest of the Interead corporation. As a writer among television manufacturers, computer behemoths, car companies and, yes, even a hovercraft, needless to say I felt slightly out of place. My job mainly consisted of speaking to attendees interested in ebooks and e-readers, people who were curious about an author's take on the future of digitized reading and what it means for the publishing industry. I routinely pointed them to my Huffington Post article "Why the Digital Revolution is Missing the Big Picture", in which I state my belief that e-readers have the fantastic opportunity to bring in a brand new readership, increasing the overall book market by leaps and bounds.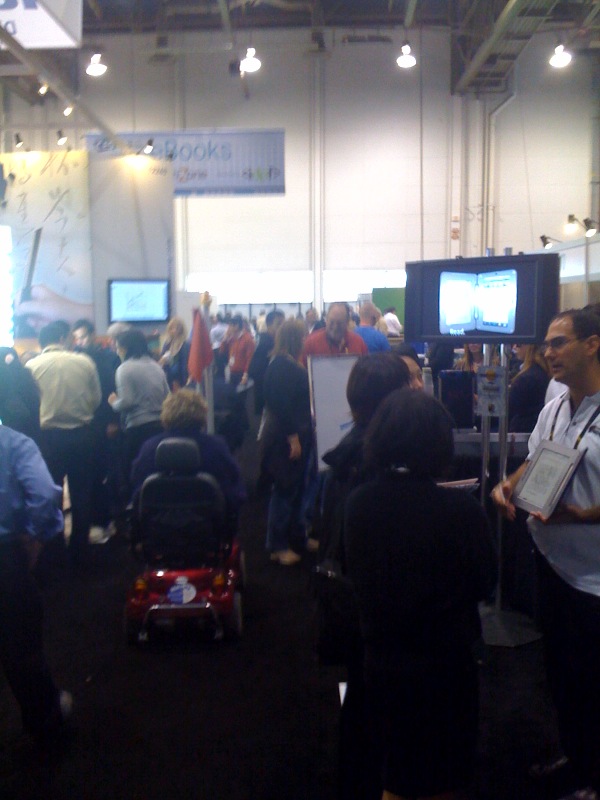 The ebook/e-reader pavilion at CES
Now, to be fair, I am a purveyor of content. I write books which are available both in print and digitally. I am not a manufacturer, and though I was once a book publishing professional, my interest in the industry is now merely a hobby (an obsessively unhealthy hobby). I only know about tech specs to the extent most commoners do, and when asked about the benefits of one operating system over another I run away faster than Usain Bolt. One thing is for sure, the people I was this weekend loved books. That I can be certain of.
Over the course of the convention, I made sure to stop by every e-reader booth and came away with enough promotional material to make my suitcase harder to close. I wanted talk to the e-reader salespeople, the manufacturers. I wanted their individual take on the e-reader boom, to hear their opinions on the future of e-publishing. Many salespeople made it clear that their inspiration was born from books. Many seemed to simply be getting into the game because, well, e-reading is a growing field and they wanted to compete; their devices seemed more perfunctory than inspired. Yet there was something missing from all this talk about digital reading.
As the conference wore on, I grew perplexed about something. Then my perplexation (definitely not a word) turned into frustration, which turned into anger. I wondered this: Why were there no book publishers at CES?
None. Zip. Zero. Not a single purveyor of content, other than a handful of authors including myself, Tess Gerrtisen, comics legend Stan Lee and, of course, James Patterson (and perhaps a few more that I missed). But no publishers. Nobody talking about what their company was doing in the realm of e-publishing. Nobody discussing how they might enhance their own ebooks, or how they might partner with upcoming device manufacturers. Nobody to talk about how technology was changing the way they did business, and how they might adapt to increase overall readership. If content is king, then the royal family was conspicuously absent at CES.
This is the time when publishers should be innovating, finding different paths to take, different ways to reach readers to spread their content across as many platforms as possible. Many publishers have either pulled out of BEA or drastically cut back their presence. My feeling is that at BEA, publishing is simply re-watering the lawn. Yes that lawn does need to be replenished, but this weekend in Las Vegas there was fertile soil waiting to be seeded. Unfortunately it seems most only saw it as a barren desert. A pity.
Authors seem to always be on the cutting edge of technology. They're the ones who convinced publishers that blogs could help promote books. They're the ones who got onto Twitter and Facebook and cultivated and enhanced readerships. Publishers followed suit, of course, but it was always after enough people said, "Why aren't you doing this?" For once, I would like to see publishing be the vanguard. I would love to see a few booths or at the very least some publishing representatives out west, perhaps bringing with them a cadre of authors (content is king!) all with fresh ideas, wonderful content and new perspectives.
Right now it looks like the digital revolution is happening to the industry. Changes are being forced upon it. Publishing companies have the opportunity to take the reigns and plow new ground, to get their product in front of a brand new audience (aside from the fact that innumerable businessmen and women were simply looking for good book recommendations).
This distant land is fertile. The market is ripe. So go west, young men and women of publishing. You'll be glad you did.
Popular in the Community