As 2014 came to an end, millions of those counting down the clock celebrated and proclaimed their resolutions for a healthier 2015. For the past five years, I have made that same promise to myself and have managed to become a little healthier each year.
This year I want to take advantage of health and fitness trackers to help me reach and maintain new goals like never before. Whether you are an Olympic athlete or an average Julio, everyone can benefit from wearable tech.
Jan 6-9, I will be attending International CES 2015 put together by the Consumer Electronics Association. This year there will be a lot of focus on fitness, technology and well-being with hundreds of exhibitors in the "health and wellness" and "fitness and technology" sections including Under Armour apparel, Fitbit, Wahoo Fitness, and Withings.
One event that should prove interesting is by fashion designer and former Project Runway contestant Nick Verreos. He is hosting FashionWare, a live runway show featuring high-tech wearables. I am also very interested in attending the Lifelong Tech Summit, with topics like "longevity and genetics" and "connect like your life depends on it," where speakers will cover how technology will help us stay connected not only to family and doctors but also monitor our overall health and wellness.
Back in 2008, the Fitbit Tracker was measuring steps taken and calculating how much we walked and how many calories we burned. Health and fitness trackers can do a lot more today, like monitor your heart-rate, even work with a scale to measure weight, body mass index and percentage of body fat. As these wearables improve, they are providing more meaningful data and making interaction available with smartphone apps and websites.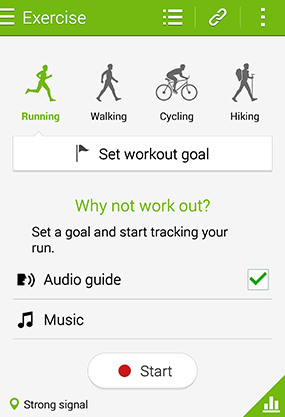 Some smartphones are ahead of the game and have built-in health tracking capabilities. I am currently testing this out on my Samsung Galaxy Note 4. It has "S Health" built into it and includes a pedometer, heart rate monitor and options to track walking, running, hiking and more.
Using my phone as a tracker makes it easy to set up goals and leverage other features my phone already has, like playing my favorite music while I workout. When it comes to eating, I can select from a list of food items and S Health automatically tracks calories consumed and available calories for the rest of the day. Also, if I place my finger on a sensor on the back of my Samsung Galaxy Note 4, the smartphone will measure the concentration of oxygen in my blood and my stress level. This will be interesting to see during one of the days running around CES.
What Would You Like Me To Cover?
For 2015, International CES organizers have created three different sections:
Tech East: The Las Vegas Convention and World Trade Center, the Westgate Las Vegas and the Renaissance Las Vegas will host innovations in audio, automotive electronics, gaming, video, wireless devices and digital imaging.
Tech West: Sands Expo, The Venetian, The Palazzo, Wynn Las Vegas and Encore at Wynn will feature fitness and health, the Internet of things, sensors and other high-growth technologies like 3D printing, smart watches and robotics.
C Space: A new CES section for 2015, C Space at the ARIA hotel will be the hub for brand marketers, advertising agencies, digital publishers and social networks. While I want to spend a lot of time here to engage with folks from Google, NBC Universal, Adweek, Amazon Media Group and more, the reality is that you need all four days just to see Tech East!
And that is where you come in! What health and fitness products would you like me cover? Add your comments below or send me a message via Twitter @SocialJulio
Julio Fernandez is Vice President of Search Marketing & Analytics for SocialShelfspace.com, a marketing agency that combines search engine optimization with content creation and influencer outreach to deliver measurable effects. His previous posts covered Google's Knowledge Graph as well as Facebook graph Search and privacy issues. Julio is obsessed with health trackers and his dog Chewy has daily walking and exercise goals.