With a touch of a button, a swipe of the finger, we crave instant gratification. Everyone is wired-up, blue-toothed--and stressed out. As a yoga instructor I encourage my students to make time to disconnect and go offline. Too much technology is just too much.
So the last place you'd find me is at CES, the Consumer Electronic Show in Las Vegas. The last place on earth I would go. At this point, let me just say: Welcome to Las Vegas! Sin City meets Yoga Girl.
It's the latest and greatest in the world's technology. My friend who was working at CES forced me to join her. What are friends for?
2.4 million net square feet of exhibit space with over 3600 companies and thousands of new products--I was fully immersed, and I hadn't even gotten to VR yet, VR stands, of course, for virtual reality. Now this is a subject I know a little something about as I made a few 360º yoga videos that are on YouTube.
Speaking of virtual reality, the parties were out of this world. And in spite of myself, I started to have a wonderful time.
I am back in New York City doing what I love the most: practicing and teaching yoga. My students do not know of my trip to the dark side, since what happens in Vegas, you know... But now I am a little more understanding of our addiction to technology.
We all want results, we want to set goals and technology can assist us in everything from counting our steps to counting our calories, heart rate, pulse, and even sleep patterns. All this is going on while your refrigerator contacts the health food store to let them know you are out of wheatgrass juice.
Ok, let's stop right there. That's too much technology for me. Besides I might want to mix it up and have, say, maybe carrot juice instead of wheat grass. Having said all that, I did enjoy getting the freebee blue tooth that will find my car keys as long as they are nearby and I can hear the very low alarm on my key ring.
I must have been into technology in a past-life. I am not saying that I was Leonardo da Vinci or Thomas Alva Edison but I might have lived across the street from Henry Ford.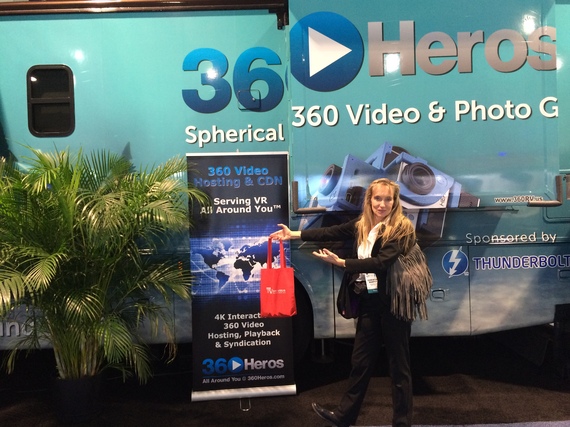 (courtesy of Christine Martitz)
So I have some new resolutions: I am not going to count my steps, I am not going to count my breath, I will not take a virtual yoga class although I'll give one, but I will use my new tracking device to find my keys. And if God-forbid, my iPhone ever goes missing again, I can use the tracking device on my keys to find it.
It was so interesting to see such mind-blowing innovation and coming to think of what our world can look like in the not too far future - totally improving our daily life: from robots that get what you need out of your refrigerator to the refrigerator itself talking to you, telling you when you should stock up on milk, eggs and orange juice - it sounded like the refrigerator itself would put a call in for a food delivery when low on a specific item.
All this sounds great but they have not yet come up with a device that gets me over to teach my yoga class in Chelsea during another snowstorm while bus service is suspended in New York City. I want to encourage my students again to disconnect and go offline - to bring them into a New York State of Mind, to be one with the technology.
Popular in the Community