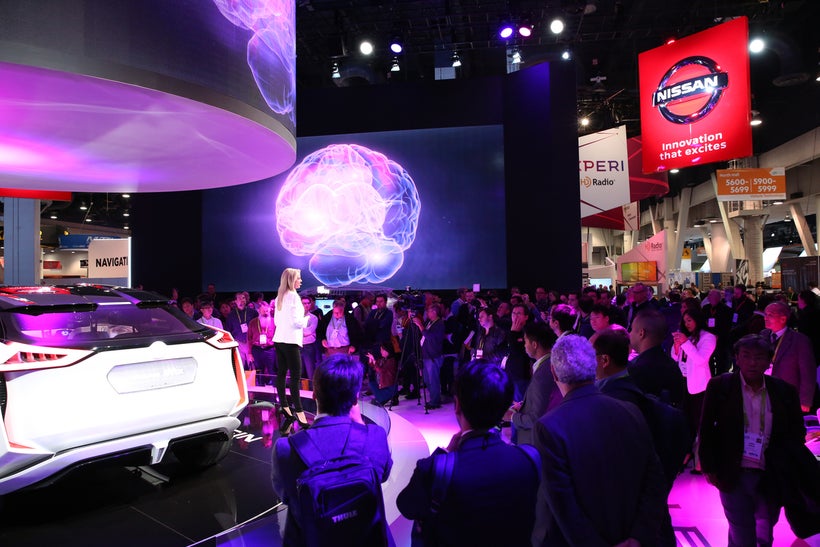 When it comes to cars of the future, there's a lot of speculation, a lot of great ideas, and a lot of promises likely left unfulfilled -- and there's no better place to see all this than the Consumer Electronics Show (CES) in Las Vegas. At least that's how it's been typically. This year, there was a lot of car stereo gear (sorry, "digital media players"), tons of fitness devices and the new flavor of the month, self-driving cars. We get it, cars can drive themselves. Nissan showed-off a self-driving Leaf nearly 5 years ago (and again recently in a more real-world situation), the Defense Advanced Research Projects Agency (DARPA) did it about a decade ago, and Las Vegas already has a robotic bus in the downtown area. It's not the cars that are the concern, it's everything else -- regulation, insurance, traffic laws, cost, etc.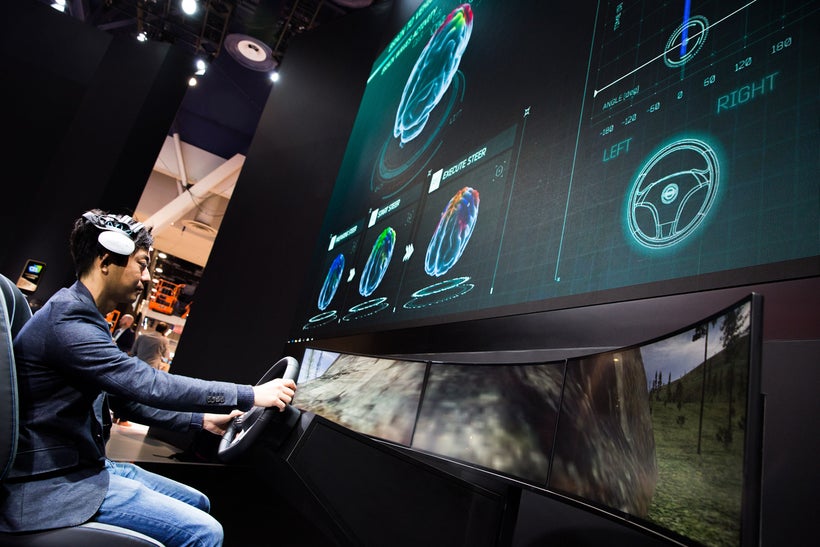 Still, there are some promising automotive ideas at CES for 2018. One is, again, from Nissan.
Nissan's big idea is a lot more future-y sounding than some of the other gadgets shown at CES. It's called Brain-to-Vehicle (B2V) technology, and it essentially allows your car to read your mind … kind of. It's more accurate to say that the technology reads your brain, not your mind. Either way, this is the exact type of thing I've come to expect from CES: a lot of "Sci" with a hint of "Fi."
Sounds crazy, right? Well, maybe it is and maybe it isn't. Lucian Gheorghe, senior innovation researcher with Nissan, says not to think of B2V technology as the car reading your mind, but rather as the use of brain activity to "enhance the driving experience."
This might sound like solving a problem that doesn't exist, but for years I've been confused by the idea that automakers who have essentially hung their hat on a "fun-to-drive" mantra will be leaving themselves out in the cold when it comes to full- or even part-time autonomous vehicles. Brands like Audi, BMW, Mazda and Nissan are largely about good-looking cars that deliver a rewarding driving experience. However, a car that I really want to drive is much different than a car I might want to be driven in. I like driving the Ford Mustang and Nissan 370Z, but I don't want to be driven in those cars.
This B2V technology can help resolve this. The basis for the tech is "motion-related cortical potential." See, SCIENCE! This really means the car (through an electroencephalography headset) is reading the brain's response to an event. It's mostly about timing, not about taking control of the car. Making a steering or braking correction a fraction of a second earlier than usual can enhance steering feel or smooth out the response for accident avoidance. Ultimately, it would help the driver feel more in control removing or lessening the intrusion of today's accident-avoidance systems by reading a driver's brain waves in order to forecast the driver's actions. The usual automated features, like automatic braking, adaptive cruise control and lane-departure warning, would still be there, working in tandem with the brain-wave-reading tech.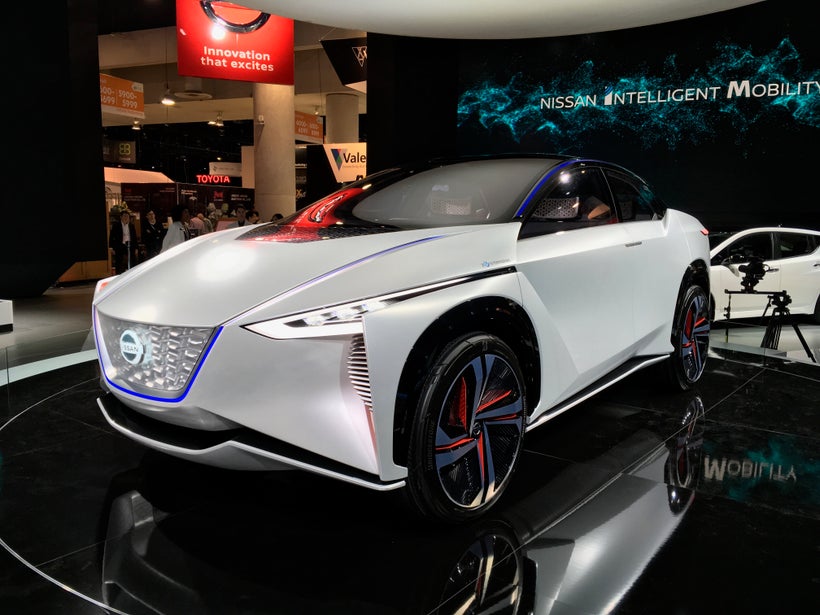 This isn't the first time Nissan has developed something like this. In some current Nissan vehicles, like the Murano and Maxima, there's a system called "predictive forward-collision warning," which monitors both the vehicle ahead of you and the vehicle ahead of the vehicle ahead of you. It uses radar, and not brain-wave reading technology, but it shows Nissan is thinking about how to use existing data sources to predict and avoid some of the unpleasant aspects of driving a car.
In the end, brain-wave-reading tech can help give a certain car a sportier character based on the driver's expectations and reactions to the world around them. Nissan's IMx concept (or the real car that will likely result) is a perfect candidate for this. Is B2V technologoy too far-fetched to be taken seriously? Two things lead me to think it's not so far-fetched. First, it uses existing technology but applies it in a different manner. Second, it's in-car technology that can make life better. Too often, in-car tech seems to be there just for the sake of looking cool or to raise the price. In this case, it's a feature that could enhance existing features like forward-collision prevention, lane-departure correction and adaptive steering systems.
REAL LIFE. REAL NEWS. REAL VOICES.
Help us tell more of the stories that matter from voices that too often remain unheard.
This post was published on the now-closed HuffPost Contributor platform. Contributors control their own work and posted freely to our site. If you need to flag this entry as abusive,
send us an email
.