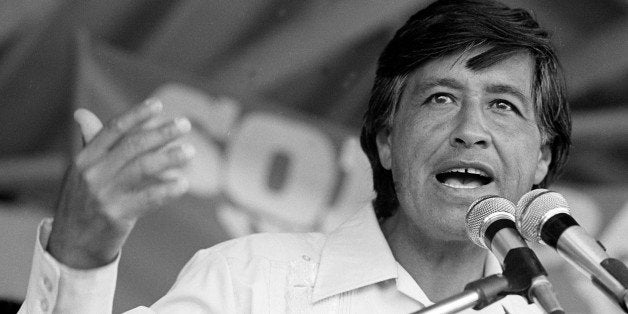 Countless communities across America honor civil rights and farm labor leader Cesar Chavez on his March 31 birthday with annual commemorations. It's an official holiday in California and several other states. All manner of public places have been named for him.
The Chavez family and farm worker movement are grateful for all these recognitions, which continue to grow 22 years after his passing in 1993. But he said that if the union he helped build didn't survive his death, then his life's work would have been in vain. The United Farm Workers carries on Cesar's legacy every day by aggressively helping farm workers organize, negotiate union contracts and win new legal protections.
Activists and elected officials in San Francisco will honor Cesar Chavez on the day he would have turned 88 by standing with some of the farm workers for whom he dedicated his life.
Members of the San Francisco Board of Supervisors will use Tuesday, March 31, to enter an epic battle by farm workers seeking implementation of their union contract against a giant Central Valley grower -- reminiscent of 1960s farm labor fights. The lawmakers will vote on a measure calling on giant Gerawan Farming to honor a United Farm Workers contract issued in 2013 by a neutral mediator and approved by the state. Gerawan, one of the nation's largest tree fruit and grape growers, sells its produce across the U.S. under the Prima label. The Fresno-based company, with more than 5,000 workers, is illegally avoiding millions of dollars in pay increases and other benefits by refusing to honor the union contract.
We are joining more than 100 Gerawan workers who are traveling by bus from the Fresno area as well as local labor, faith, civil rights and community activists for a march to City Hall. Then we will pack the Board of Supervisors chambers for the debate and vote on the measure, which is expected to pass.
The resolution by Supervisor David Campos calls upon Gerawan Farming "to implement the UFW union contract issued by the neutral mediator and the state of California, to cease its hostile working environment, and to acknowledge through action the basic human rights of fair compensation and non-discriminatory treatment."
The Los Angeles City Council unanimously passed a similar resolution last October. The L.A. Unified School District Board of Education approved a similar measure in February -- and so did the Long Beach City Council this month. The Washington, D.C., City Council will take up another support-the-Gerawan-workers resolution on April 7, and additional actions are planned in other cities.
An administrative judge with the California Agricultural Labor Relations Board recently finished six months of hearings in Fresno. Sworn testimony was taken on sweeping complaints or indictments from state prosecutors charging Gerawan with multiple, serious and repeated violations of the law aimed at "prevent[ing] the UFW from ever representing its employees under a [union contract]" and at trying to decertify, or get rid, of the UFW, according to the ALRB general counsel, who issued the complaints.
The latest state-issued complaint states that "Gerawan and its supervisors" unlawfully supported workers who "stopped work and engaged in anti-UFW and anti-ALRB protests [to promote] decertification [of the union, and that] Gerawan ... coerc[ed] workers into participating in protests" and closed its fields, directing workers to pro-company demonstrations. Gerawan also engaged in threats, interrogation and surveillance of workers, state prosecutors allege.
Meanwhile, Gerawan reacts to the indicting complaints by claiming, without any proof, that state investigators and prosecutors are biased. A slick PR campaign by radical right-wing groups based in Washington, D.C., and affiliated with Grover Norquist, who is backed by the Koch brothers, is being orchestrated on Gerawan's behalf. Gerawan workers and their supporters will picket outside Norquist's Washington offices just before the D.C. resolution is debated at City Hall.
The best way to honor Cesar Chavez is by supporting the cause for which he sacrificed everything. That's happening in San Francisco on his birthday this year.
Popular in the Community