John Grimes, a San Francisco-based cartoonist, animator, illustrator and moviemaker has recently launched the site Fizzdom.com which he describes as a place for "amusing and provocative quotes, cartoons, videos and backstories."
Five days a week, Grimes posts a custom-made animated GIF that takes a somewhat irreverent and lighthearted look at an issue or historical figure. But it's not all fun and games. These posts also have other content, often including embedded video that explains the context of his animated cartoon
One recent example if this animation of a quote from Stephen Colbert. "Why don't we go to war on women?" Colbert asks and then answers, "They don't have any oil."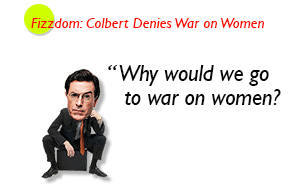 Just in time for what would have been Chavez's 87th birthday (he died in 1993), Grimes has created a cartoon that shows the union leader handing a strawberry to characters from Mad Men and then getting a sideways glance from Downton Abbey's Lady Grantham -- a woman who thought that the help should remain invisible. But Chavez made farm workers very visible as he fought to get the growers to recognize their the United Farm Workers Union.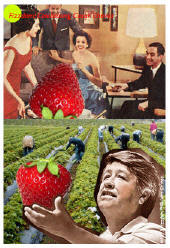 Check out the animations and his site and scroll down to listen to my 5 and 3/4 minute interview with Grimes.
Calling all HuffPost superfans!
Sign up for membership to become a founding member and help shape HuffPost's next chapter