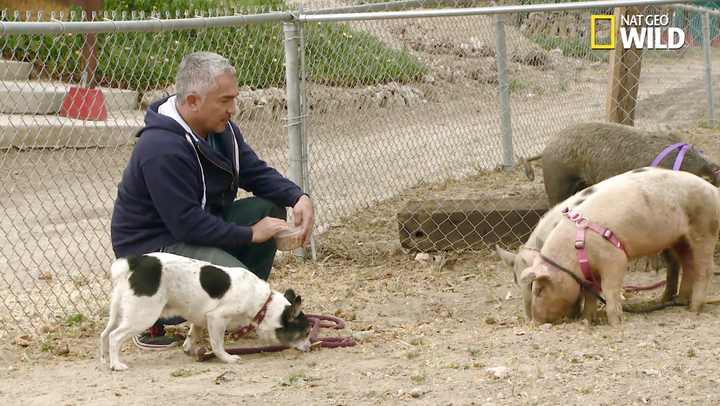 According to KNBC, sheriff's deputies and investigators with the LA County Animal Control visited Millan's Dog Psychology Center in Santa Clarita on Thursday evening. Millan was not there at the time and authorities have yet to make contact with the TV host, TMZ reported.
The investigation was sparked by a recently-broadcast "Cesar 911" segment in which the self-taught dog behaviorist introduced a dog named Simon to a group of pigs.
Simon had killed his owner's two pet pigs, but Millan thought exposure to the animals in a "new environment" would help train the dog to see pigs in a more "positive" light.
"If I can give him a positive memory with them, it will be a great foundation that will translate into better behavior with all animals," Millan said.
Nat Geo WILD, which aired Millan's show, issued a statement defending the host's tactics.
"Cesar Millan has dedicated his life to helping dogs and to showing how even the most difficult 'problem dog' can be rescued and rehabilitated," said a channel representative, per KNBC.
Cesar has created a safe and controlled environment at his Dog Psychology Center … to rehabilitate some of the most extreme -- or 'red zone' -- cases of dog aggression, such as Simon's.

It is important to clarify that Cesar took precautions, such as putting Simon on a long lead to assess his behavior, before making initial corrections and removing the leash. The pig that was nipped by Simon was tended to immediately afterward, healed quickly and showed no lasting signs of distress. As [a different clip of the encounter] reveals, Cesar and his animal pack effectively helped Simon to overcome his aggressive behavior toward other animals; as a result, Simon did not have to be separated from his owner or euthanized.
The clip, showing Simon's apparent rehabilitation, can be watched in the video below:
Popular in the Community