Sayoc has admitted to mailing pipe bombs to Democratic politicians, media figures and celebrities he perceived as Trump's enemies last fall, and pleaded guilty to several federal crimes in March. He could face life in prison when he's sentenced on August 5, but his federal public defenders said Monday he should serve 10 years in prison followed by community supervision (as well as mental health counseling and drug treatment).
Sayoc, his attorneys wrote in a sentencing memo filed in federal court in New York on Monday, was a Trump "super fan" and "began to consider Democrats as not just dangerous in theory, but imminently and seriously dangerous to his personal safety."
"President Trump did nothing to dissuade this message," they write. Their filing cites Trump's Twitter attacks on the figures Sayoc targeted.
Sayoc was a Trump fan before the reality television host ran for president, and viewed him as "everything he wanted to be: self-made, successful, and a 'playboy,'" his attorneys wrote.
But Sayoc "began watching Fox News religiously," started following political news on Facebook and and "threw himself into" Trump's campaign once he announced his candidacy because he "came to view Trump as a personal champion—someone who had helped him through the most difficult periods of his life and who could do the same for other people across the country."
Sayoc, his lawyers wrote, "began watching Fox News religiously at the gym, planning his morning workout to coincide with Fox and Friends and his evenings to dovetail with Hannity." With his use of steroids, they said, he became paranoid and delusional about the false news stories that clogged his social media feeds.
"Because of his cognitive limitations and mental illness, he believed outlandish reports in the news and on social media, which increasingly made him unhinged. He became obsessed with 'attacks' from those he perceived as Trump's enemies. He believed stories shared on Facebook that Trump supporters were being beaten in the streets. He came to believe that he was being personally targeted for supporting Trump: Mr. Sayoc thought that anti-Trump forces were trying to hurt him and they were to blame when his van was vandalized," they wrote.
"A rational observer may have brushed off Trump's tweets as hyperbole, but Mr. Sayoc took them to heart," according to Sayoc's attorneys.
Federal prosecutors, in their own sentencing memo, said Sayoc should spend the rest of his life behind bars.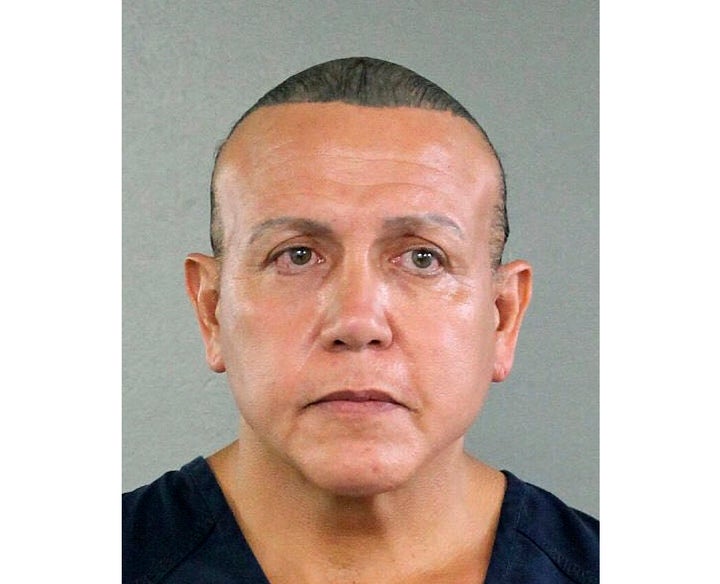 Sayoc's mother has called on Trump to tone down his rhetoric. "Our political leaders, like our President Donald Trump, need to recognize that there are many sick people in this country who take their rhetoric and words of 'War with the Media' and 'War with the Democrats' to heart," Madeline Sayoc said in a statement last year.
A HuffPost/YouGov poll last year found Americans were about roughly equally divided on whether Trump's rhetoric deserved some blame for Sayoc's actions.
Sayoc's attorneys' arguments echo those of three other Trump-supporting domestic terrorists ahead of their sentencing in a terror plot to bomb Somali refugees, which came at a time when then-candidate Trump was attacking Muslim immigrants. Members of the trio each received more than 25 years in federal prison.
Sayoc's sentencing will come a few weeks after Trump launched a racist attack on four members of Congress and his supporters chanted "send her back" about Rep. Ilhan Omar (D-Minn.).
The FBI concluded that the pipe bombs Sayoc mailed were not operational, and his attorneys argued that Sayoc did not intend for them to work. His attorneys say he's "deeply sorry" for his crimes and that a 10-year sentence would be appropriate.
"Mr. Sayoc is a broken man who committed these offenses in the throes of a steroid-induced psychosis. He has no history of similarly violent conduct. He recognizes that his actions were irrational and wrong," they write.
Sayoc's attorneys wrote that their client was pushed to the margins of society by a series of traumatic events. There were learning disabilities, childhood sexual abuse, estrangement from his family and his drug dependency. Then he lost everything in the Great Recession.
"By 2018, he was living alone in a decrepit and cramped van that had been his home for more than a decade. A typical day saw Mr. Sayoc waking up in his van, showering at the gym, and cooking crockpot meals while inside the DJ booth of a strip club before heading off to his second job delivering pizza. As he grew older and more isolated, excessive steroid use increased his feelings of anxiety and paranoia."
"In this darkness," they wrote, "Mr. Sayoc found light in Donald J. Trump."
Read their sentencing memo below:
Popular in the Community