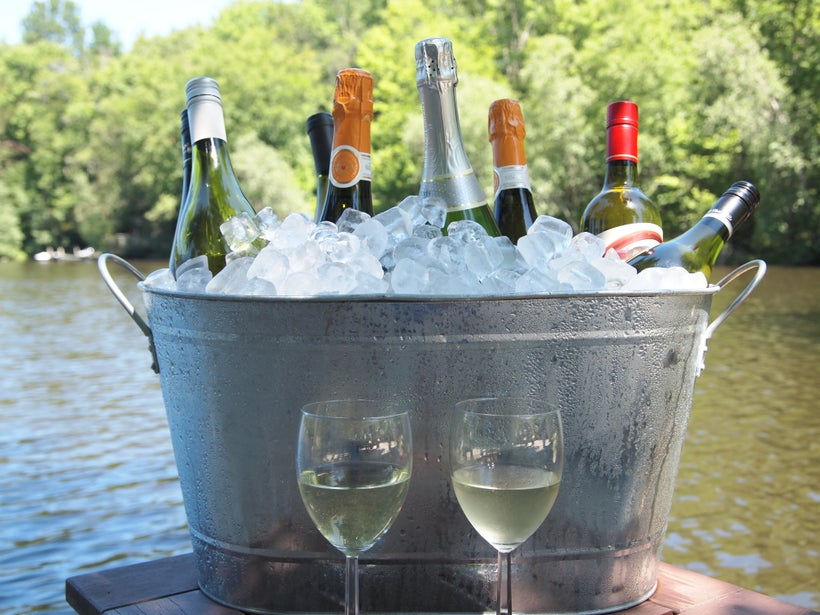 It is already a hot summer in most of the US, and who wants to fire up the stove to make dinner after a long day of work? When temperatures soar, pour yourself a crisp glass of wine and toss together a light dinner for yourself, your family, and your friends. Most of the ingredients for these easy recipes can be purchased already cooked from your local seafood store. All you need to do is add a few ingredients such lime juice, chopped peppers and onions, and spices. These three ceviches are light and fresh and require refreshing wines for the perfect pairing. That's why we chose three Albariños from Rias Baixas, in Spain's verdant northwest. The region is known for producing wines with bracing minerality, zesty citrus flavors, and a true sense of the place where they are grown. Locals in Rias Baixas enjoy their Albariño with freshly shucked oysters, simply grilled fish, and salpicon, a Spanish precursor to South America and Mexico's popular ceviche.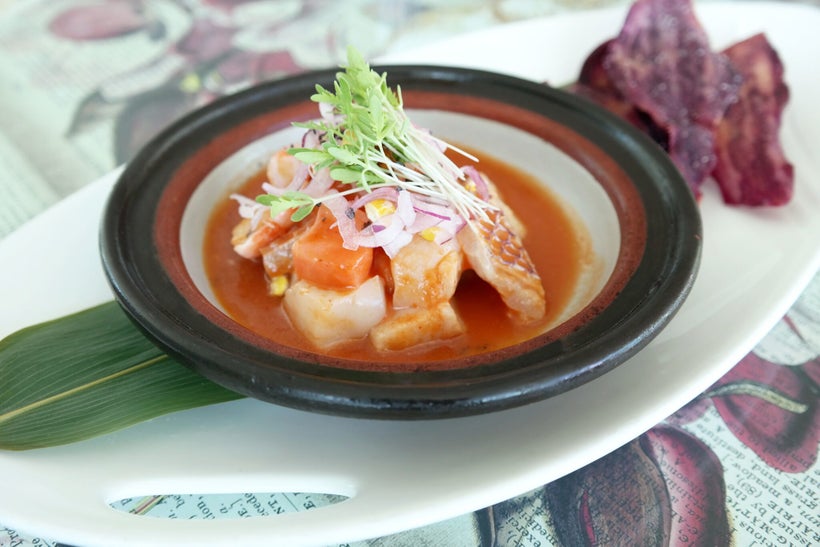 We first had this Hawaiian-style ceviche on a long layover from Los Angeles to Hong Kong. We had never been to Oahu or Honolulu but local friends insisted we stop in to check out the happening food and wine scene and we're certainly glad that we did. We visited many great restaurants but we were especially impressed with Chef Keith Pajinag's cuisine at Ravish at THE MODERN HONOLULU. It is perfect alongside a crisp Albariño from Rias Baixas. Here is Chef Keith Pajinag's recipe for his delicious ceviche.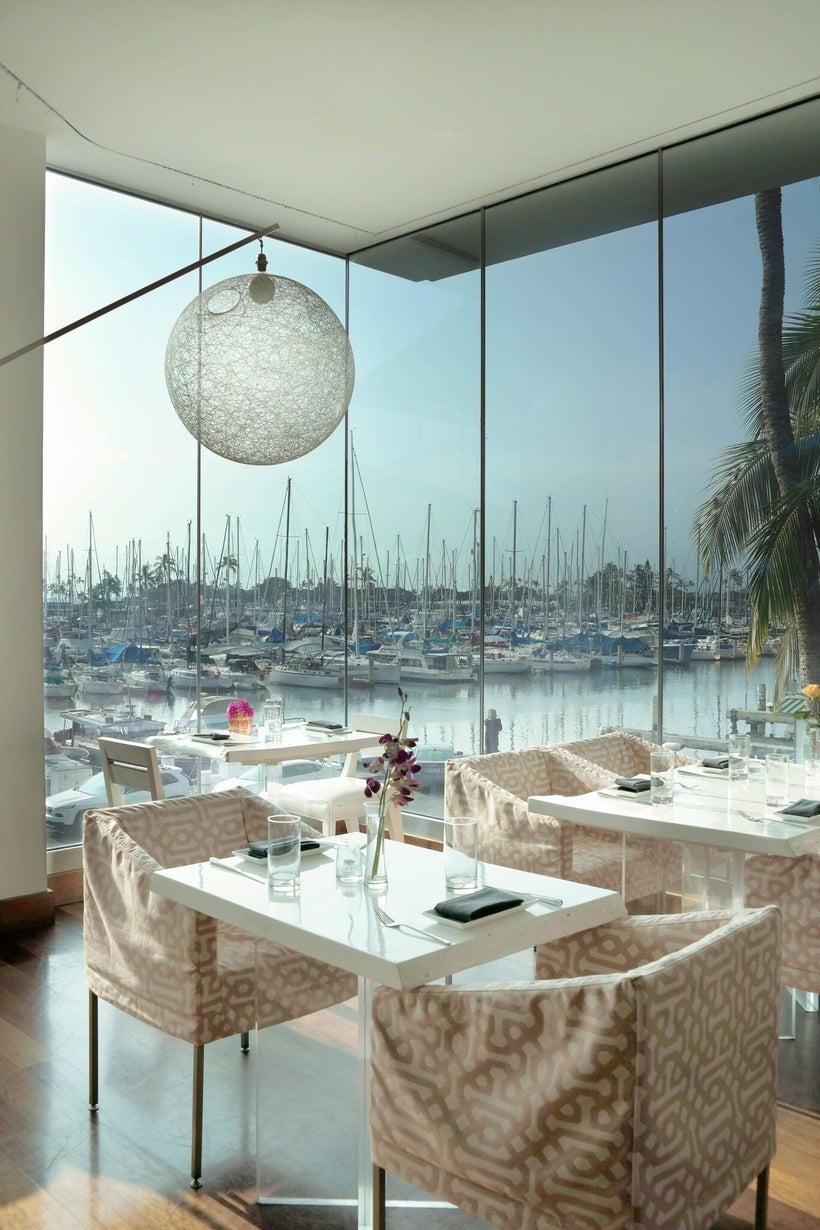 Wine Pairing: Martin Codax Albariño, Rias Baixas, Spain
With its light touch of salinity, this Albariño reminds you that the grapes grow very close to the Atlantic Ocean. It is fruity, fresh, and crisp on entry, balanced on the mid-palate, and has a lovely bright note of citrus in the finish.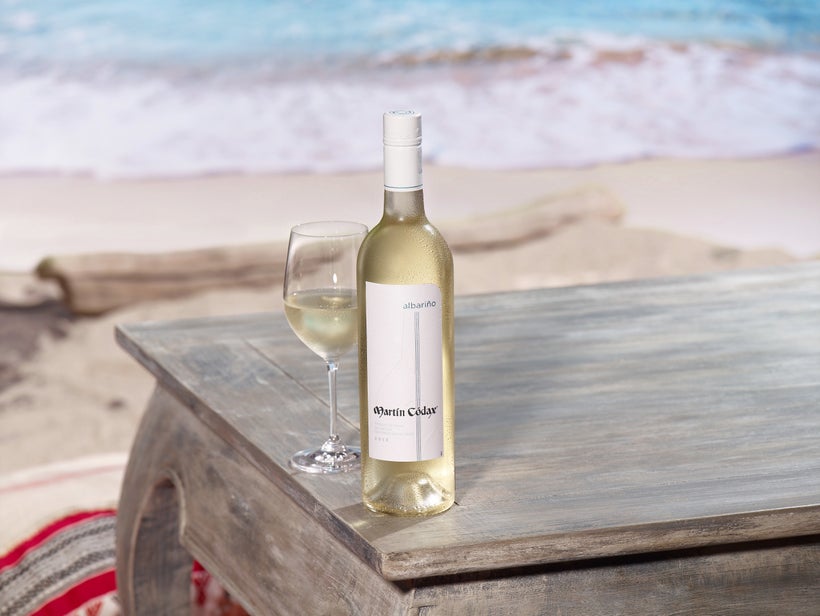 Hawaiian lava salt for garnish
1 bunch cilantro, chopped, for garnish
1 small red onion, shaved, for garnish
8 ounces sweet potato chips for serving
4 ounces Hawaiian snapper, diced
4 ounces Yellow Tail Hamachi, diced
Place all of the marinade ingredients into a blender or food processor and pulse until smooth. In a medium glass bowl, toss the fresh fish and marinade together, cover with plastic wrap, and refrigerate 1 hour before serving.
Divide the ceviche into four small bowls and serve with freshly made sweet potato chips.
Recipe courtesy of Chef Keith Pajinag, Executive Chef, Ravish at THE MODERN HONOLULU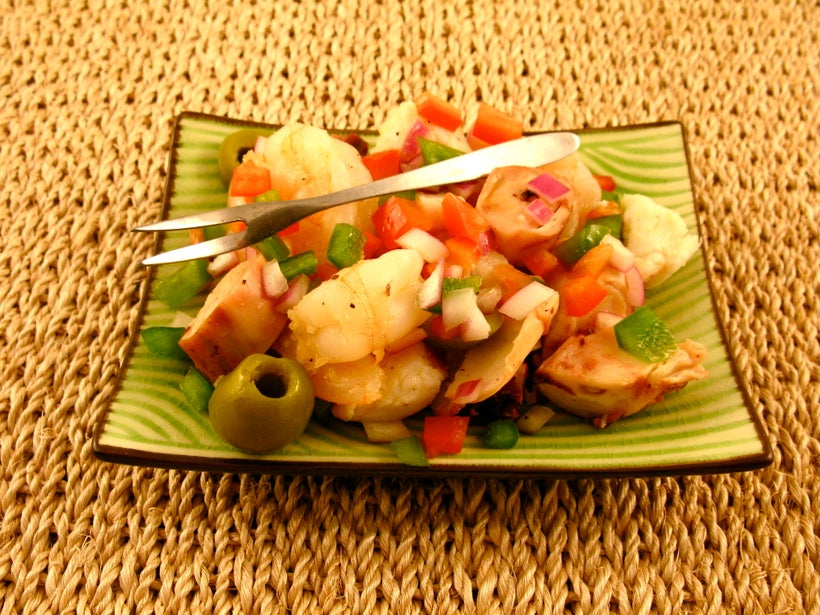 When you walk into a bar in Spain, you will see a glass-covered case filled with salads and cooked foods. With each glass of wine you order, you will be offered a tapa, or small plate of food—for free! Cold seafood salad is always a sure bet, especially with a nice, crisp glass of Albariño. This is our take on this Spanish classic—it's easy to make at home.
Wine Pairing: Fillaboa Albariño, Rias Baixas, Spain
Crisp, citrusy, and clean, this Albariño has a nice touch of salinity in the mid-palate that makes it a perfect match for this easy seafood dish.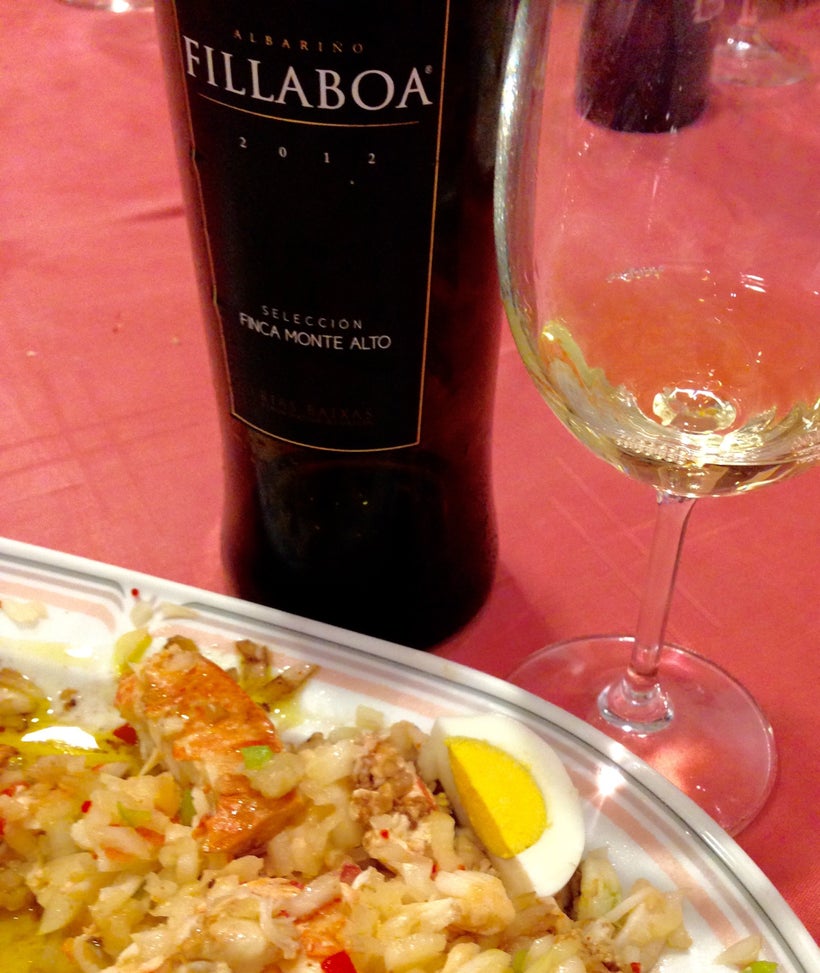 Tapas Bar Seafood Salad Recipe
¾ pound cooked crab meat, fresh or canned
1 pound calamari, sliced into rings
½ pound green olives, pitted
½ cup extra virgin olive oil
Peel the shrimp. In a medium saucepan, bring salted water to a boil over high heat. Boil 3-5 minutes, until shrimp turn pink. Empty shrimp into strainer, and rinse with cold running water.
Boil the calamari in salted water until tender, about 3 to 5 minutes.
Break the crab meat into ½ inch pieces with your fingers and a fork. Place the shrimp, octopus, and crab meat in a large glass or ceramic bowl.
Rinse and seed the peppers, and cut into lengthwise into ¼ inch slices, and then cut each slice in half crosswise. Dice the onion. Add peppers, onion, and olives to seafood in bowl. Toss lightly.
Add olive oil and lemon juice to bowl, and mix to coat seafood and vegetables. Lightly salt and pepper to taste and refrigerate for at least 2 hours before serving.
To Serve: Divide equally into 8 small bowls and serve with sliced baguettes.
Recipe courtesy of Mike DeSimone and Jeff Jenssen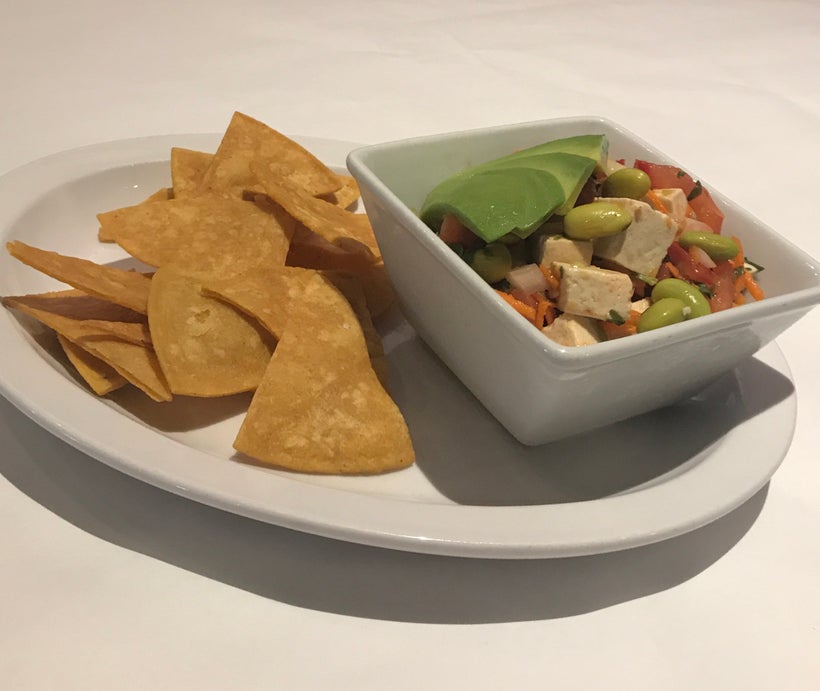 We're always on the lookout for dishes that we truly enjoy and can replicate at home for our vegetarian friends. This one fits both bills and it pairs perfectly with a crisp, clean Albariño. We first had this delicious ceviche when we attended Modernism Week 2017 in Palm Springs California. During the day we attended architecture lectures and toured stunning mid-century houses. In the evenings we enjoyed impromptu cocktail parties at stores along North Palm Canyon Drive, before sitting down to dinner at one of the town's numerous restaurants. We were lucky to score a table at Trio Restaurant and experience Tony Marchese's great cuisine. He was kind enough to give us his recipe for Trio's Soy Tofu Ceviche.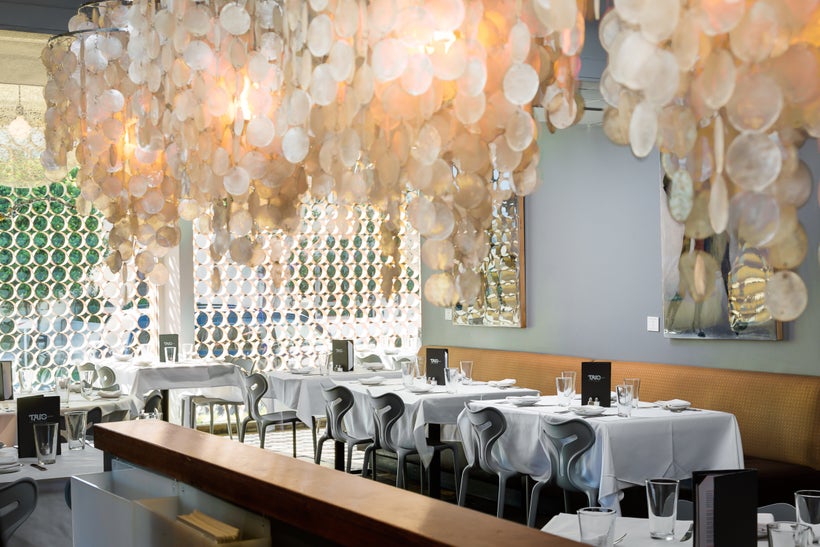 Wine Pairing: Mar de Frades Albariño, Rias Baixas, Spain: Light and fruity with a strong backbone of minerality, this wine is a perfect match for the zestiness of the citrus marinade and creaminess of the tofu.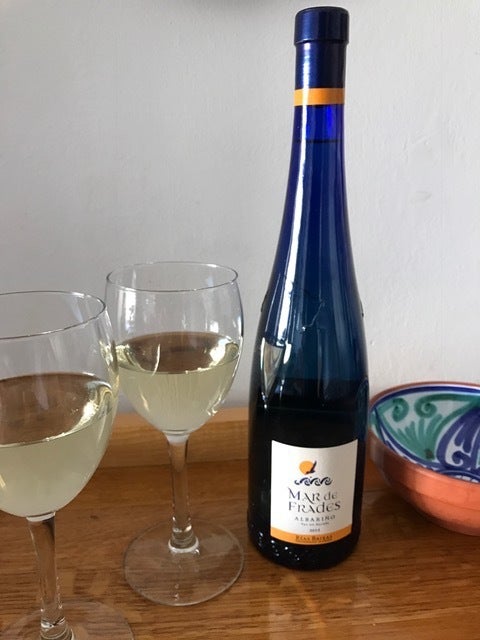 Trio Soy Tofu Ceviche Recipe
1 ½ cups firm tofu, cut into ½ inch cubes
1 ½ tablespoons fresh lemon juice
3 tablespoons cilantro, chopped
2 cucumbers, peeled and diced
½ large white onion, diced
½ teaspoon freshly ground black pepper
2 avocados, sliced (for garnish)
1 bag tortilla or pita chips (for dipping)
Combine all ingredients in a large glass bowl, cover with plastic wrap, and refrigerate for 2 hours before serving.
To serve: Divide into 8 small bowls, garnish with sliced avocado, and serve with tortilla or pita chips.
Recipe courtesy of Tony Marchese, owner, Trio Restaurant, Palm Springs, California
REAL LIFE. REAL NEWS. REAL VOICES.
Help us tell more of the stories that matter from voices that too often remain unheard.
This post was published on the now-closed HuffPost Contributor platform. Contributors control their own work and posted freely to our site. If you need to flag this entry as abusive,
send us an email
.