Scroll down for pictures.
Proenza Schouler's Jack McCollough and Lazaro Hernandez reprised their roles as designing-community's darlings at Monday night's Council of Fashion Designers of America (CFDA) Awards, receiving the prize for Womenswear Designer of the Year.
The duo adds this season's statue to their 2003 CFDA Swarovski Award for new talent, their 2007 CFDA Womenswear Designer of the Year award and their 2009 CFDA Accessory Designer of the Year Award. Still, McCollough told The Huffington Post that their newest accolade came as "a surprise. It was so nerve-wracking, the whole build-up to it. It just gets more and more terrifying as each year passes. You think you'd kind of get a little more comfortable with it, but it's quite the opposite."
McCollough added: "It's just nice to be recognized by your peers and your industry. It's such a small little world and to get the admiration from the people you work with every day and see and the people you admire, there's nothing better than that, really."
Muses Chloe Sevigny and Liv Tyler were on hand to sing the pair's praises. When asked what set the two designers apart from the other nominees, Sevigny pinpointed "their attitude towards the whole thing, their youth and vitality, their love of women and their sophisticated style and taste." Tyler, who hitched a ride with McCollough and Hernandez to the evening's festivities, remarked, "When we see each other, we always bond and have a lot of fun together. And I think they're very talented and very nice people."
Take a look at pictures from the 2011 CFDA Awards and scroll down to keep reading.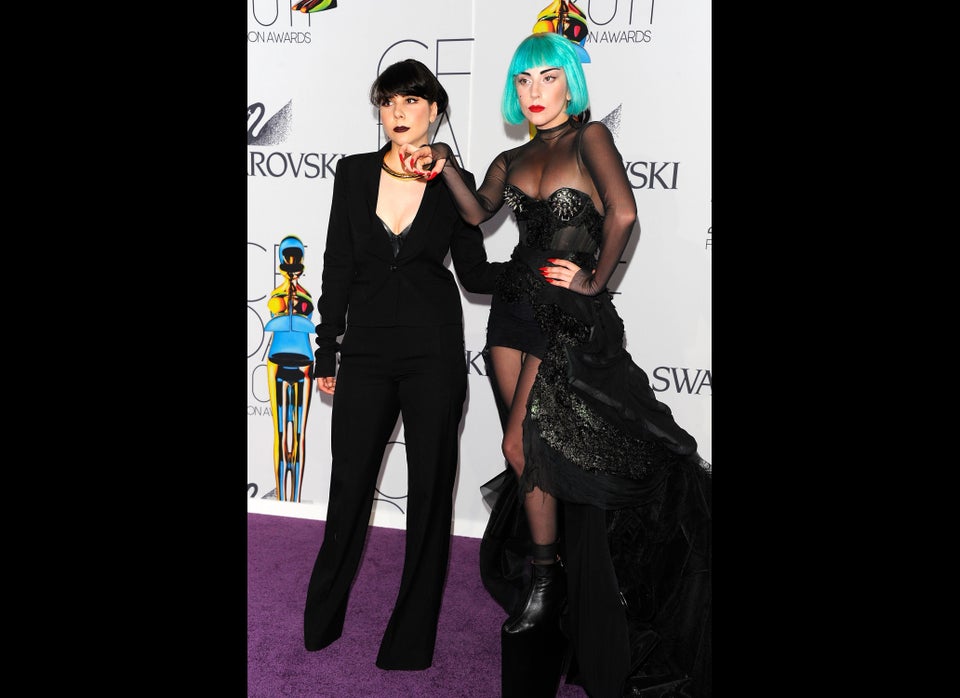 McCollough and Hernandez's simultaneous enthusiasm and loss for words was perhaps overshadowed by a turquoise wig- and spike thong-clad Lady Gaga, who swung by to demonstrate her own fashion-icon status. She told the crowd that when Vogue editor-in-chief Anna Wintour texted her with the good news that she'd won the CFDA Fashion Icon Award, Gaga mistook her for another Anna in her phone book, "so my reply was, 'Yes, b*tch, we did it!'"
"I got a reply that said, 'How lovely,'" Gaga quipped.
The songstress' speech also strayed toward the sentimental. "I just wanted to tell you how much this award means to young American people," she said. "My fans, some of them don't know who they are and they have so much trouble. They come to the Monster Ball to find who they are and they wake up in the morning and it's that leather jacket that makes them feel like they can be anyone. Or it's that YSL blazer that they saw in the window that makes them feel like they could be president one day. Fashion means so much to them. It's really hard to talk about ... I always felt like I had made it before I had made it because of all of you, because it was all of you that made me feel like I was a star."
Also swapping beats for talk of handbags was one Kanye West, who presented Celine Creative Director Phoebe Philo with the International Award. West confessed, "I happen to be the biggest fan of everyone in this room. Those times I go to Style.com and I click, and those times I don't get into the shows, there's no show that I would like to click more than the Celine show." Philo, for her part, kept things short, simply thanking the crowd, cooing, "It's a real honor to be receiving this here tonight. It means a huge amount to me."
And Marc Jacobs accepted the Geoffrey Beene Lifetime Achievement Award, re-dubbed the "Half-Lifetime Achievement Award," from Sofia Coppola. The designer thanked his entire team, saying, "While it is wonderful to be recognized and receive this acknowledgment of our past triumphs, I believe we all know and feel that the greatest reward is the process itself, the doing, the giving, the growing and the sharing it all with others. This statue may serve as a great reminder of where we've been, but it is here in my heart that I look forward to where we have still to go and what we will get to achieve together."
Michael Kors told HuffPost Style, "I'm thrilled for Marc. We've known each other our whole lives and no one has more talent, has worked harder, seen it all and, you know, last year it was me, this year it's him. I feel like we're all coming of age. I think it's amazing. It's only the beginning."
Alexander Wang, who bagged Accessory Designer of the Year, said, "It's such an honor ... to even just have my name alongside names such as Marc's is enough of an acknowledgment for me. He was my first internship, one of the main reasons I even wanted to work in fashion, so I pinched myself when [I realized I'd] even come here and be a part of this."
Rounding out the major honors was the Media Award in honor of journalist Eugenia Sheppard, received by the fashion director of the Telegraph, Hilary Alexander, who is set to retire this year. "Firstly, I'm hugely honored," she gushed. "Secondly, I feel that I'm getting it not just for myself but for the entire British fashion industry and British fashion journalism. And I hope that it reflects the huge passion that I have for fashion and I know that is something that we all share."
Paper magazine Editorial Director Mickey Boardman told HuffPost, "Hilary has such personality, she has such personal style and when someone has been involved in fashion as long as she has and they have such a point of view, it's hard to lose somebody like that. It takes a lifetime to build up that kind of knowledge and that kind of point of view. Plus, she's just fun, although I wish she would quit smoking because it's just bad for her ... You know, she's a real writer, she's not someone who's like, 'Oh, I love fashion, oh, I want to get into the Alexander Wang sample sale.' She goes to all of the shows. She writes about designers who aren't necessarily 'the hot designer,' but she writes about what she thinks should be written about. So she's a real journalist. She's not just a fashion journalist, she's a journalist."
Other award recipients included: Michael Bastian, Menswear Designer of the Year; Prabal Gurung, Swarovski Award for Womenswear; Robert Geller, Swarovski Award for Menswear; Eddie Borgo, Swarovski Award for Accessory Design; Hal Rubenstein, The Founders Award; Arthur Elgort, Board of Directors' Special Tribute. Nadja Swarovski also received a statue to fete the tenth anniversary of Swarovski's support of the event.
Related