Things got a little rock and roll at Monday night's Council of the Fashion Designers of America Awards, which have been cheekily called "fashion's Oscars." Betsey Johnson showed us the Fiji water bottle of champagne that she had tucked in her gold purse. The host, "Saturday Night Live"'s Seth Meyers, flashed his underwear. Michelle Parker came onto the red carpet with nipples akimbo.
It was a big night: the CFDA's 50th anniversary, which made the annual award show even more grandiose, as designers, celebrities and the glitterati mingled at Alice Tully Hall at Lincoln Center to honor the year's best designs.
But just because it was the golden anniversary doesn't mean anyone was afraid to push the envelope. "Fashion and comedy go together like bar mitzvahs and John Galliano," Seth Meyers joked in his opening monologue, later joshing that Karl Lagerfeld is launching a new TV show called "Are You Fatter Than A Fifth Grader?" Meyers threw a picture of Marc Jacobs' infamously-lacy Commes des Garcons Met Gala 2012 outfit, which consisted of little more than a lace dress and a pair of briefs. Halfway through, Meyers came back out dressed in said outfit, to the roar of the crowd. "My nipples have never been so freezing," he joked, calling the outfit "breezy."
Later, Meyers dropped some hard truths: "Fashion people like hating things more than they like liking things," he said, which brought on the loudest roar from the crowd. Maybe fashionistas do have a sense of humor.
But they also have some serious skill. Billy Reid, who was seated next to this writer in the front row, bounded nervously onstage to accept his trophy for Menswear Designer of the Year.
Johnny Depp, to our chagrin, was not present to accept his Fashion Icon award, but the actor sent an email with his acceptance speech and thank-yous, which Steven Kolb, the CEO of the CFDA, read in real time.
Celeb cameos included "Mad Men" star Jessica Pare in dangling tassel earrings, Jessica Chastain and Lily Collins, who were on hand to present awards. Anna Wintour, wrapped up in a sparkly red Marc Jacobs dress and nude Manolo Blahniks, presented the Geoffrey Beene Lifetime Achievement Award to Tommy Hilfiger, who thanked his wife Dee profusely.
By the time Mary-Kate and Ashley Olsen skipped on stage, hand in hand, to accept Womenswear Designer of the Year for their luxury label The Row, arguably the biggest award of the night, one felt the flash of emotion that comes with watching an actress receive her Oscars statue. The pair thanked their "factories," retailers and team of workers, trading turns speaking as they've done so often over the years.
"I want to thank you," Mary-Kate said at the end of her acceptance speech, speaking to her sister from behind her large dangly green earrings, as both seemed on the verge of tears. With that, the Olsens scooped up their silver statues and flitted off behind the curtains.
And offstage, after all, was where the action was happening. As celebs including Mandy Moore, Heather Graham and Kate Bosworth did the step-and-repeat in their gorgeous gowns, the topic of the night was beauty pageants, as Miss USA had crowned a winner the night before. Model Hillary Rhoda, who attended in a cutout Rebecca Minkoff dress, said that she supports pageants.
"They do good charity work," Rhoda said.
Designer Rebecca Minkoff weighed in as well: "I think that if they celebrate all women and they're positive towards all women, they're a great thing. I think the minute you start to define someone by body or only for beauty that that's something I don't believe in."
But that doesn't mean Minkoff would lose the talent portion, with a secret weapon in her arsenal. "Best comedic dance routine," she said, though she declined the chance to perform it for us.
Model Crystal Renn, who paired bright orange lipstick with her gold and black Zac Posen frock, argued for a "responsible" approach: "I think anything can be good if it's used in the right way, for instance, modeling. People say, oh, it's corrupt, what are they doing. But models can use their position to actually change the world. So if you look at [beauty pageants] as a way to make a difference, make the world a better place, then I'm for it. If you approach a beauty pageant and the fame that goes along with it in a responsible way, then it can be a wonderful thing."
Renn also revealed her hidden talents for martial arts -- and apparently she's a whiz at the nunchucks. No, really.
"I did nunchucks as a kid. I'm a little rusty and I'd have to practice. But I used to do nunchucks competitively and do weapons of all kinds."
Betsey Johnson, clad in a gold dress and gobs of accessories (we couldn't take our eyes off her ensemble), told us she "loves" pageants: "I didn't watch it, but I saw the winner [Olivia Culpo of Rhode Island] and she's gorgeous. She plays the cello and she's beautiful."
Added Johnson, gesturing to the red carpet hubbub. "I love beauty pageants. How different is a beauty pageant from this?"
See all of the red carpet glam below, and keep scrolling for a full list of winners!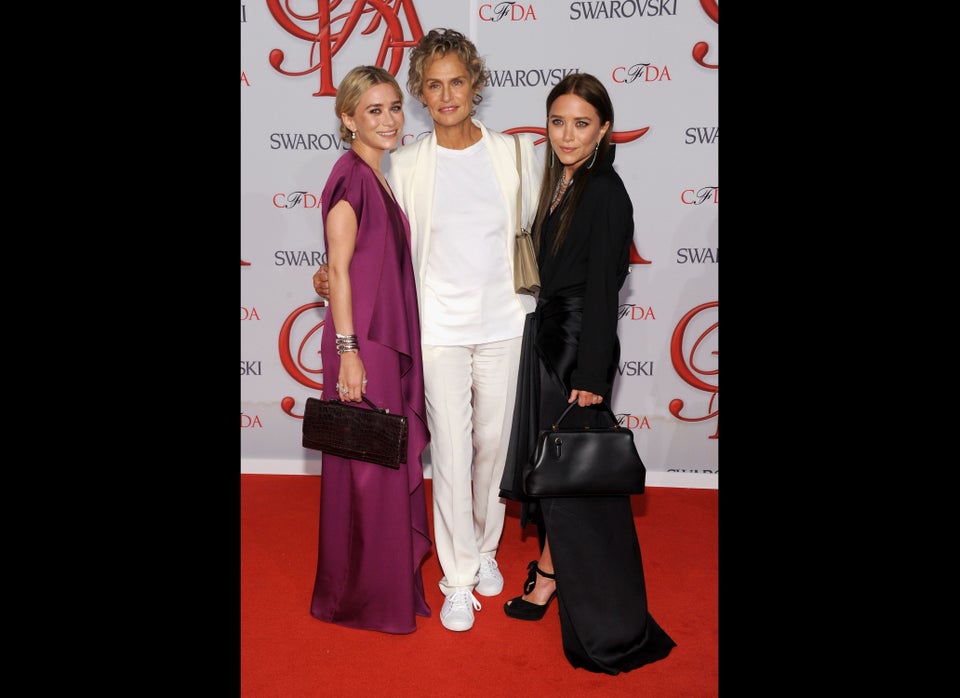 Womenswear Designer of the Year
NOMINEES: Marc Jacobs, Jack McCollough & Lazaro Hernandez, Mary Kate & Ashley Olsen
WINNER: Mary Kate & Ashley Olsen
Menswear Designer of the Year
NOMINEES: Patrik Eryell, Billy Reid, and Simon Spurr
Accessory Designer of the Year
NOMINEES: Alexander Wang, Reed Krakoff, Jack McCollough & Lazaro Hernandez
Swarovski Award for Womenswear
NOMINEES: Shane Gabier & Christopher Peter, Max Osterweis & Erin Beatty, Joseph Altuzarra
WINNER: Joseph Altuzarra

Swarovski Award for Accessory Design
NOMINEES: Irene Neuwirth, Pamela Love, Tabitha Simmons
Swarovski Award for Menswear
NOMINEES: Antonio Azzuolo, Phillip Lim
Eugenia Sheppard Media Award
RECIPIENT: Garance Dore, Scott Schuman
Eleanor Lambert Founders Award
Geoffrey Beene Lifetime Achievement Award
RECIPIENT: Tommy Hilfiger