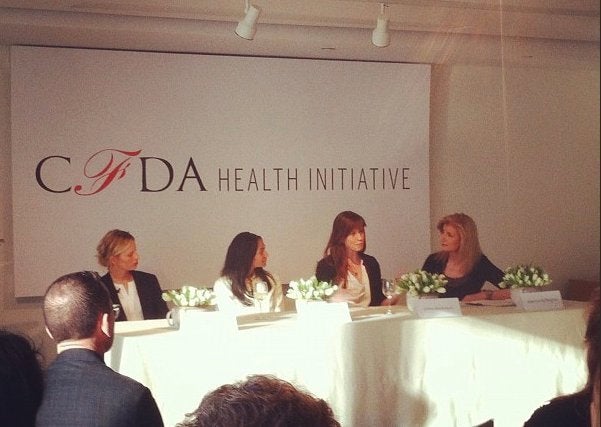 Last month, the Council of Fashion Designers of America (CFDA) released their updated guidelines on model health. They include plans to educate the industry about how to identify early warning signs of an eating disorder, encourage models with eating disorders to seek help, ban models under the age of 16 from runway shows and provide healthy meals, snacks and drinks backstage.
But will the new regulations work?
To begin answering that question, and to take a broader look at the intersection of fashion and health, the CFDA moderated a panel discussion on Tuesday featuring model Karolina Kurkova, jewelry designer Monique Pean, model Elettra Wiedemann, and Arianna Huffington, president and editor-in-chief of the Huffington Post Media Group. CNN's Alina Cho hosted the event, which was held at New York's Museum of Arts and Design, just a stone's throw from where fashion week festivities will be held later this month.
Throughout the discussion, the panelists touched on everything from eating disorders to personal health to finding balance in a pressure-packed world, whether you're in the fashion industry or not. Here, a few highlights:
On body image and the fashion industry...
Growing up, Kurkova says she "was the one who stood out" -- and not in a good way. She remembers feeling self conscious of her long, skinny legs, of her height and even of her teeth. Then at the age of 16, she landed the cover of American Vogue, which finally instilled a confidence in her that "being different is OK."
But with that exposure often comes new pressures -- Kurkova remembers being told her athletic body wasn't thin enough, while Wiedemann recalled being told in Italy that she needed to have a breast reduction or a nose job.
"The focus on women's bodies is not something new," Wiedemann said. "Bodies always mean more than just bodies."
Vogue editor-in-chief Anna Wintour asked the panel to offer advice for identifying someone who might be struggling with an eating disorder. Wiedemann suggested looking for physical changes, such as a change in the health of hair or skin, as well as mental ones, like inconsistent decision-making or strange eating habits.
The women on the panel are no strangers to taking risks -- Pean, for instance, left her job as a broker on Wall Street to pursue jewelry design after losing her sister in a car accident. Today, her company also collaborates with a nonprofit to provide clean drinking water worldwide. And Huffington went through several reinventions herself before starting The Huffington Post in 2005.
"Failure is a stepping stone to success," she said, quoting her mother, who she said encouraged her to move beyond a fear of failure. She copped to fighting with her own "obnoxious roommate" living in her head, the one who criticizes your every move. "Very often, we don't focus on the good."
Wiedemann said her personal strategy is to continue building other interests. When she first started modeling, she coped with rejection by continuing her education, even earning a masters degree at the London School of Economics. That way, if a job didn't work out, she had something else to fall back on.
Each of the panelists spent some time talking about how they prioritize health and wellness in their own lives. For Huffington, the all-too-literal wake-up call came when she fainted from exhaustion and broke her cheekbone. Now, she's become an evangelist, of sorts, for sleep. "For me, there's nothing more healing," she said. And she says it's up to women to take this one on -- for men, sleep deprivation has become competitive. She recalled a recent dinner where a man was bragging about having slept only four hours -- but she cracked to the audience, "If you had slept five, this dinner would have been more interesting."
For the upcoming fashion week, Pean reminded her peers in the industry to carry sources of protein, such as nuts or avocado -- and to prioritize exercise, at least 20 or 30 minutes a few times a week.
One of the more touching moments of the event was when Wiedemann credited her father, a former model and an executive at Microsoft who has completed five ironman triathlons, as her primary mentor. She told one story of having to wear a back brace 23 hours a day at age 12 -- she could only take it off if she was in a pool. His advice? "You can be an amazing swimmer." Today, at age 28, she's training for a triathlon.
For Huffington, inspiration comes from her mother, who she said instilled in her a belief that no matter what happens in life, we can deal with it -- especially with a sense of humor. "Angels fly because they take things lightly," she said, again quoting her mom, who passed away in 2000. She also taught her what an incredible capacity we have to course-correct when we get off track. Huffington likes to say that we all need a "GPS for the soul," a personal app that can steer us back when we move off course.
Now, Kurkova and Wiedemann are serving as mentors in their own right for young women in the modeling business as part of CFDA's new initiative. "I didn't have that when I was young," Kurkova said.