For-profit education company Corinthian Colleges Inc. misled students into taking out unaffordable loans by falsely advertising job prospects, then used illegal debt collection tactics to force distressed students to pay up, according to a lawsuit filed Tuesday by the U.S. Consumer Financial Protection Bureau.
Corinthian owns Everest Institute, Everest College, WyoTech and Heald colleges, which collectively have more than 70,000 students and annually receive $1.4 billion in federal financial aid. The company is winding down all its operations in an agreement with the U.S. Department of Education.
The CFPB alleges that Corinthian inflated its job placement rates by creating fake companies, defining a "career" as a job that lasted one day with the promise of a second, and by paying employers to temporarily hire its graduates.
After students were deceived into taking out private loans from the company, Corinthian forced them to make good on their debts by pulling them from class, blocking access to academic resources such as school computers, and withholding diplomas, the consumer bureau alleges. One financial aid officer at a Georgia campus was nicknamed the "Grim Reaper" after pulling so many students from classes for past-due debts.
Despite the lawsuit and demands from prominent Senate Democrats, The Department of Education is allowing Corinthian to continue to operate. The department recently allowed the company to access millions of dollars in federal student loans to fund its daily operations, and is permitting the company to enroll new students.
"I cannot understand why the Department of Education has continued to allow this for-profit college to enroll new students and continue to access federal student aid dollars," Senate Majority Whip Dick Durbin (D-Ill.) said in a statement.
Corinthian shares are nearly worthless. When President Barack Obama took office on Jan. 20, 2009, the company's stock closed at $17.50. On Tuesday, its shares closed at 10 cents.
"With its stock now trading at mere pennies, it seems the only investor left in this failed company is the federal government," Durbin said. "That has to end. Students beware: Everest, Heald and WyoTech schools can't deliver on their promises."
In a statement, the company said it "strongly disputes" the consumer bureau's allegations. The CFPB "wrongly disparages" Corinthian's career services and "mischaracterizes" its student loans program, the company said.
The CFPB is seeking more than $500 million from Corinthian, which would be used to cancel existing private student loans and repay students who had been making payments on their debt. About 130,000 students took out a type of loan nicknamed "Genesis" from Corinthian from July 2011 through March 2014. The CFPB also warned current and former students about the company's allegedly illegal practices in a series of online statements.
"Part of the tragedy here is that most students who attend the Corinthian company schools come from disadvantaged backgrounds, and many are the first in their families to go to college," said Richard Cordray, the consumer bureau's chief. "For these students, Corinthian too often turned the American dream of higher education into an ongoing nightmare of financial despair."
The lawsuit shows the divergent approaches by the CFPB and the Education Department when it comes to protecting students, experts said. While the CFPB appears to have prioritized the interests of students, the Education Department is more concerned with the viability of colleges that it views as its partners in providing ever greater numbers of Americans with a college degree.
"The CFPB is using the full extent of its powers much more enthusiastically than the Department of Education," said Maura Dundon, senior policy counsel at the Center for Responsible Lending. "While the CFPB has been putting students first, the Education Department cares more about the institutions."
Notably, the consumer bureau has not settled any cases in which it has accused companies of harming students. Corinthian is the second for-profit college company sued by the CFPB. In May, the bureau declined to join a settlement negotiated between the Justice Department and Federal Deposit Insurance Corp. with Sallie Mae and Navient Corp., two student loan specialists accused of cheating troops and other borrowers. Instead, the CFPB has expanded its investigation into the two companies.
In a statement, Denise Horn, an Education Department spokeswoman, said, "We share the Consumer Protection Financial Bureau's concerns about Corinthian's past practices and our independent regulatory investigations of Corinthian continue."
The Education Department has long been concerned about Corinthian. In 2012, for example, the company told investors that the department questioned the company's "financial responsibility." Beginning in January, according to Corinthian, the Education Department sent the company numerous letters demanding information about its job placement rates and attendance figures.
Unsatisfied with Corinthian's responses, the department in June placed the company under so-called heightened oversight. The distinction meant that Corinthian's various campuses had to wait 21 days -- rather than 24 hours to 72 hours -- before being able to access federal student loan money after reporting enrollment figures to the Education Department.
The move sparked panic at Corinthian, which relies on federal student aid to fund most of its operations. The company warned it could be forced to shut down due to the lack of ready cash that the Education Department normally provides.
Concerned a disorderly closure could have hurt current students, the Education Department in June reached an agreement with Corinthian. In exchange for $16 million in federal student aid, Corinthian would develop a plan to sell or close down its roughly 100 campuses across the country over the next six months or so. It also would turn over documents and hire a monitor to oversee operations.
Students with federal student loans at Corinthian college campuses that close down can apply for debt forgiveness, a complicated process. Other students will be forced to pay it all back.
"It's actions like this that raise questions about the department's role in higher education and who they're really trying to help," said Chris Hicks, an organizer who leads the Debt-Free Future campaign for Jobs With Justice, a Washington-based nonprofit. "Is this about continuing to protect their own bottom line, wanting to collect those payments on federal student loans?"
Robyn Smith, an attorney at the National Consumer Law Center, urged the Education Department to allow all Corinthian students to discharge their federal student loans.
Meanwhile, Corinthian campuses may continue to enroll new students. The Education Department has not been warning current or potential new students to stay away.
"For the latest information, we encourage Corinthian students to monitor studentaid.gov/Corinthian, where we are providing the most up-to-date information," Horn said.
That contrasts with the CFPB's stance on Corinthian. The regulator is warning current and former students that they may have fallen victim to allegedly deceptive practices, and it's demanding that Corinthian pay back students who have been making good on private loans they've taken out from the company. For students who still owe on those loans, the CFPB is demanding that Corinthian forgive outstanding balances.
"The Education Department seems to be good at writing rules, but when it comes to actually enforcing them they've pretty much been missing in action, said Stephen Burd, a senior policy analyst at the New America Foundation. "It comes down to the fact that the Education Department views schools as its partners. When they find something is wrong, they tend to encourage schools to fix it. They don't see themselves as enforcers."
Burd said it was "definitely alarming" that Corinthian is allowed to enroll new students despite its agreement with the Education Department. Burd and others questioned why the department isn't publicly warning potential students about the issues it has discovered at Corinthian.
"There are a lot of questions about how straightforward the Education Department is being with students about the situation at Corinthian," Burd said. "The consumer bureau definitely seems more interested in looking out for students than the Education Department."
The CFPB lawsuit comes amid a spate of lawsuits by state attorneys general and an investigation by the Department of Justice concerning allegations that the company defrauded the U.S. government by lying about attendance records and using illegal recruiting and financial aid practices to maintain access to federal student aid.
David Halperin, a Washington lawyer critical of the for-profit college industry who formerly was a senior vice president at the Center for American Progress, said the alleged practices at Corinthian uncovered by the consumer bureau are common throughout the for-profit industry.
"The Education Department hasn't been that vigilant about for-profits, which is why we're in this mess," Halperin said.
Hicks said the consumer bureau, unlike the Education Department, "has been willing to take difficult and important actions with little hesitation of political backlash."
"The bureau has really put the Education Department to shame in that sense, as the department has failed to take any meaningful action against these for-profits while knowing of ongoing abuse of students and student loan borrowers," Hicks said.
In March, the Education Department proposed new rules that would limit the amount of federal student loans students at for-profit schools could access if the schools failed to meet certain performance targets. Students at for-profit schools comprise about 13 percent of all college students, yet nearly half of all loan defaults, according to the department.
But while the proposed rules were largely welcomed by consumer advocates, enforcement of existing rules has been lacking.
"The department's enforcement as it relates to for-profit colleges has been really poor," Burd said. "For a very long time, the question was, 'What enforcement?'"
The CFPB alleged that Corinthian violated federal laws by deceiving its students and by engaging in predatory debt collection practices. In its complaint, the agency listed numerous examples of Corinthian's behavior.
At one of the company's Georgia campuses, employees at Everest College created fake employers that the school reported as having hired its students, the consumer bureau alleged. Everest College employees then had their friends falsely verify the employment.
The employment figures were then used to induce students to take out loans from the company, which Corinthian falsely claimed to students were made by independent third-party lenders.
In reality, the CFPB alleged, Corinthian had an interest in the loans the entire time. For some loans, Corinthian was required to purchase them shortly after the loans were made. For others, Corinthian had to buy them once they became 90 days delinquent.
According to the CFPB, that led Corinthian to engage in debt collection efforts that violate the Fair Debt Collection Practices Act.
For example, in June 2013, an employee instructed staff at one of Corinthian's Heald College campuses in California to bar a student who was more than 38 days late on her loan from class until she provided a note from the college's business office stating her loan was current.
That same month, a director of student accounts at one of Corinthian's Everest College campuses in California gave the college's instructors a list of students who were more than 40 days late on their loans, instructing them that the students were "blocked from attending class until payment is made."
This all occurred as the company reaped taxpayer-provided cash from the Education Department to fund its operations.
"The Education Department has a lot of tools at its disposal to enforce compliance, but they haven't been exercising them," said Dundon, of the Center for Responsible Lending. "The department has audit teams, but they're very toothless."
She added: "The department wields life-or-death power over Corinthian. But the department is basically captured."

Before You Go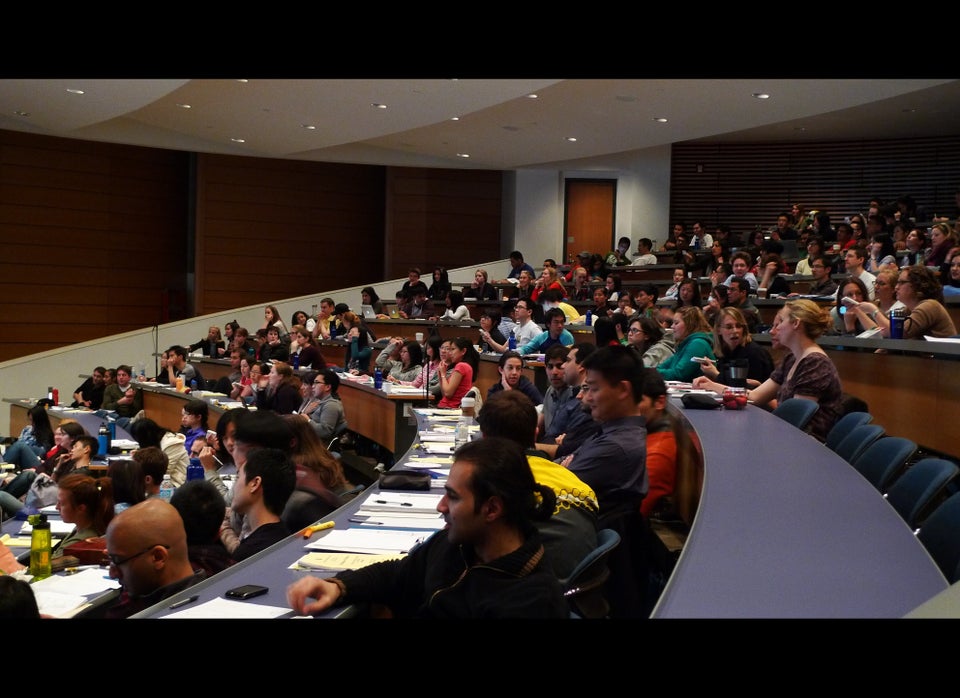 For-Profit College Spending
Popular in the Community