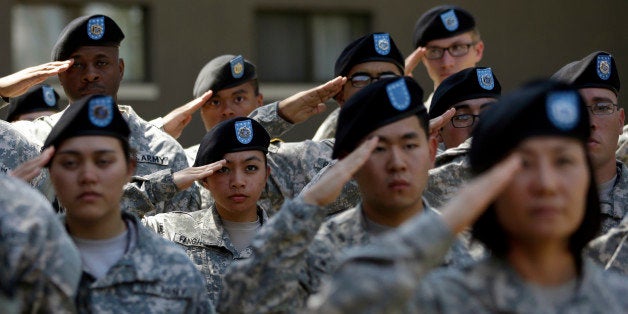 U.S. troops can't rely on student loan companies, including those working for the Department of Education, to give them accurate information about legal protections they are entitled to, a top federal regulator charged.
The stark warning from Holly Petraeus, assistant director for service member affairs at the Consumer Financial Protection Bureau, accompanied a report the regulator released Tuesday that concluded military personnel continue to be routinely mistreated by companies that process their monthly student loan payments and counsel them on repayment options.
Service members have complained to the CFPB over the past three years that their loan servicers lost paperwork, pushed them into default by falsely promising they could postpone payments, failed to provide basic information about repayment plans, and hurt their credit scores by misreporting their loan status to national credit bureaus.
In addition, active-duty troops continue to face obstacles when trying to lower the interest rate on their student loans -- a benefit available to them under the Servicemembers Civil Relief Act, or SCRA. Service members and their families told the CFPB their loan servicers required them to "repeatedly assert" their right to a reduced interest rate.
It's been an "unnecessary struggle" for military personnel, the agency said in its report. "Servicers still do not appear to understand the elements of the SCRA."
"What we hear from military borrowers is that student loan servicing issues are an ever-increasing source of stress and concern over financial and military readiness," said Seth Frotman, the consumer bureau's top student loan official.
The CFPB's accusations are primarily based on an analysis of roughly 1,300 complaints it has received from military personnel. The agency only accepts borrowers' complaints about their experiences dealing with private student loan servicers. Borrowers with complaints about their federal student loans are referred to the Education Department.
But the CFPB said the servicing failures even occurred among companies that work for the Education Department,
suggesting that the agency is taking a deep look at the quality of service the Education Department's loan specialists provide the roughly 29 million Americans with the most popular type of federal student loans.
The consumer bureau's conclusions are at odds with a May 26 announcement by the Education Department, which cleared its four favored loan contractors of any wrongdoing after a controversial audit found that they had complied with the Servicemembers Civil Relief Act in the "vast majority" of cases.
Education Secretary Arne Duncan ordered the audit in response to a Justice Department lawsuit accusing Navient Corp., a former unit of student loan giant Sallie Mae, of intentionally cheating active-duty troops on their federal and private student loans. The Huffington Post detailed the audit's shortcomings in a report last month, finding that the Education Department likely missed thousands of violations of federal law when it publicly exonerated Navient.
Duncan's department said its loan servicers incorrectly denied troops their right to a reduced interest rate less than 1 percent of the time.
The quality of the Education Department's audit was further called into question by the CFPB after the consumer regulator reported that troops and their families were frequently blocked from asserting their right to a lower interest rate under the service members law due to shoddy customer service, paperwork screwups and misinformation.
Duncan's department only examined service members' Navient loan files that contained a written request for a lower interest rate under the troops-related law. The Education Department ignored cases in which a service member called their loan company and was given false information, or illegally forced to jump through needless hoops in order to reduce the interest rate on their loans -- practices the CFPB said are common.
Some federal officials reckon the Education Department's investigation was flawed, resulting in a massive undercounting of potentially wrongful acts by Navient, in part because the department ignored the kinds of "unacceptable student loan servicing practices" the CFPB uncovered that likely discouraged military personnel from applying for their benefits in writing.
"If [service members are] relying on their loan servicer to tell them about their benefits, unfortunately that has not proven to be either an accurate or fully informational source," Petraeus said.
Dorie Nolt, an Education Department spokeswoman, declined to address Petraeus's charge that service members can't rely on their loan servicers for accurate information, or say whether the department was confident that its loan servicers always provide service members with accurate information about their federal benefits. Instead, Nolt said, "We continue to work with our servicers to ensure they are treating all borrowers fairly, but especially the men and women defending our country."
The Education Department recently changed its rules so that military personnel no longer need to apply for a reduced interest rate for some of their federal loans, and instead get the benefit automatically when the department's loan servicers check a Defense Department database, Nolt added.
Winfield Crigler, executive director of the Student Loan Servicing Alliance, a Washington trade group that represents many student loan servicers, didn't respond to a request for comment.
The CFPB released Tuesday's report in part as a response to the Education Department's May announcement that its loan servicers largely complied with the service members law, sources said. The CFPB issued a report containing similar warnings about mistreatment of service members in April, but the Education Department announcement influenced the agency to repeat its concerns.
Moira Vahey, a CFPB spokeswoman, said the agency issues reports on a regular basis.
The dueling announcements represent the two government agencies' divergent views on consumer protection. While the CFPB, an independent agency, is charged with protecting borrowers from unscrupulous financial companies, the Education Department's primary concern is ensuring that college students get financial aid in time for classes, former department officials have said.
Unlike the CFPB, for example, the Education Department ombudsman who handles borrowers' complaints refers to them as "customer contacts", according to its most recent annual report, "in keeping with its role as a neutral."
To the CFPB, mistreatment of service members represents a "canary in the coal mine" that signals much larger problems plaguing the roughly $1.3 trillion student loan market. "If a servicer is unable to provide adequate service to those who have special protections under the law, it raises questions about whether it is agile enough to deal with the complexities of the larger population of borrowers facing hardship," Rohit Chopra, until last month the agency's top student loan official, said in 2013 testimony before the U.S. Senate.
The consumer bureau is preparing new rules aimed at stopping loan companies from mistreating borrowers and encouraging them to provide quality customer service.

Popular in the Community