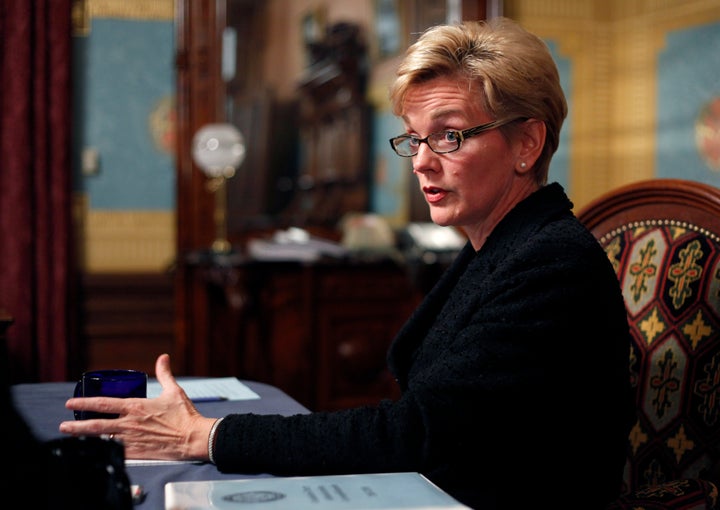 WASHINGTON (Reuters) - The White House is considering Federal Reserve Governor Sarah Raskin and former Michigan Gov. Jennifer Granholm to head a new agency charged with protecting consumers of financial products, a source aware of the process said Tuesday.
Raskin, who was recently named by President Barack Obama to a seat on the Fed's board, is viewed as readily able to win the needed Senate confirmation to the office, which was created by legislation that overhauled U.S. financial regulation.
Raskin, a former state regulator and former staffer on the Senate Banking Committee, is also seen by the White House as a candidate that would be acceptable to the financial services industry, the source added.
Granholm, who was the first female governor of Michigan, had been mentioned last year as a potential candidate for a seat on the Supreme Court.
The source did not say whether other candidates in addition to Raskin and Granholm were under consideration.
Obama is under pressure from both ends of the political spectrum to name a head to the Consumer Financial Protection Bureau, which is set to open in July.
The agency would be charged with reining in abuses in the financial industry, including shoddy mortgage practices and excessive credit card fees. It also would play a role regulating the so-called shadow financial industry, including pay day lenders.
Harvard Professor Elizabeth Warren, an outspoken consumer advocate who had championed the new agency, had been seen as a likely candidate last year. However, she would face a difficult if not insurmountable uphill struggle to confirmation because many Republicans view her as too antagonistic toward the financial industry.
Warren, who has been serving as an adviser to Obama and the U.S. Treasury, has been helping to set up the agency for its formal launch. She has been actively reaching out to the industry in an effort to foster a good working relationship. (Writing by Tim Ahmann; editing by Carol Bishopric)
Calling all HuffPost superfans!
Sign up for membership to become a founding member and help shape HuffPost's next chapter