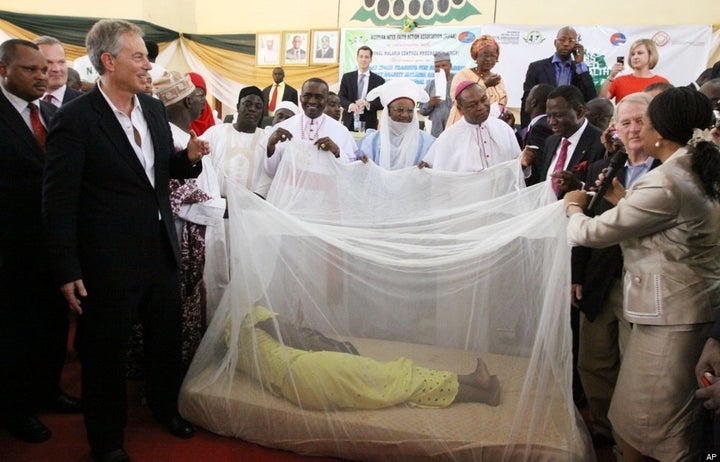 This weekend I'm joining President Clinton, Sean Penn and a host of other speakers at CGI University, which is essentially the student led version of the Clinton Global Initiative.
I was particularly honored to be invited to speak to more than a thousand young leaders from college campuses and youth organizations across the country at the welcome reception that kicked the whole weekend off.
The people attending this event are truly remarkable, and even more remarkable considering their young age. Leah Dodge, Liz Harvin and Kate Nelson, for example, are undergraduate students at Michigan State University. They're part of a student group called Global Youth for Education and Change, which is already in the final stages of building a house in Western Kenya, where students from the U.S. and Kenya will work together on sustainable development issues.
Each student makes a Commitment to Action, which is a common phrase here at CGI U. In this case, their commitment is to make, install, and test house screening kits. Mosquitoes tend to enter households through gaps in eaves between the roof and the walls and each screening kit that's installed includes a mosquito net large enough to cover all the cracks in the eaves and the side of the home.
For families who aren't lucky enough to have people like Leah, Liz and Kate helping them out, the effects of not properly screening out mosquitoes are literally deadly as many mosquitoes in Kenya and other parts of sub-Saharan Africa carry malaria.
Unfortunately, I've seen the deadly effects of that disease. Not long ago I was in Central African Republic with my organization PSI and I visited with doctors at a local clinic where malaria was the number one cause of patient visits. They pointed out the long lines of patients waiting and the empty shelves where medication and treatment should have been stored -- they were truly desperate for any help to provide treatment to those suffering or to prevent them from getting malaria in the first place.
I also visited the national pediatric hospital while I was there, since malaria is the leading cause of death in children under five in the country. I thought that, at least at the main hospital, people would be able to receive appropriate care but, despite the doctors' best efforts, proper care was practically non-existent. The hospital was chaotic with men, women and children lining the walls both inside the emergency room and outside on the lawns. The Director General at the hospital gave me a tour and pointed out the maternity and children's wards where literally dozens of patients and family members were packed into rooms that were made for four.
The hospital staff said a lack of resources was a big issue among patients. Many patients can't pay for medical care, so they only come when they're desperate and in a critical state. Each month, staff sees hundreds of patients battling malaria each month -- despite the fact that malaria is an entirely preventable disease. For many, the hospital is their last stop and they die waiting on treatment instead of returning home.
Every 45 seconds a child in Africa dies of malaria. But people like Leah, Liz, and Kate are helping to turn that horrible statistic around. The young leaders I'm with this weekend at CGI University are providing real solutions to the economic, educational and health challenges that we face. I often get invited to attend conferences and meetings but I chose to attend CGI University because of those people. Because from this meeting, things happen. You can watch inspiring videos of the event throughout the weekend at CGIU.org.
My trip to the Central African Republic was done as part of a partnership between my organization PSI and the United Nations Foundation's Nothing But Nets campaign. Nothing But Nets is a global, grassroots campaign focused on ending malaria in Africa and their efforts are already showing success. Malaria rates are dropping across Africa because of the hundreds of thousands of supporters who have joined the movement to end malaria -- donating $10 each to send a net and save a life. If we keep up this momentum we can end deaths from malaria in this generation.
Last year, by spreading the word through my fans and media, I helped the UN Foundation's Nothing But Nets campaign raise enough money to send 837,000 mosquito nets, one to every family in the Central African Republic. Right now, Nothing But Nets is asking for help in providing nets to families in Liberia, where more than 70,000 new refugees need nets before the rainy season hits in May.
I'll contribute to their efforts, my organization PSI will continue to contribute to their efforts, and I encourage each of you to log onto NothingButNets.net to see how easy it is to help.
Through their CGI University commitments, students have raised millions of dollars for health care, education, and disaster relief, built or repaired dozens of libraries and schools, and reached thousands of people with messages about conflict resolution, diplomacy and peace.
This weekend is our opportunity to see what more we can do to change the world we live in for the better and to do our part to make the world a healthier and more prosperous place for us all.

Popular in the Community