CGIAR will host 4p1000, a new initiative which places soils at the heart of climate solutions
To help us halt the warming of our world, it is time to take a good look beneath our feet. Capturing soil carbon in soils is one of our best bets for mitigating significant greenhouse gas emissions.
At the recent Eat Forum in Stockholm, Johan Rockström and Walter Willet reminded us of this in their State of People and the Planet speech, which highlighted that reaching the Paris Agreement goal will be challenging and require an 'agrarian revolution', where our food system becomes part of a global roadmap for rapid decarbonization. Sequestering more carbon in the soil is an option that would significantly contribute to meeting the Paris Agreement goal.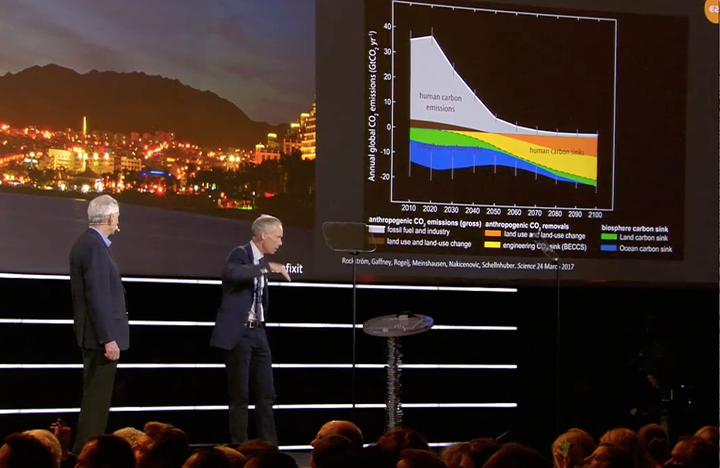 However, we still lack the knowledge needed to sustainably manage soil for carbon sequestration. Launched during COP21 under the leadership of the French Government, the global 4p1000 initiative is currently rallying effort to overcome this gap.
On paper, a 0.4% annual growth rate of carbon stored in soils would make it possible to stop the present increase in atmospheric CO2. In the real world of agricultural and forest soils, this target may be difficult to reach or limited in time, but any effort towards storing carbon in soils or halting carbon release, especially from agricultural soils, would dramatically move our food system from the 'bench of culprits' to part of the solutions to mitigate climate change.
But there is more. Farmers and agronomists have known for centuries that more carbon in soils means more fertility, less erosion and better water storage. This means better adaptation to increased climate variability and better income for farmers, yielding better food and nutrition security, especially in the developing world.
The 4p1000 secretariat is now hosted by the CGIAR System Organization, under an agreement signed in Montpellier on 29 June, 2017. The initiative provides a multi-stakeholder platform to facilitate partnerships, bringing together more than 250 contributors in both the public and private sectors under the framework of the Lima-Paris Action Agenda (LPAA) of the UNFCCC. The initiative will promote research-based solutions along four pillars:
a multi-stakeholder platform to facilitate partnerships
a tool to assess projects based on a set of references and indicators
an international research program exploring the potential of soil carbon sequestration, innovative soil practices, the required enabling environment, and the monitoring, reporting and verification of solutions
a digital resources center on carbon in soils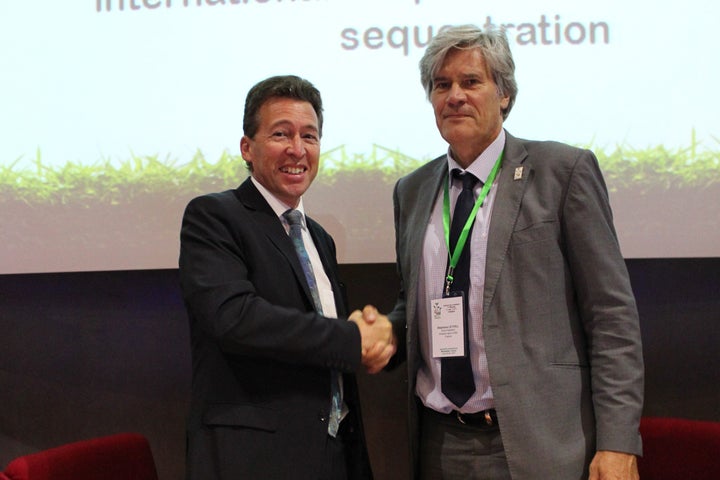 CGIAR scientists are also systematically mapping and analyzing the levels of soil organic carbon from the continent-level down to the local-level, using a number of advanced methods such as machine learning and remote sensing.
With accurate measurements, they will be able to determine the extent of land degradation and its impact on soil organic carbon, and the potential for soil carbon sequestration through restoration aiming to increase biodiversity and farm productivity. In Tanzania, CGIAR scientists have quantified the sequestration rates that would be required to achieve the 4p1000's goal to increase soil carbon globally by 4%.
On farms, CGIAR scientists are examining how agronomic practices that improve soil health affect soil carbon sequestration and climate change adaptation. On-farm practices such as reduced soil tillage, crop diversification, and agroforestry, among others, may help sequester more soil carbon, in addition to increasing soil health and agricultural productivity and socio-economic benefits, resulting in a potential win-win for farmers and the environment.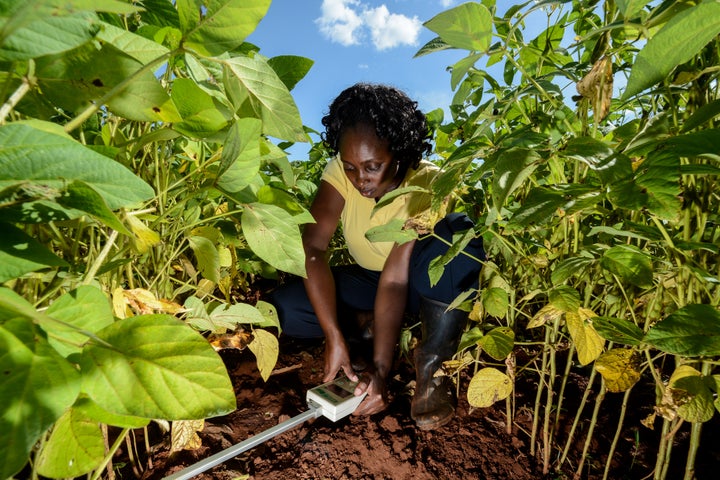 Conservation agriculture and integrated soil fertility management – two soil conserving agricultural management practices – can slow down or even increase soil organic carbon when compared with conventional practices, as has been shown in two long-term trials in western Kenya. Indeed, a meta-analysis of studies in Sub-Saharan Africa found that inorganic fertilizers, when combined with organic inputs, conserved 0.5% more soil carbon over a 10-year period than inorganic fertilizers alone.
4p1000 and CGIAR are working towards mainstreaming soil carbon conservation and sequestration as a climate-smart and agro-ecological practice. Developing solutions ranging from mapping of soil organic content to decision-support for targeting interventions, CGIAR recognizes the need to promote developing countries' readiness to tackle such issues by supporting projects that combine mitigation and adaptation, and that could be eligible to Green Climate Fund's support.
Reducing loss of soil carbon in agricultural soils, maintaining carbon-rich organic soils such as peatlands, and restoring and improving degraded agricultural lands all play an important role in addressing the three-fold challenge of food security, adaptation of food systems to climate change, and the mitigation of anthropogenic greenhouse gas emissions.
With the 4p1000 initiative now having a secretariat based at CGIAR, it becomes eligible for funding and staff secondment from contributing partners.
Support HuffPost
The Stakes Have Never Been Higher
Related
Popular in the Community