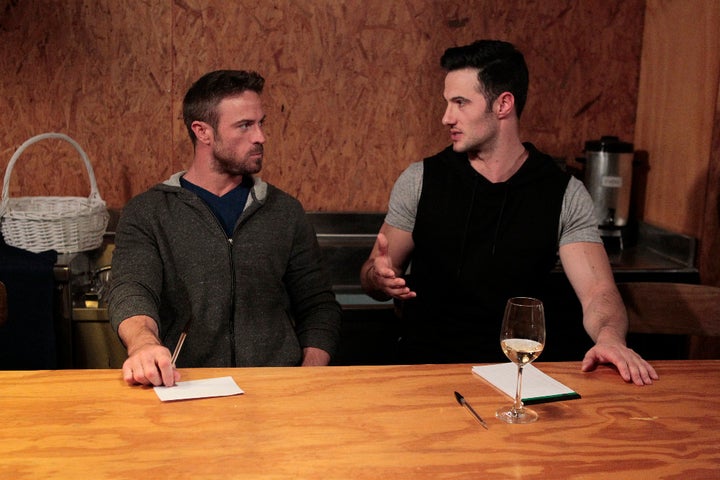 Every season of "The Bachelor" and "The Bachelorette" has its villain. 
This season, that villain is Chad -- that's really an insult to past seasons' villains, like Nick Viall, J.J. Lane, Olivia Caridi and Michelle Money. These villains past introduced enough tension to the house dynamics to give the show's producers something to work with. They were confrontational, sarcastic or tone-deaf, but rarely, if ever, did they seem genuinely threatening; unlikable at worst, hilariously contrarian at best.
Chad is on another level. By the end of Monday night's episode, the third in the season, he'd repeatedly threatened to punch in Alex's teeth, made vague threats toward several other men in the mansion, and physically assaulted the unimposing but valiantly confrontational Evan -- twice. 
Only a few days into this love journey, Chad began resorting to threats of beatings and worse to deal with low-grade conflicts with the other men. He was rude to JoJo, calling her "naggy" on a group date, put down other men's masculinity, became enraged by any light-hearted ribbing directed at him, and generally raised up as much beef as humanly possible with the other men in the house -- later offering to punch their teeth in if they addressed his poor behavior. It became clear by last week's episode that Chad exemplifies toxic masculinity.
This week, Chad took his dreams of violence and made them a reality. At a group date where 12 of the men were challenged with sharing awkward sex anecdotes at a standup show, Evan mocked his nemesis by joking that he had a steroid problem. As Evan returned to his seat after the set, passing the target of his set, Chad grabbed him by the shirt and yanked him backwards, ripping his shirt. Later, as the men gathered backstage, Chad punched a metal door, then lunged at Evan and pushed him back by the throat. As he walked out, he menaced Evan yet again.
Chad's roommate, Derek, admitted he no longer felt safe sleeping in the same room as someone who'd not only made so many threats, but actually laid hands on other men in the house. A security guard was called in to keep an eye on the house rage-monster. But despite having apparently assaulted another man in the house, Chad wasn't asked to leave.
Eventually, Evan asked host Chris Harrison to intervene. But instead intervening or asking Chad to leave, Chris made it clear to Chad that Evan had complained about his behavior, threw in a token condemnation of violence, then sent the problem contestant back into the house to address the situation -- an approach just as likely to escalate the situation as ameliorate it.
In the end, JoJo is left to suss out whether Chad really is a violent, possibly abusive man and to eliminate him from the show. On a two-on-one date with Chad and crusading good guy Alex, JoJo heard that only that morning, Chad had threatened to find Jordan, one of the frontrunners, after the show was over and hurt him. When Chad couldn't even muster a convincing denial over this episode, she finally, icily informed him that violence and threats were unacceptable and sent him home. 
Aggression and drama might make for more fun TV, but at a certain point it feels irresponsible to let someone who's demonstrated clear willingness to behave antisocially, and even violently, remain.
To some extent, this is the failsafe of "The Bachelor." Unlike on reality shows such as "The Real World," exhibiting tremendously antisocial behavior can quickly result in your removal simply because that's how the show works: The lead realizes that you're not a good prospect after all, and they ask you to go. Villains almost always get the boot from the franchise once they've served the purpose of spicing up the season, and it's the lead's choice. (Otherwise, we can end up with a Courtney Robertson situation.) 
When violence enters the mix, however, this doesn't seem like enough. If there's a contestant on the show who poses an imminent threat to other people on the show, their safety should take priority over the show's formula -- and it's hard to imagine the show being so blasé about this ISSUE if it were a woman getting shoved by the throat. On the last season of MTV's dating reality show "Are You the One," a male contestant was immediately sent home after throwing a woman he'd been involved with onto a bed by her neck during an argument. The altercation was startling, and the decision to remove him from the house was correct, but for some reason, that didn't happen here.
By keeping Chad, "The Bachelorette" is showing that a calculation was made: The ratings he'd get them would be more substantial than those any outrage over a man being physically attacked would take away from them. Maybe the ratings gold that was Chad's meltdown just couldn't be denied, or maybe a gamble was made that America thinks men should be tough enough to handle the constant threat of having their teeth punched in by a housemate.
Neither is a good excuse. Just to be clear: No one should live in fear of physical violence. "Don't hit a girl" is only partly right; it's never OK -- excepting self-defense -- to hurt people physically, including men. 
Keeping Chad around doesn't do JoJo any favors, either. It's an especially bad look considering Andi Dorfman, a past Bachelorette, recently published a book claiming that her ex-fiancé from the show, Josh Murray, was emotionally abusive and controlling during their post-show relationship. Aggression and drama might make for more fun TV, but at a certain point it feels irresponsible to let someone who's demonstrated such clear willingness to behave antisocially, and even violently, remain as one of JoJo's options. That could be her life.
Tuesday night's episode of"The Bachelorette" ended ominously, with Chad stalking back to the resort after being left in the woods, rejected in favor of Alex on a [hiking] two-on-one date. A member of the crew has already come to pick up his baggage from the house, and typically contestants who are eliminated while on dates do not return to the house at all.
But, of course, a camera crew was following Chad as he angry-whistled his way back to where his former competitors were staying in the dying evening light, and as he knocked threateningly on the door. Who knows how much mileage the show will get out of this unconventional return, or how long his presence will be dragged out, but he's already been given too much rope.
Chad's tenure on "The Bachelorette" has been nasty and brutish. ABC should probably have made sure it was just... shorter. 
For more on this week's two-episode "Bachelorette" special, listen to HuffPost's "Here to Make Friends" podcast recap:
REAL LIFE. REAL NEWS. REAL VOICES.
Help us tell more of the stories that matter from voices that too often remain unheard.
BEFORE YOU GO
PHOTO GALLERY
Tweets About "The Bachelorette" Season 12, Episode 3