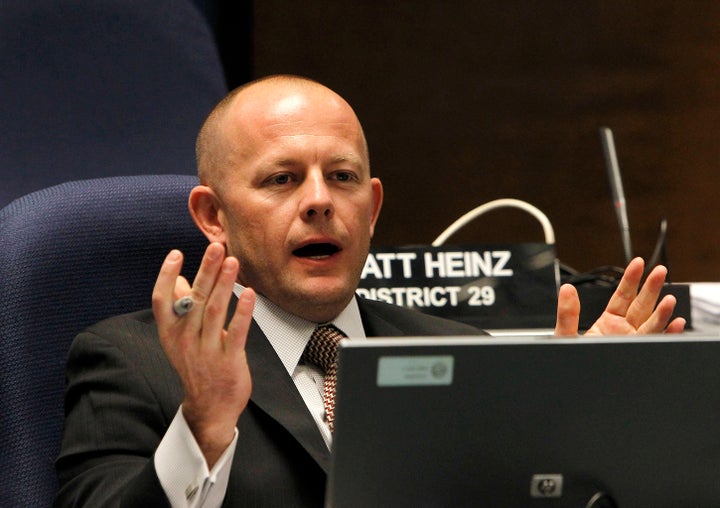 Arizona Democratic House Minority Leader Chad Campbell vented some frustration about the legislative dealings of his state this week, saying that they had been largely hijacked by the "Tea Party and conspiracy theorists."
Campbell's comments came in the wake of a new bill designed to gut government-run green programs in the state. Senate Bill 1507, a Tea Party-backed piece of legislation that looks to have a viable path to Republican Gov. Jan Brewer's desk, seeks to prevent "social engineering" supposedly perpetrated by a pro-sustainability United Nations declaration called Agenda 21. The declaration was adopted by the U.S. under Republican Pres. George H. W. Bush in 1992. The measure is non-binding, but calls for broader anti-pollution efforts, green initiatives and steps to fight poverty, among other goals. It has long been a conspiracist's bugbear and they have said it is an affront to the nation's sovereignty.
HuffPost's Lucia Graves reports on the concerns from opponents of the bill, which is sponsored by pro-birther Tea Party Rep. Judy Burges (R-Sun City West):
Under the Burges bill, the state and its political subdivisions would be prohibited from adopting or implementing any of the declaration's tenets aimed at sustainability. Critics fear that if the bill becomes law it will quash government-funded green programs throughout the state, including a $25 million stimulus program that provides energy-efficient improvements to homes and businesses along a 10-mile stretch of Phoenix's light rail corridor.
But Campbell is also concerned it could do serious damage to Arizona's unemployment program.
"It's the most poorly crafted bill in this state," Campbell recently told msnbc.com, pointing out that the bill would scrap the U.N. initiative's anti-poverty language as well, potentially sending shockwaves across Arizona's social safety nets. "It's so broad and overreaching, we're not sure what it could impact."
Campbell concluded: "The tea party and conspiracy theorists run the state now."
Popular in the Community