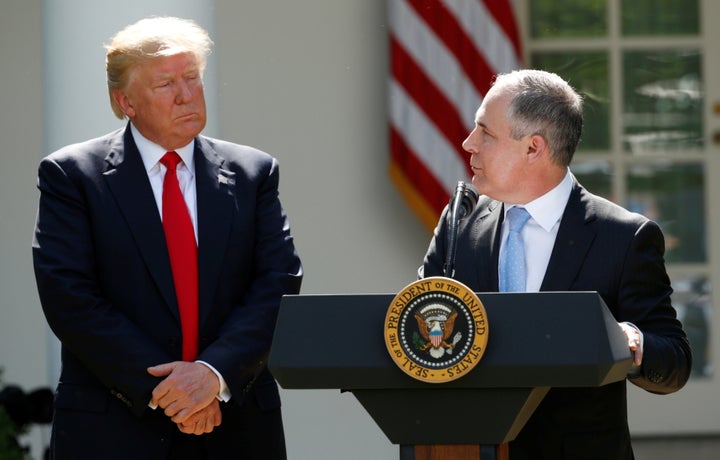 The former Ford Motor Company executive nominated Friday to a top Environmental Protection Agency position is accused of overseeing an industrial spill that contaminated the groundwater of a Michigan suburb with a cancer-causing chemical.
William Charles "Chad" McIntosh, President Donald Trump's pick to lead the EPA's Office of International and Tribal Affairs, ran Ford's environmental compliance and policy divisions from 1998 until he retired last year.
During that time, degreasing chemicals that had long spilled from a Ford manufacturing plant in Livonia, Michigan, were breaking down into vinyl chloride and tainting the local groundwater. Exposure to vinyl chloride is linked to a rare form of liver cancer, brain and lung cancers, lymphoma and leukemia, according to the National Cancer Institute.
Ford said it didn't discover the contamination until 2014, when the company began renovating the plant. Last August, more than 100 homeowners in Alden Village, the town east of the Livonia plant, sued the company over the spill. Shawn Collins, the attorney representing the homeowners, faults McIntosh for the company's failure to discover the contamination sooner and said he plans to "demand" McIntosh's deposition in the case.
"You can't ignore these kinds of toxic chemicals in such an enormous quantity on your property, so whoever was in charge of the environmental state of affairs at this plant did not do his job," Collins told HuffPost on Monday. "That's McIntosh."
The EPA declined to comment. Ford said the spill posed no risk to the municipal drinking water. The company added that cleanup efforts began soon after it discovered the contamination and it has "worked quickly and cooperatively with the state and community to keep everyone fully informed of our progress."
"We remain fully committed to protecting the environment," John Cangany, a Ford spokesman, told HuffPost.
Collins said his team is combing through more than 500,000 documents that Ford turned over. He said he expects to go to trial within a year.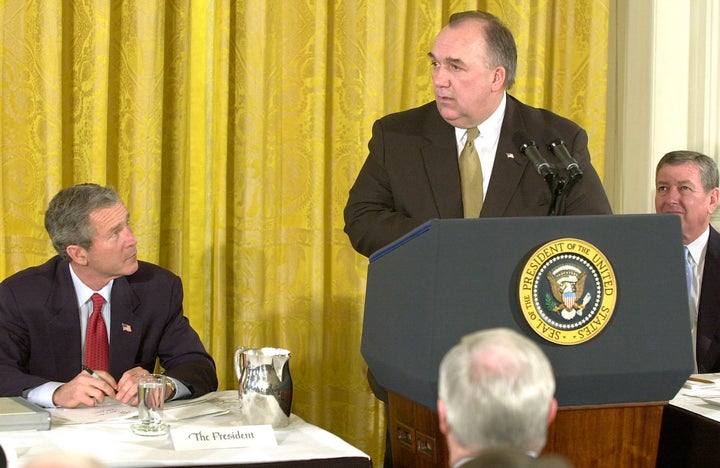 McIntosh, a chemical engineer and lawyer, spent the first 13 years of his career as an environmental permit compliance inspector in Michigan, according to his public LinkedIn page. In 1991, he joined Republican Gov. John Engler's administration, serving as an environmental adviser and deputy director of Michigan's Department of Environmental Quality.
During McIntosh's seven-year tenure at the agency, the Engler administration spearheaded a historic effort to slash environmental regulations. Engler abolished 19 citizen commissions and oversight boards and split the state agency in two, separating the Department of Natural Resources from the Department of Environmental Quality and reducing the budgets for both.
"It's not good news for anybody who gives a damn about the environment in this country that McIntosh is going there," Collins said. "He's a polluter's friend, or Trump would never have picked him."
A 1998 survey by the advocacy group Public Employees for Environmental Responsibility found staffers at the Department of Environmental Quality deeply dissatisfied and demoralized. Fifty-nine percent strongly disagreed when asked if they trusted top management at the agency to protect Michigan's natural resources and public health. Thirty-eight percent strongly agreed that companies regulated by the agency "excessively" influenced permitting decisions, and 63 percent strongly agreed that agency management viewed individuals and businesses seeking permits as the "primary customer," as opposed to "the natural resources and the general public."
"[McIntosh] gleefully participated in undoing many of Michigan's environmental protections as part of the Engler administration," Dave Dempsey, a Michigan environmental policy expert at the Great Lakes advocacy group Flow, told HuffPost.
"He's a polluter's friend, or Trump would never have picked him."
In 1997, Macomb County inspectors found that a developer had violated the state's 1979 Wetland Protection Act by building new homes on a protected eight-acre wetland. McIntosh gave the developer "an out by touring the site and then overruling his district inspectors" and issuing his own finding that said "what the developer did was perfectly appropriate because it was exempt from the state wetland protection law," according to a February 2000 report published in the Detroit Free Press. The incident left county officials "wondering why the second in command at the state environmental agency inserted himself into a wetland permit dispute to approve activities they argue were plainly illegal," the report said.
The Engler administration's deregulatory onslaught even alienated former supporters. Tom Washington, the late director of the Michigan United Conservation Clubs, voted for Engler in 1990 and 1994. But in a December 2002 cover story, the Lansing City Paper, an alt-weekly, quoted Washington angrily declaring that "the spirit of stewardship ... is gone, replaced by the vision of a man who seems to value only numbers on a ledger."
"We've entered an era when protection of the environment is measured by how many permits you can issue and how fast," Washington said.
That may help explain McIntosh's EPA nomination. In January, EPA Administrator Scott Pruitt told The Wall Street Journal that his second year would focus on accelerating efforts to remake the federal agency and speeding up the permitting process. Pruitt, who has deep ties to industry and rejects the science behind climate change, has aggressively rolled back environmental regulations during his first year in office, attracting fierce criticism from former EPA chiefs, including Republicans, and potentially setting the agency back decades.
On Friday, Pruitt cited McIntosh's "unique background" in making him "a valuable asset and well-suited" to lead the EPA office charged with coordinating the permitting process among federal agencies, Native American tribes and regulators in other countries.
"Chad will bring a wealth of experience and expertise to EPA," Pruitt said in a statement.
Coincidentally, Bloomberg reported Friday that Pruitt plans to agree to Ford's request to reverse an Obama-era decision to raise fuel efficiency standards for 2022 to 2025 vehicles.
"Governor Engler and William McIntosh's Department of Environmental Quality spent their entire time in power trying to undermine environmental protection and enforcement," Anne Woiwode, chair of the Sierra Club's Michigan chapter, told HuffPost. "His joining EPA after working for the company leading the charge to undermine our clean car standards is nothing less than a direct threat to the future of America's public health and clean air and water."
Before You Go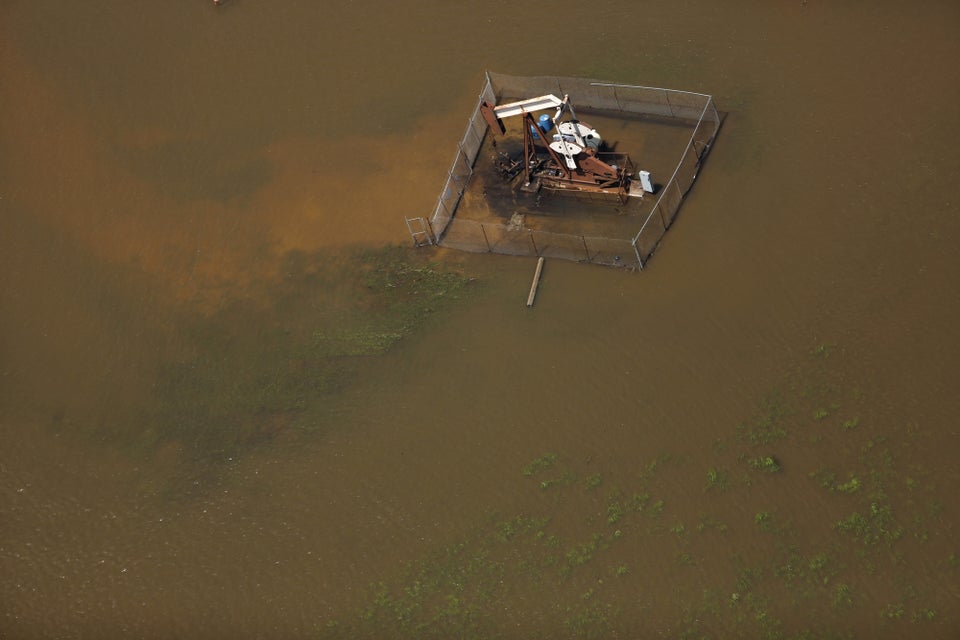 Polluted Water In The Wake Of Hurricane Harvey
Popular in the Community