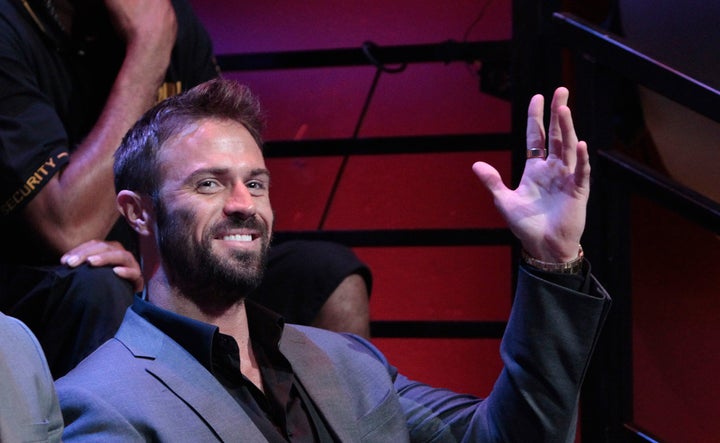 Like a particularly pernicious hangover, "Bachelor" bad dude Chad Johnson just won't fade away. After his time on JoJo Fletcher's season of "The Bachelorette," a sad appearance on "After the Final Rose," and an even more shocking stay on "Bachelor in Paradise," he still keeps cropping up ― on an aftershow for "Bachelorette Canada" and now on Freeform's "Ben & Lauren: Happily Ever After?"
On Tuesday night's episode of "Ben & Lauren," the tepidly happy couple decide to go camping with some franchise friends ― Chris Soules, Emily and Haley Ferguson, Lace Morris and Grant Kemp, and (oops!) Chad Johnson. Yep, thinking Lace and Grant can't make the weekend, Lauren and Ben invited their friends' sworn enemy. After meeting him at "After the Final Rose," Lauren felt convinced Chad was a good guy deep down, and wanted to reach out to the poor friendless dude. 
The final campfire of the weekend ended up being a group therapy session. Lace sobbed, Lauren insisted that she didn't really think Chad was a bully, and Chad severely undercut her case by smirking and whipping out lines like, "I meant to upset you! I meant to piss y'all off, and it worked! ... It entertained me." When Grant asked what his late mother would think of his actions on the show, Chad stiffened and ground out, "I think, stop bringing my mom up ... I don't bring up my mom. There's no unhurtful way to keep bringing up my mom." (While this is an understandable defensiveness, he has brought her death up, repeatedly, to garner sympathy and burnish his actions on the show.)
Finally, he mouthed an apology and left before anything worse could happen ― what amounts to a triumphant act of generosity from Chad given the low bar he's been given to clear in the "Bachelor" world of late.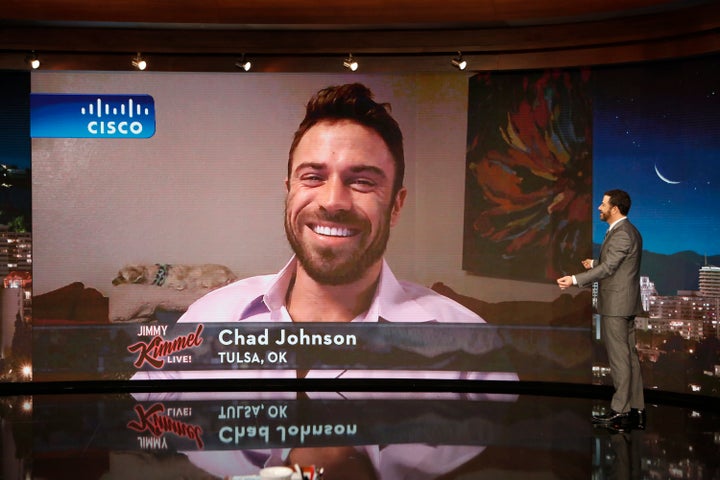 Presumably, this camping trip was filmed some time ago, but based on the context of the show, it's clear that it took place after his appearances on both "Bachelorette" and "Paradise," as well as an appearance on "After Paradise" with Lace. By this point, his ongoing pattern of inappropriate behavior toward cast members was eminently apparent ― yet he was shoehorned into an episode of a "Bachelor" star's reality show nonetheless. 
Freeform declined to comment on Chad's appearance on the show, and as of press time, contacts at Warner Horizon and ABC had not responded to requests for comment. 
As someone who watches and writes about "The Bachelor" franchise, I'd been troubled by Chad's comportment on the show since early on, especially as it became more aggressive and openly hateful toward women on the show such as Lace and Sarah Herron. I'd commented on it when I found his behavior toward other contestants inappropriate. I'd also revealed on Twitter and on my podcast that my own mother had died when I was very young, and that the grieving process had been very prolonged and difficult. Based on my experience, I empathized, but I didn't believe his mother's death should be used as an excuse for harmful actions.
But, full disclosure, I'm not just an observer here. 
That's because Chad didn't like me "bringing up his mom" by commenting that a grief I so deeply sympathized with shouldn't be used to justify abusive behaviors. He didn't like me doing this so much that on Aug. 10, he began to harass me on Twitter, first tweeting at my employer: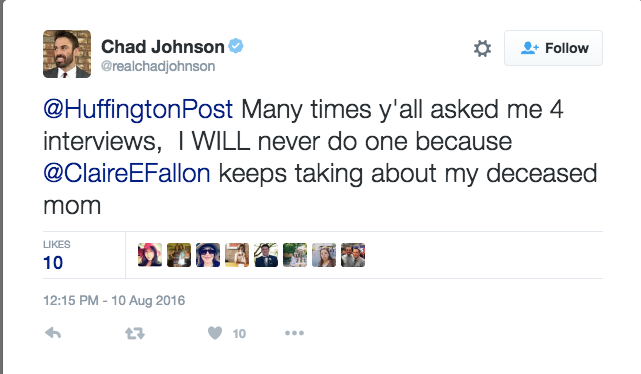 He continued by tweeting what he either believed or claimed to believe was my address. (I had never resided at the apartment in question.)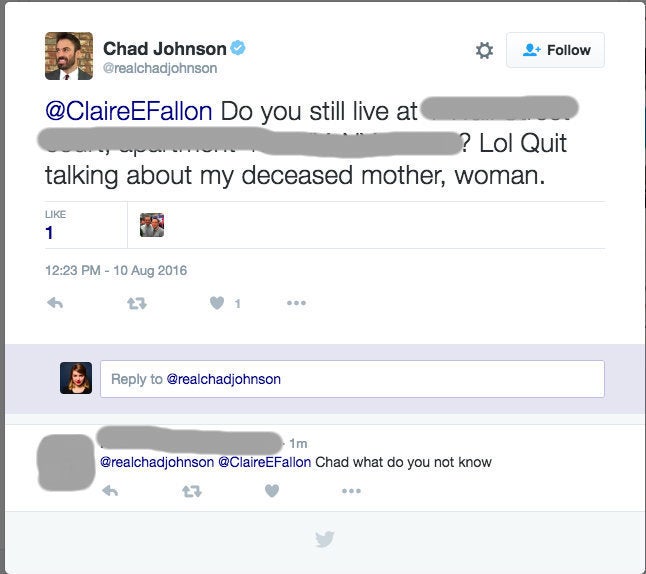 I reported the attempted doxing to Twitter. After many hours, his account was suspended until the tweets were removed. In the meantime, the tweet hung in the ether, receiving plenty of unsettling responses. (I just hoped that was all it would lead to.)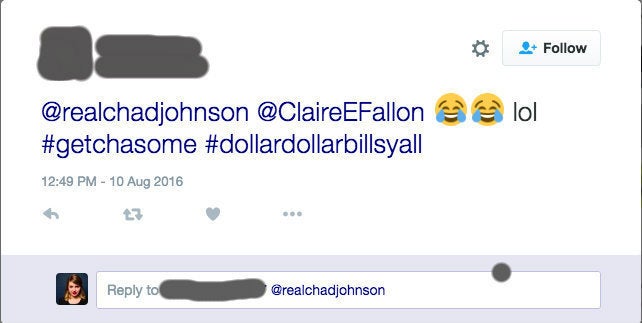 My editors and I also brought the tweets to the attention of ABC and Warner Horizon, the studio. Given that this occurred the day after Chad's appearance with Lace on "After Paradise," it seems likely that the camping trip filmed for "Ben & Lauren" took place just a few days later.
Chad presents himself as someone who thinks his own purposefully harmful actions can be erased with a glib apology, while others are lucky if a comment that rubs him the wrong way isn't met with physical violence. Lauren asked him during the campfire chat if it made him sad to hurt other people; he almost scoffed as he replied, "No!" If others hit on a sore spot for him ― his mother, though it's one that he's made part of his reality TV narrative — he finds their hurtfulness appalling and unforgivable. There's no one standard of kindness; everyone must behave with gentle deference to Chad, while he can gaily stomp on them in return and expect forgiveness on demand.
That is what it is. Whether a calculated ploy or a manifestation of deeper issues, by now, we know what we're getting with Chad. He has, in the past, excoriated fellow contestants for playing nice to get endorsement deals and fame, but on "Ben & Lauren" he basically admitted what was always clear: that he's been acting horrendously both on and off the show to stay in the spotlight, to "make people laugh." 
Why ― why ― are ABC and Freeform giving him a platform to play this hurtful game at the expense of the rest of their talent, himself, and even others who may be caught in the crossfire? 
The episode, "Chad to the Bone," ends with Ben toasting to "more hope, more love, and more acceptance of the people in our life that have hurt us." 
"That was a great toast," says Lace, raising her glass to staying vulnerable to someone who just admitted to intentionally harming her for his own amusement. What an inspiring message. 
REAL LIFE. REAL NEWS. REAL VOICES.
Help us tell more of the stories that matter from voices that too often remain unheard.
BEFORE YOU GO
PHOTO GALLERY
At Home With Ben & Lauren From "The Bachelor"