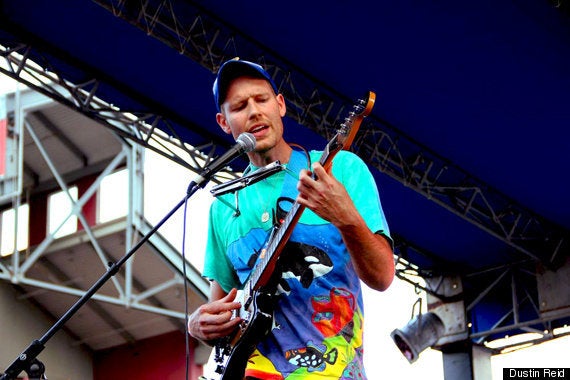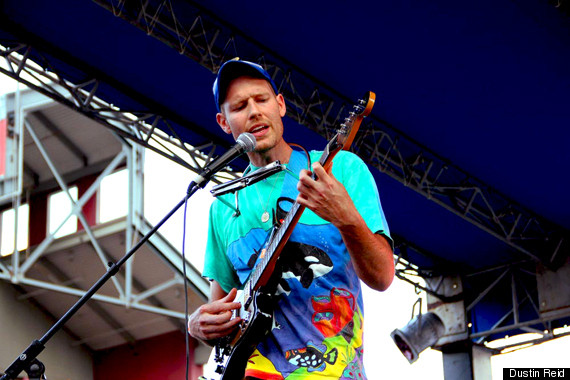 "I felt like maybe bringing a shotgun and just blowing my own head off on stage. Would that be like, maybe, entertainment for 'New Yorkonians?' I'm from Canada, all we do is just watch the leaves fall off the tree."
When it comes to playing live shows, in the six years I've been aware of Chad VanGaalen the musician (he's also a renown animator), I've noticed that he rarely makes it out of Canada or the Pacific Northwest. Once, I had him slated at the top of my list to see at SXSW, Austin, TX's famous Spring music festival, only to disappointingly hear that VanGaalen was detained at the U.S./Canadian border and would be unable to attend. Graciously, as a consolation to fans, VanGaalen video taped himself playing live in his home and posted it on the web. As interesting as that was (he plays guitar, drums and harmonica at the same time), I've walked around for years with an itch to finally see the real thing -- Chad VanGaalen, live and in person!
On Friday, July 30th, not only was I treated to such an event, which was free to the public thanks to the great folks putting on the River to River Festival. One puzzling detail, however, was the fact that he was opening a two band bill for a group of underage kids that had relatively no name recognition to my knowledge. Even certified rock critic Brooklyn Vegan observed that Chad VanGaalen should probably be the one headlining this show at the South Street Seaport's Pier 17. "They're [Avi Buffalo] pretty awesome and they're all like--we're not allowed to share our beers with them, that's how young they are," noted VanGaalen as he encouraged the audience to stick around following his set.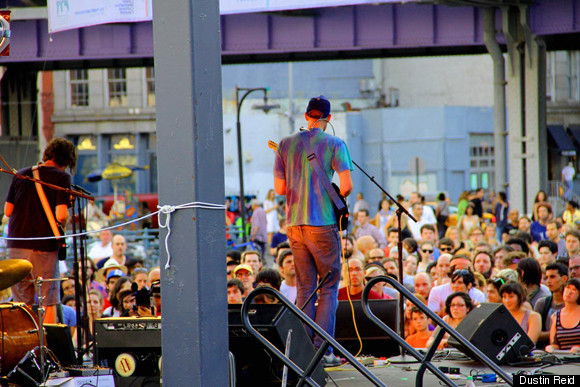 Never the less, it was a perfect evening with the temperature set just below 80 degrees, and an eager crowd all murmuring various song titles they hoped Chad might play. When the band walked on stage and cranked up their gear that featured two fuzzy guitars (no bass) and a drummer, the crowd gave out a loud roar of approval. The first two songs were new and unknown, one melodic driven by VanGaalen's haunting falsetto, the other a crunchy rock song more kin to the sounds of VanGaalen's second album Skelliconnnection. Finally, on the third offering, the familiar harmonica from "Mini TVs" began to resonate across the Pier full of indie rockers and tourists. The set was sprinkled with other recognizable songs such as, "Clinically Dead", "Bare Feet On Wet Griptape", "City of Electric Light", "Cries of the Dead" and "Rabid Bits of Time."
The other half of the set were all unknowns. Witnessing new material is exciting in a way, but a modest amount of dissatisfaction echoed amongst the crowd when shouts of "After the Afterlife," and "Red Hot Drops," were returned with, "yeah there's a million [songs] we don't know," VanGaalen lamented, referring to his backing band's limited catalog of rehearsed songs. The live set had an alien feeling compared to his records, which feature a myriad of homemade instruments and electronic gears and machinery that sound, well, alien at times. However, his voice and the vocal melodies are the driving factor for his success both live and on his albums. I believe that he could have come out, after they had exhausted what the band knew, and played solo to much of the same effect and success that the appendage was capable of.
I caught up with Chad at the conclusion of his set and asked him if those new songs meant he was preparing for a new album in the near future. He replied that he wasn't sure -- that his next move is contingent upon his label's [Sub-Pop] approval of his new material.
Calling all HuffPost superfans!
Sign up for membership to become a founding member and help shape HuffPost's next chapter